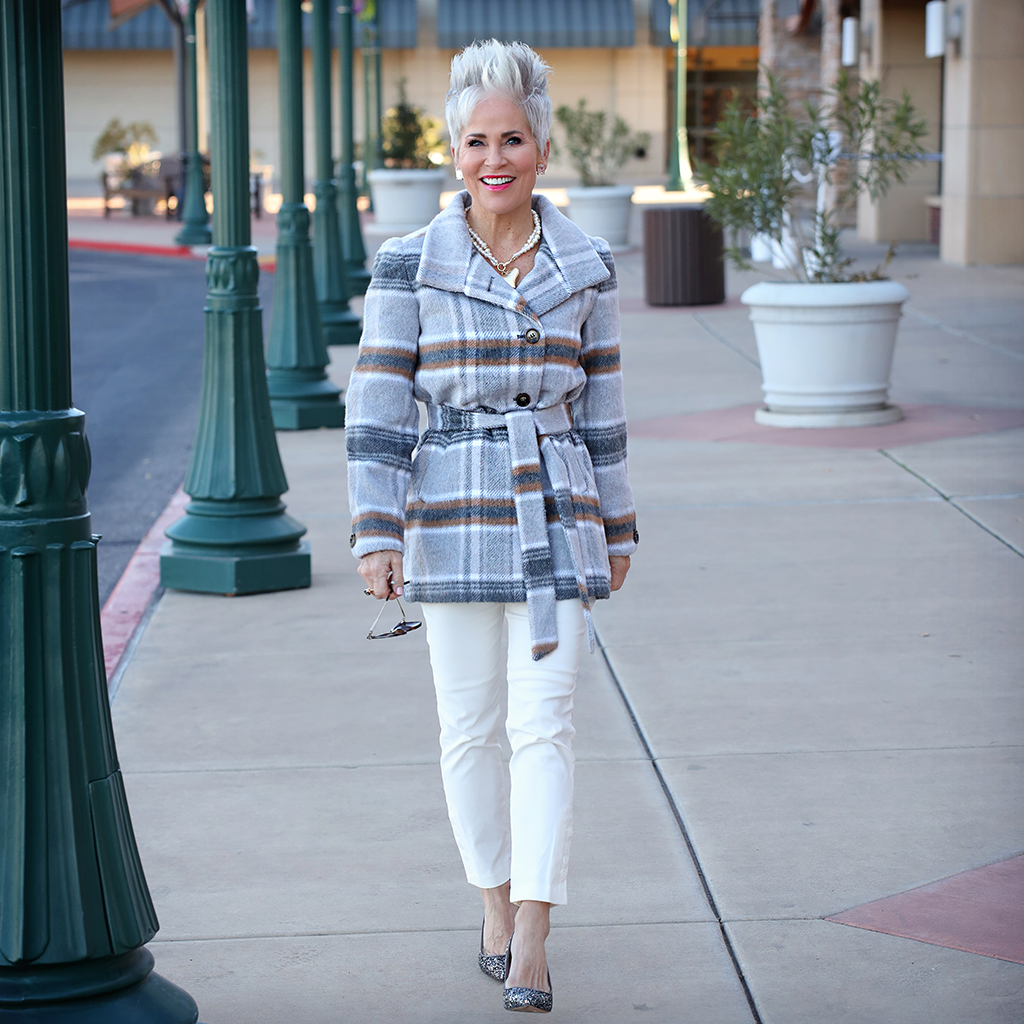 I've gotten out of the habit of wearing a winter coat….. until now. A WINTER COAT WITH A STATEMENT has me rethinking the idea of forgoing a coat. I live in a climate that's mild, very little rain and no snow. So a lot of the time (especially during the day) a coat is just too bothersome. I have a whole closet full of coats, that seldom get worn.
THIS COAT from Chicos is super plush and definitely makes a statement and is such fun to wear! The bold plaid, and soft colors are beautiful! The fit is really flattering! A trench design will ALWAYS be in style, always!
Does the plaid throw you when trying to wear it with your other outfits? Of course it takes some thought and I wouldn't ever wear it with something that it doesn't go with, but I bet I can show you how versatile it really is….. even with the color and even with the plaid!
These are my thoughts……
This winter coat with a statement can be worn with ANY of your jeans, except for maybe the brightly colored type. Dark jeans, light jeans, white jeans, black jeans, or neutral pair of pants. You could wear any neutral SMALL PRINT pant or skirt or dress. I'm going to style it below for you to get a picture of how you can wear it multiple ways!
STYLE ONE~
Mix the dotted shirt with the plaid jacket! How fun is this combo with the sparkly jeans?! I added a couple of pieces of jewelry, a hat, and some neutral booties. I have two completely different price points here on the booties. I LOVE the pricey ones, but the Target snakeskin pair would would work really well too!

STYLE TWO~
I am LOVING this look! You could wear denim anything…. jumpsuit, skirt, dress or your jeans! It's ADORABLE! This dress is fitted and will fit nicely underneath the coat. I've styled it with two different pairs of boots. THIS ONE is a SCREAMING DEAL!!!!!!! You can wear opaque tights with the tall boots, or I would wear bare legs. The earrings and glasses add a fun trendy pop of fun! THIS sweater dress would also look super cute!

STYLE THREE~
Pattern upon pattern mixing here…… and it works because of this! Remember that these are just ideas! Whether or not you would wear this, I'm here to show you that it can work, and might spur on another idea that you may come up with. The plaids together work in my opinion because, they are each a different scale. The pants are a tighter plaid. I've added a simple lightweight sweater underneath, some fun booties and a beanie. You could switch out the booties, or switch out the pants to tone it down some. But TOGETHER…… I would totally wear this! Remember if you put pattern with the coat, choose a smaller closer print.

So ladies….. don't be afraid of a winter coat with a statement. There are so many ways to style it! Have fun with it and let your creative juices flow! You can make it as simple or sassy as your imagination will allow. Hopefully these tips will help you to see outside of your normal way of thinking!
Shauna XO