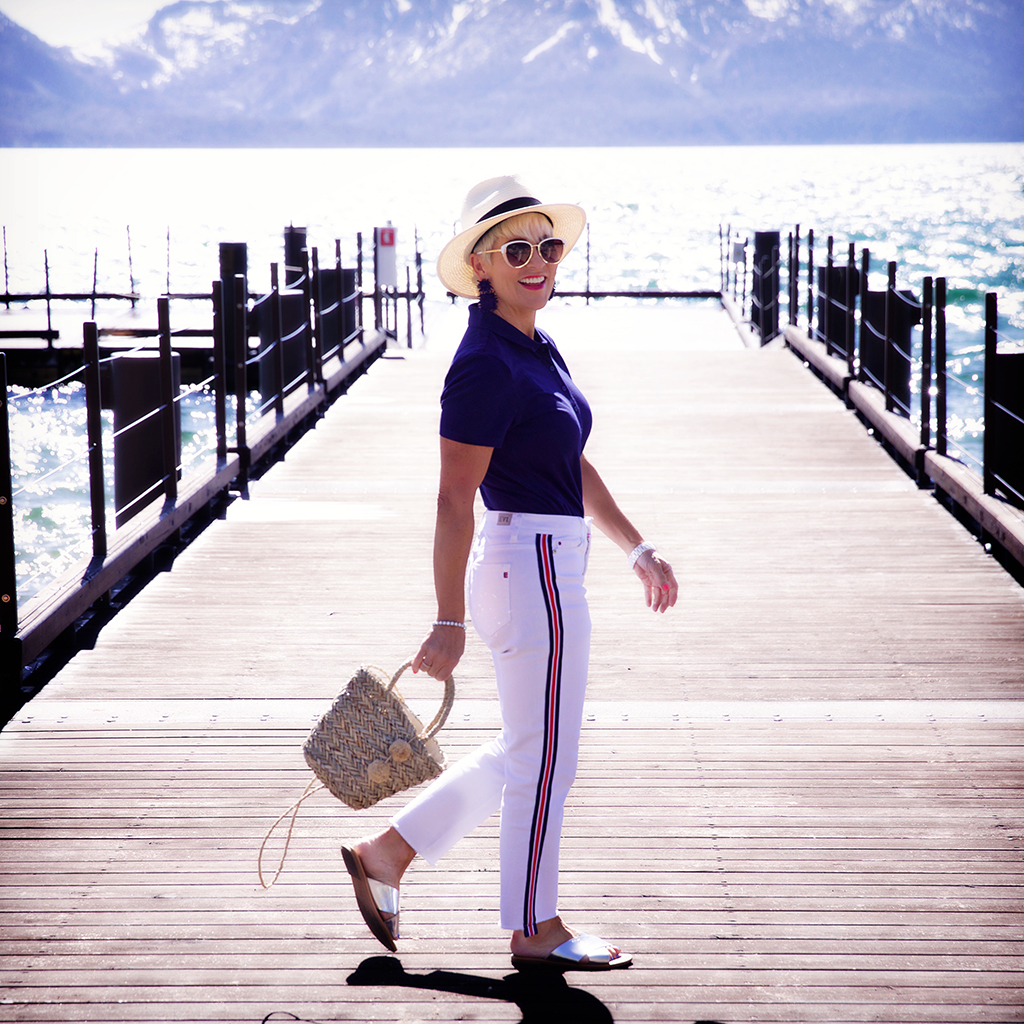 Have you heard??? Walmart…We Dress America!!! YES! I had never shopped at Walmart before when it came to my closet. Of course I'm a shopper when it came to every other household item out there, but seriously…..I had no idea! I had NO IDEA how fabulous shopping for my wardrobe at Walmart could be!
This outfit, the fun white jeans with the tuxedo stripe are SO MUCH FUN for my summer style….and for the 4th of JULY??? Cute as ever! The white ones are sold out but this denim version is just as fab! This white pair is the same as mine except no side stripe. The fit is AWESOME! Some similar earrings are HERE!
I'll be doing a LOT of golfing this summer and so I picked up this classic navy polo shirt! I'm so impressed with the quality of the fabric, the fit, everything! Wow! Who knew Walmart could be so good when it came to clothing? And get this……$7.00! WHAT? No kidding! This will be the perfect addition to my golfing wardrobe!
I have been wanting to pick up a new pair of metallic sandals for summer. I've had my eye out for some, and so when I saw THESE on Walmart's site, it was a no-brainer at just $28!!!!! I took them with me to Italy and I was so glad I did…versatile! They come in with six different colors….I may just need to pick up the white ones, the tan ones, the……..
And just more on Walmart's SHOES! LOOK AT THESE…LOVE! They come in neon PINK too! And THESE have such a great style to them and will be comfy too! Aren't THESE cute too? I love the sparkly details!
I'm wearing my own hat, but take a look HERE at all of Walmarts women fedora style hats! Aren't they amazing?? And again….the price-point is incredible!!!!! I particularly love THIS one! The frayed edges are darling! And THIS in black is made by such a reputable brand! Having a black hat for summer will be worn more than you think!!!!
As I was surfing Walmart, I found this beautiful LBD. Ladies….always have an LBD in your closet ready to go for those special functions! It's by Calvin Klein! And look at THIS one, another Calvin Klein! But THIS is just so good for summer, a classic! Add all your bright accessories and BAM! Like THIS for example!
Walmart We Dress America? Yep…in the accessory department as well. Look at THIS adorable summer bag! The one I'm carrying is right HERE! Such a fun little size and perfect for my phone, lipgloss, mints, and a bottle of water! How fun is THIS one?!! I the jewelry…LOVE THESE little pretties! And THESE are by Kate Spade!!! Yeah! And THESE sunglasses are my first pick and only $10! Crazy!!!
AND THESE ARE MY TOP PICKS FOR FABULOUSNESS AT WALMART!

WALMART….WE DRESS AMERICA! It sure can be your SHOPPING DESTINATION to fabulousness and not break your bank account! I LOVE you Walmart, and thank you! I've quickly become your fan!!!
Shauna XO