THREE LOOKS THIS SPRING FROM ANTHROPOLOGIE
Recently I met up with a girlfriend to do some SPRING SHOPPING. Spring shopping and a girlfriend just go hand in hand. The two of us met through blogging way back in the beginning for me. I think the only thing we have in common is our LOVE for FASHION! Her name is D'Arcy Vandenberg.
So our day started with lunch here, which is one of my FAVORITES especially with my girlfriends. After some delicious food,  we were off to Anthropologie. If you haven't ever walked in to one of their stores… you should! The displays are incredible. It's a feast for the eyes, and such fun to just look and absorb!
DENIM STYLED FOR OUR DIFFERENT BODY TYPES
We thought it would be fun on one of our spring style looks, to shop for an ALL DENIM look and style it our own way. D'Arcy is 5'9.5″ and size 6. I am 5'1.5″ and size 0-2. THIS is what we came up with. We both styled the same little denim top. It's a fun take on denim with the ruffled sleeve. I like to define my waist, so I wore it tucked in with a belt. Darcy likes to emphasize her legs and so she wore hers open with a tank underneath. We accessorized in our own way with belts and bags. What do you think?

There is always a way to wear a trend, as we've shown you here. Denim on denim is hot right now, and there's a way for a tall girl to wear it as well as a shorter girl…. AS WELL AS a woman at midlife, and STILL look current! This look isn't only for the younger generation!
ANTHROPOLOGIE GETS COLORFUL WITH THESE TWO LOOKS
My other two looks as you can imagine, are most assuredly FULL OF COLOR! This first one is an interesting take on colors, and perhaps a bit unexpected, but I love how it all came together! The pants are a terra-cotta color and were darling with this gorgeous bright orange lace top. I added the pink cardigan over the top for an added layer, and maybe to go with my pink pixie! The tote has all the fun going on to bring the whole look together!

Speaking of pink, these pants (aren't available yet online, I will keep you posted) had to come home with me. They are so pretty with the wide leg and the fabric is exquisite. These would work nicely all glammed up with some sky-high heels. The top is just over-the-top FUN! Could I wear each of these items at least three ways? YEP! So easily! I might even be wearing these pink pants with some sneakers and a tee! I LOVE the pink for spring!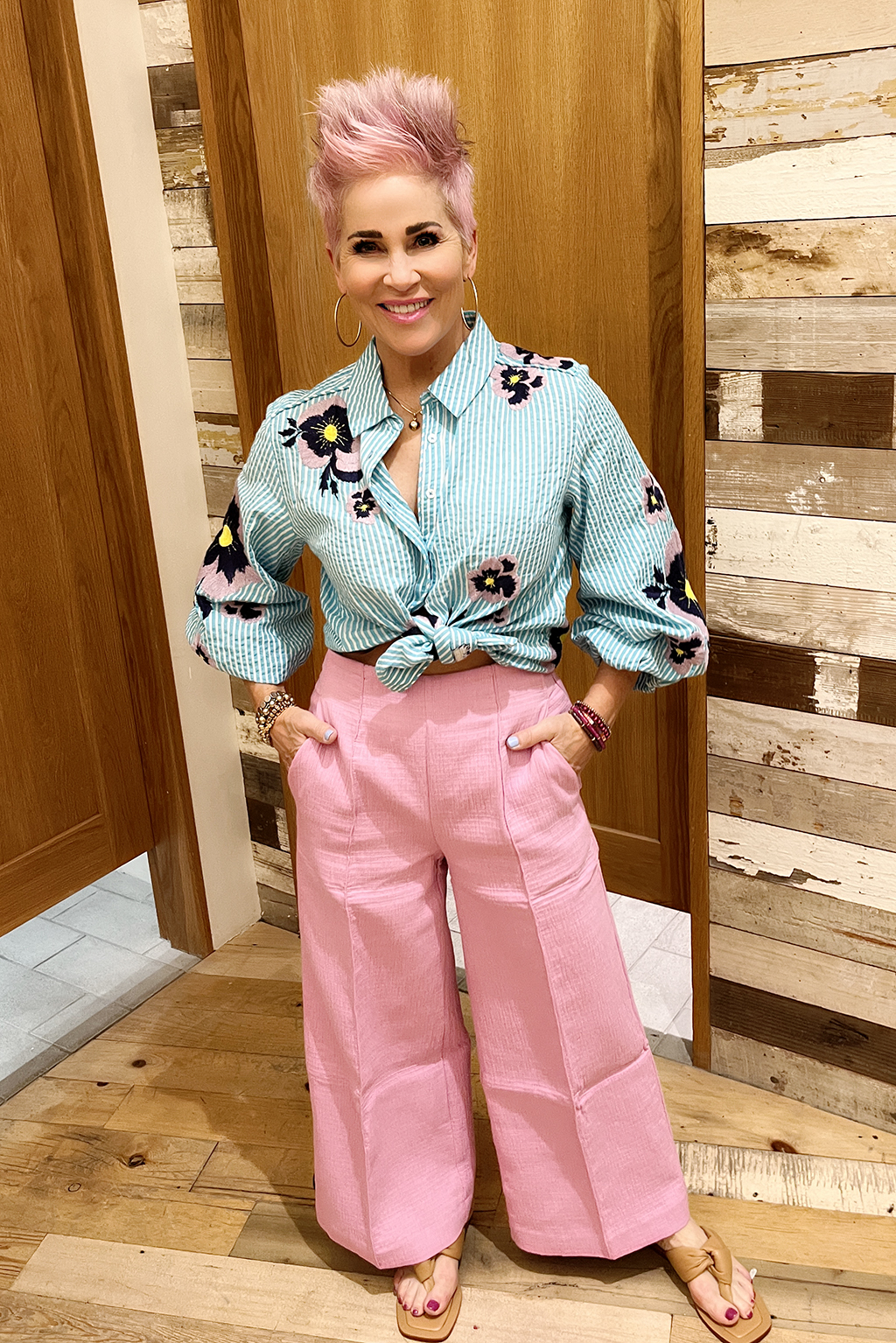 ANOTHER LOOK OF MY INTERPRETATION OF DENIM ON DENIM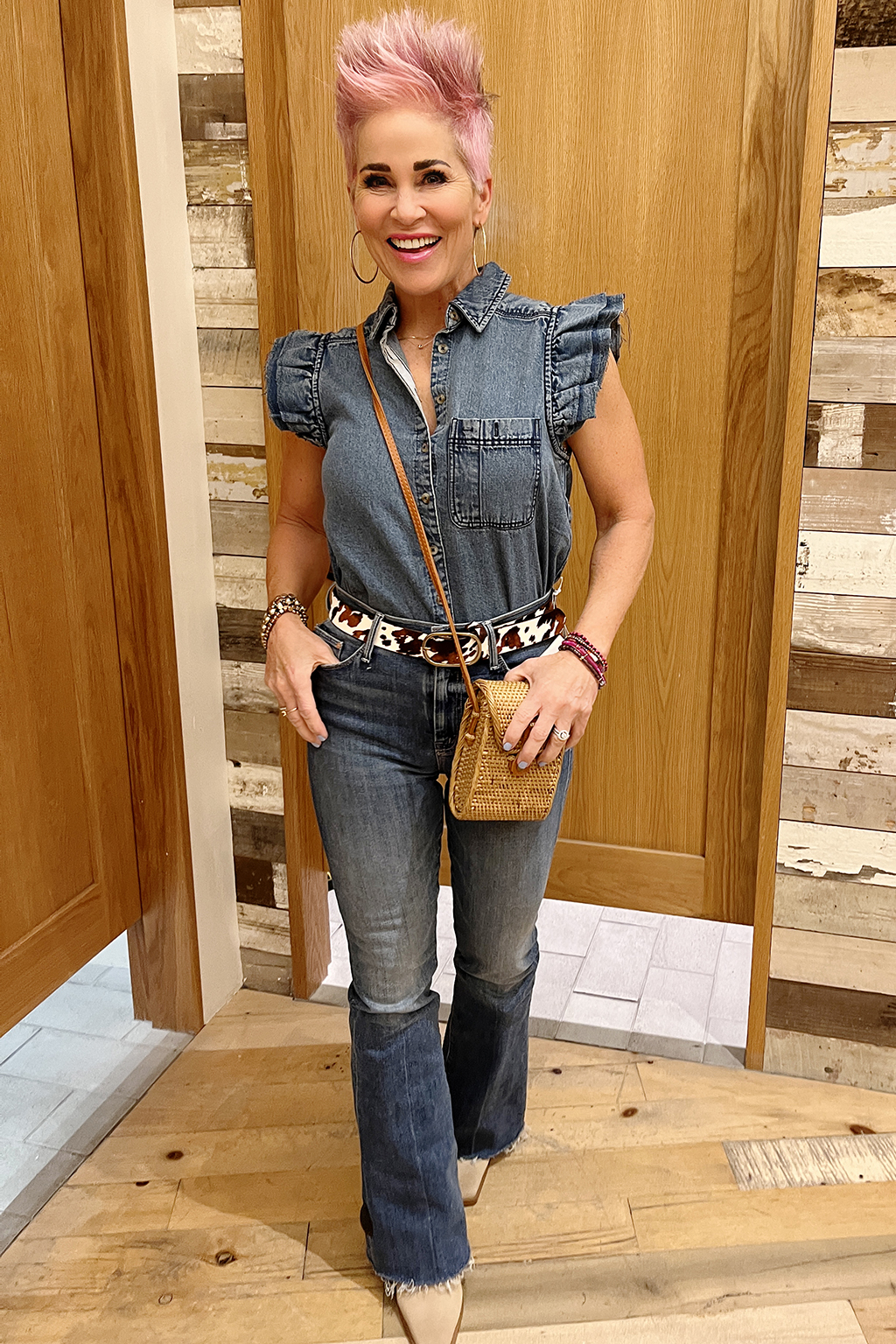 You know I could go on and on about SPRING FASHION, but for now THREE LOOKS FOR SPRING FROM ANTHROPOLOGIE is where I'll stop, and let you pick it up from here! Which is your favorite? How would you do denim on denim, would you wear all the color or are you more of a neutral girl? Check out D'Arcy's blog HERE, and see how her style is very much HER OWN. Spring has sprung ladies….. get those spring styles out and be creative, because FASHION IS SUCH A FUN WAY TO EXPRESS YOURSELF!
Shauna XO
More SPRING STYLE here in this blog!
Follow me on INSTAGRAM HERE!