MY 5 FAVORITE SHOES FOR SPRING
Do you ever wonder if shoe designers will ever get to a point of not being able to come up with one more beautiful pair of shoes?? I do all the time. I love shopping for shoes and seeing the new trends come to life! I've always adored shoes, but at the same time my collection is under control. And to me this means that I will usually buy several pair at the beginning of each season, and then primarily wear those with EVERYTHING! I want my shoes to go with a lot of different things.
With that being said, it's fun to have "special" shoes as well…. like some CHANEL heels I've had for at least 10 years and they are still fabulous! The other day at church, I had on some floral heels (THESE ARE SIMILAR) that I hadn't worn for awhile, and got all kinds of compliments on them! So the unique shoes you have in your closet that don't get worn that much, are always fun to pull out again, making them feel NEW again!
So far this season, I've bought four pair. I bought these and was so excited to get them, but they were too hard to keep on my feet and so unfortunately they are getting sent back. I thought they were so cute and versatile, but if I'm going to struggle keeping them on, then not for me!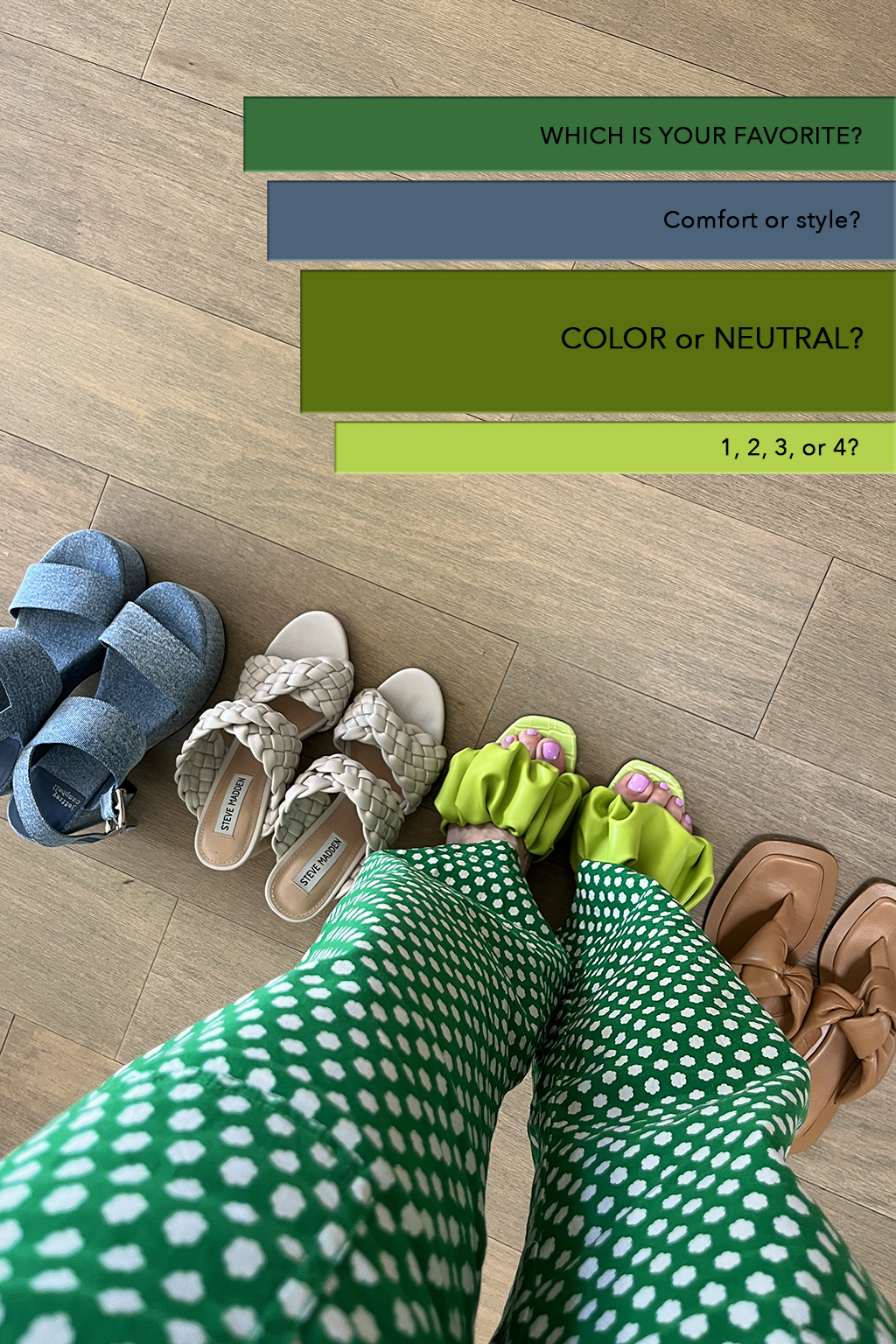 MY PURCHASES SO FAR

These are all neutral and very versatile, except for maybe the green, which I like a LOT! Being able to wear them with dresses, skirts, and jeans is so important IF you want to get the most out of your purchase. I have to say the green slides will go with MORE than you may think! All of them can be dressed up or down as well. The braided sandals are beautiful and comfortable for a heel. My foot doesn't slide around in them like some heels do. The denim-like platforms have been so fun! A little 70's and 80's vibe maybe? And talk about making me feel a little taller! I love them! And lastly the flat sandals I got at Anthropologie on my latest trip there,  again feel secure on my foot which means more and more to me!
THINKING ABOUT THESE
So what would my last favorite shoe be that is sitting in my shopping cart right now? Well, you should always have a great sneaker in your spring and summer shoe game, so perhaps these? I've actually linked several pairs of sneakers at all different price ranges. If I had only one pair I would definitely choose white. That's why I love these…. white with a sassy bit of leopard!
SHOP THESE SNEAKERS FOR SPRING

What are your favorites? Do you shop more for looks or for comfort? My 5 favorite shoes for spring are more about comfort for me. Especially this time of year when we are out and about more than any other season. You definitely want to have cute BUT COMFY footwear!
Shauna XO
I wore the denim-like PLATFORMS here in THIS post!
Follow along with me HERE over on Instagram!