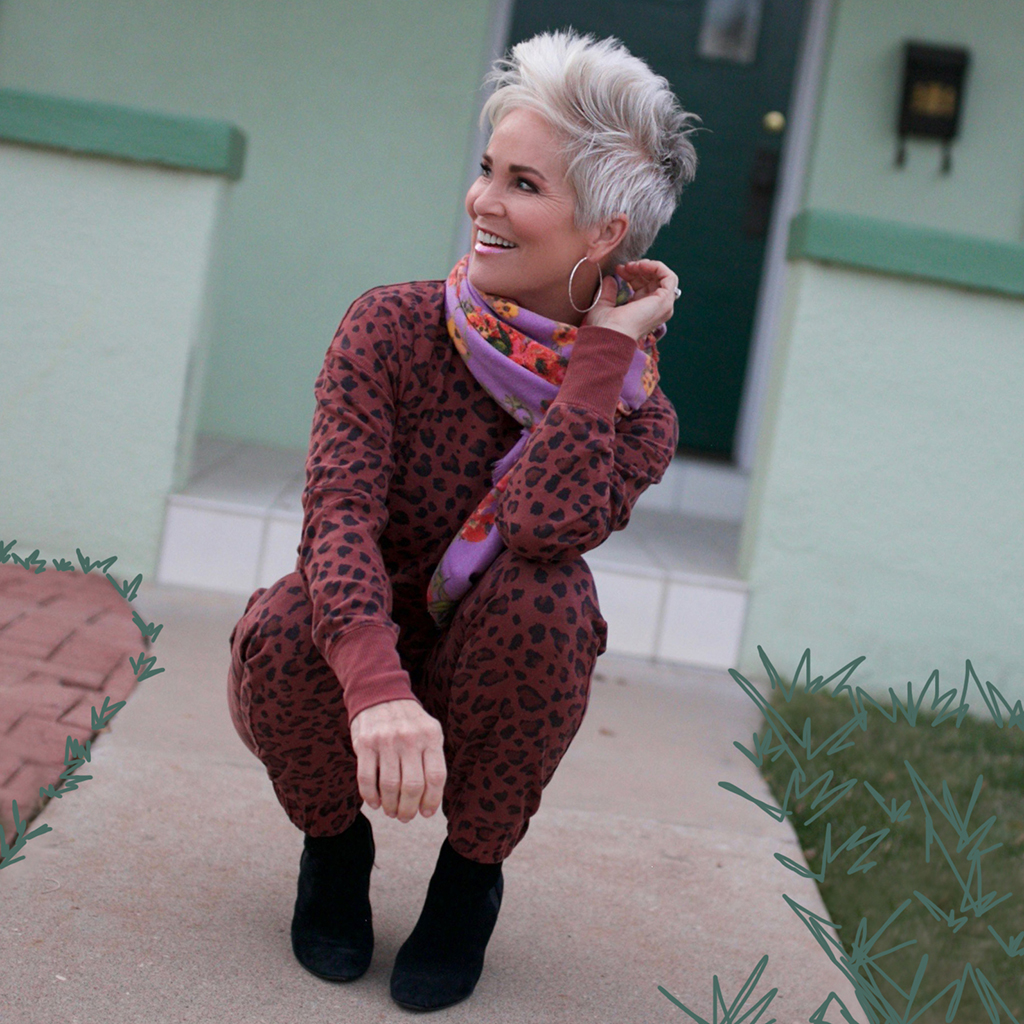 You probably all know by now that THIS is the way I would dress every day if I could. COMFORTABLE but still cute! I love ATHLEISURE and have written about it A LOT! I was thinking the other day that I should probably invest MORE in the athleisure look as opposed to just an every day kind of a look…. because this is what I wear when I'm home, on Sundays, and any other day that I can get away with it!
I found these on-line just before the holidays. There was a fantastic sale going on at ANTHROPOLOGIE, and this is what I chose to buy! And for sure this is something that I can wear around the house with UGG slippers, OR I can wear a very fancy boot and it will completely change up the way it looks.
Here I'm wearing a black suede bootie with a 4″ heel, and a colorful scarf. It looked super cute and was even more, SUPER COMFY! This is a look I would wear through the airport traveling! Then you can break up the top and bottom and make it really versatile.
I thought this might be available for a lot longer than it was. But, it sold out SO FAST. Wait….. I just checked again and it's back in stock! That never happens! So EXCITING because a lot of you have asked about it. But I still want to show you three other sets, that can be worn the same way as I have here, and are the same brand.

I think these are ALL SO CUTE….. I would wear any of them! It really is how I would dress every day if I could!
This is how I would take one of these sets, and break it up in to another look!

I've taken the jogger pants and paired them with a loose sweater and a denim jacket and the cutest white boots! Oh I LOVE these white boots!

Now I've taken just the sweatshirt and styled it with some basic black jeans, neutral boots, and a FABULOUS little jacket! If I didn't already have an animal print jacket, I would seriously get this one!
So there you have it! Earlier today when I posted this on Instagram, it wasn't available. But right in the middle of me writing this post, I happened to check again and they are once again in stock. And that makes me so happy, because I've had many of you ask!
HAVE A GREAT WEEK AHEAD FRIENDS!
Shauna XO