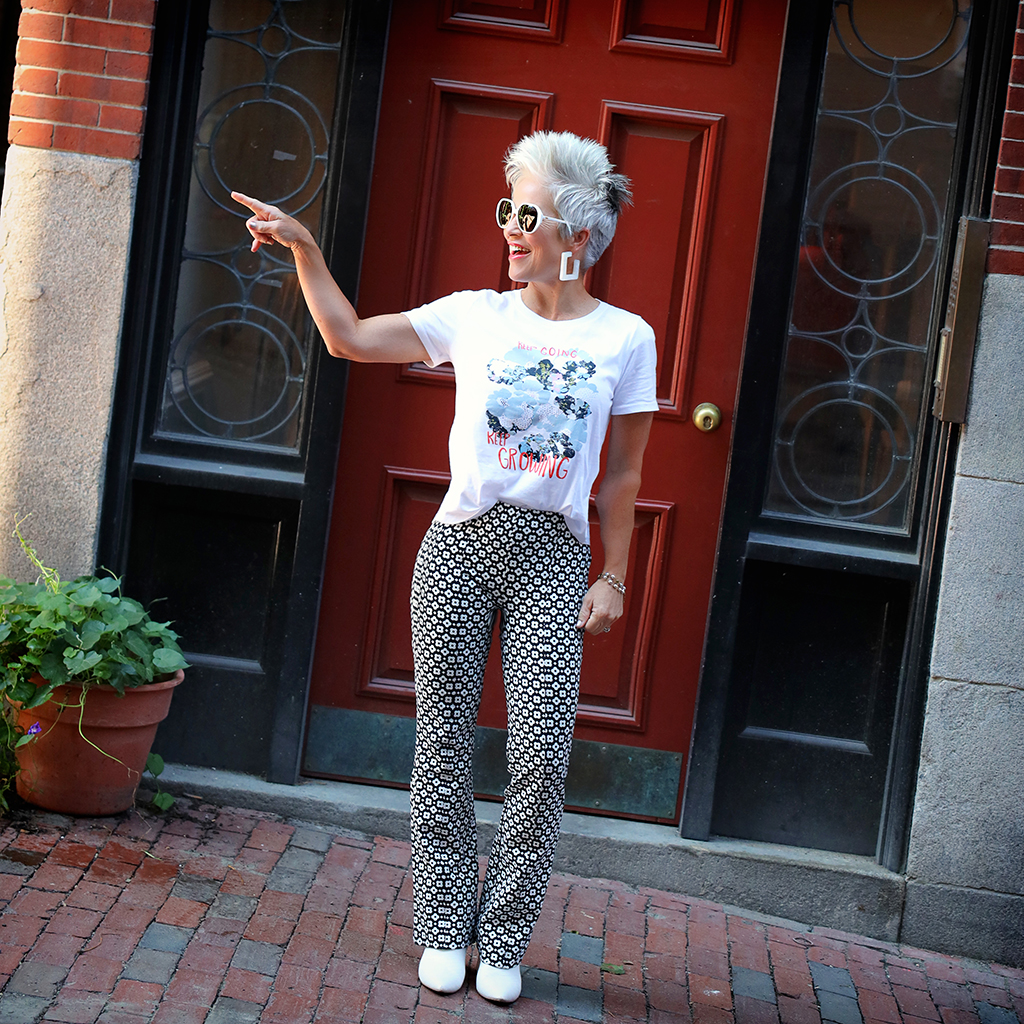 Ladies I do LOVE my jeans, but THESE KNIT PANTS ARE TAKING OVER…… in a fast way! I've always loved wearing jeans, buying jeans, and styling jeans. And I don't really see that changing, but seriously I have picked up so many pairs of pants that are the KNIT KIND and COMFY KIND recently, and wanted to share as well as show you how I would style them!
Do you feel like they are too casual, or perhaps too pajama-ish looking? I think for sure SOME can lean too far over in to the pajama category, of which I wouldn't totally be comfortable wearing out and about….. unless it was to Target! But the pair I'm wearing here are SO FAR from being too casual. The knit is substantial with these, and they have a cute stitched seam down the front, which I think really takes them up a notch. I absolutely LOVE THESE!
When I say KNIT PANTS, I don't mean joggers. I mean pants that are made from a stretch type knit fabric. There are a couple of pair that I've posted here that look more like joggers, like these, but were so cute and I could see them styled more like pants, so I had to include them in my FAVORITES here.
THESE KNIT PANTS ARE TAKING OVER!

Here are my ideas of how I would take the pair I am wearing and style them multiple ways….. so long to boring uncomfortable pants ladies! These are just so much more comfortable and much more fun! Let me show YOU how to WEAR THEM THREE DIFFERENT WAYS! These are worthy of a lot of mileage in your wardrobe! As always I like to show you that something you may feel isn't versatile, is afterall, very versatile!!
LOOK ONE~ Wear these knit pants with a contemporary sweater and spectacular booties! These would be a really fun boot to wear through the fall season! I've added some whimsical sparkly earrings for a bit of fun.

LOOK TWO~ I loved the take on this denim top here by Levis. It also comes in a lighter wash. You could put any of the denim you have now with these knit pants, and it would look great! Just add your white sneakers and some fun jewelry and this would be a great look for the weekend!

LOOK THREE~ Dress these pants up in a flash with a dramatic sweater, jewelry, AND shoes! You see how easily they can become even more fabulous than you'd think…… right?

These knit pants are taking over…. most definitely! Why and how? Because they are not only cute as ever, but they are comfy as ever too! And I've shown you the versatility in them is more than you'd think!
Shauna XO