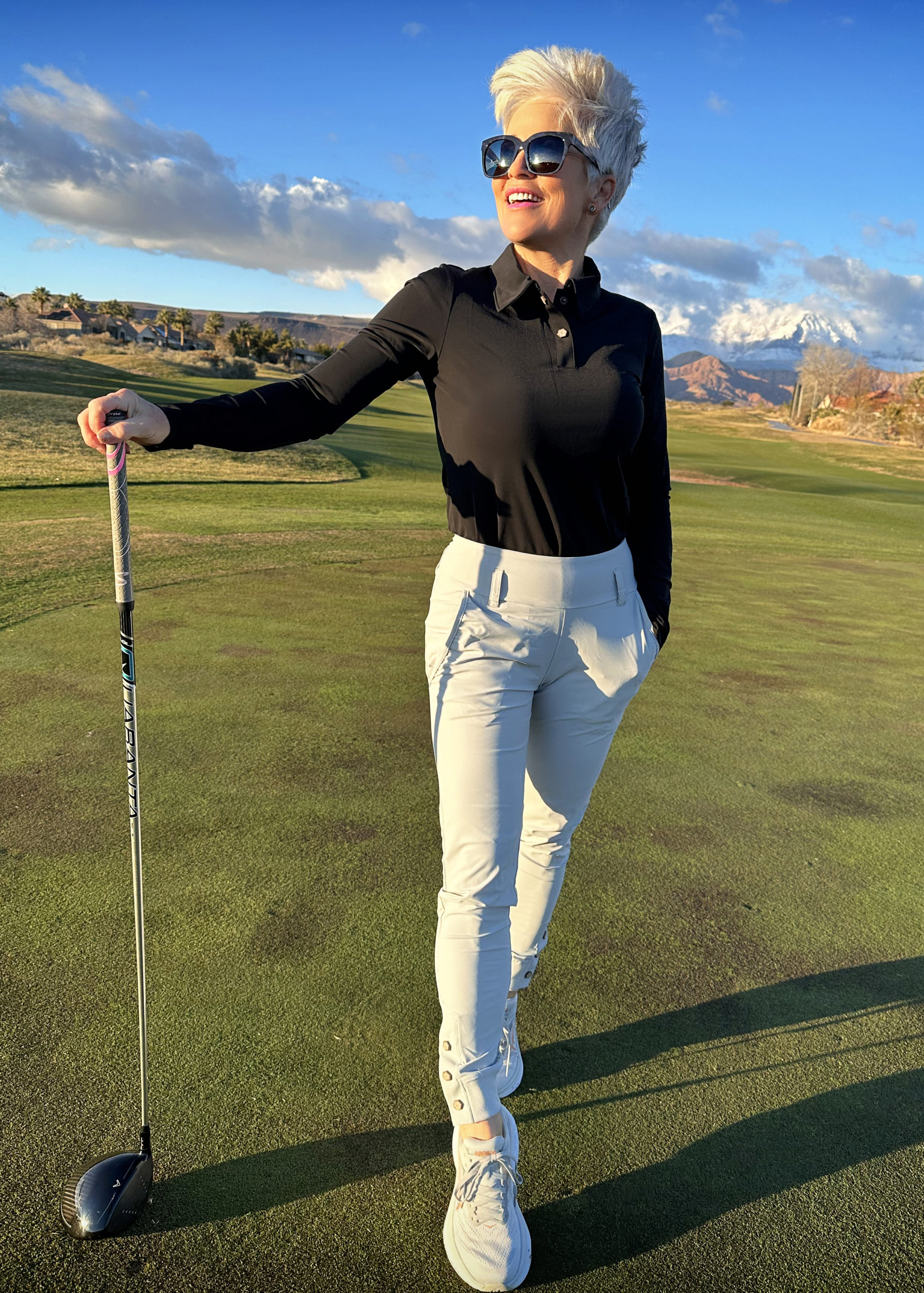 It's time for a refresh and update on THE LATEST IN ATHLEISURE! Athleisure wear is honestly what I wear the most! At home as well as out and about, and always on my golfing days. I was so excited when I got my newest look above from SWINGDISH. It is so comfortable and easy to move around in. The pants are my favorite! You'll find it linked here…..

Athleisure style is getting to be more and more of a thing, and it's becoming more acceptable than ever. Today in fact, I saw a national news anchorwoman wearing athleisure during her broadcast. She looked amazing, comfy and REAL! I loved it, and I bet she did too!
I wanted to share the very latest in athleisure wear. Brands are listening to us ladies and really upping their game as well! The styles that we have access to are really fabulous and so very easy to mix in with all the other pieces in your closet!
CHICOS ZENERGY LINE
CHICOS has to be one of the best when it comes to athleisure. They even have their own specific line called ZENERGY! As with everything else that Chicos carries, the Zenergy pieces are well made, beautiful fabrics and great color and patterns too! See my FAVORITES HERE….


MORE NEW ATHLEISURE STYLES
I'm always a fan of LULULEMON. I've recently gotten quite a bit there, for my trip to Africa. This look linked below is really great I think. Remember you can dress any of your athleisure looks up with just your shoes!

This next look comes to you from ATHLETA! This brand is another one of my favorites. The fun punchy yellow is adorable and sure to brighten up your winter!!!! I could wear this all day long!

____________
I predict that ATHLEISURE wear is going to be going strong for quite some time! As I said earlier it's fast becoming the norm! One thing to note, is that Athleisure DOES NOT mean grungy, sloppy and dirty!!!!
Shauna XO