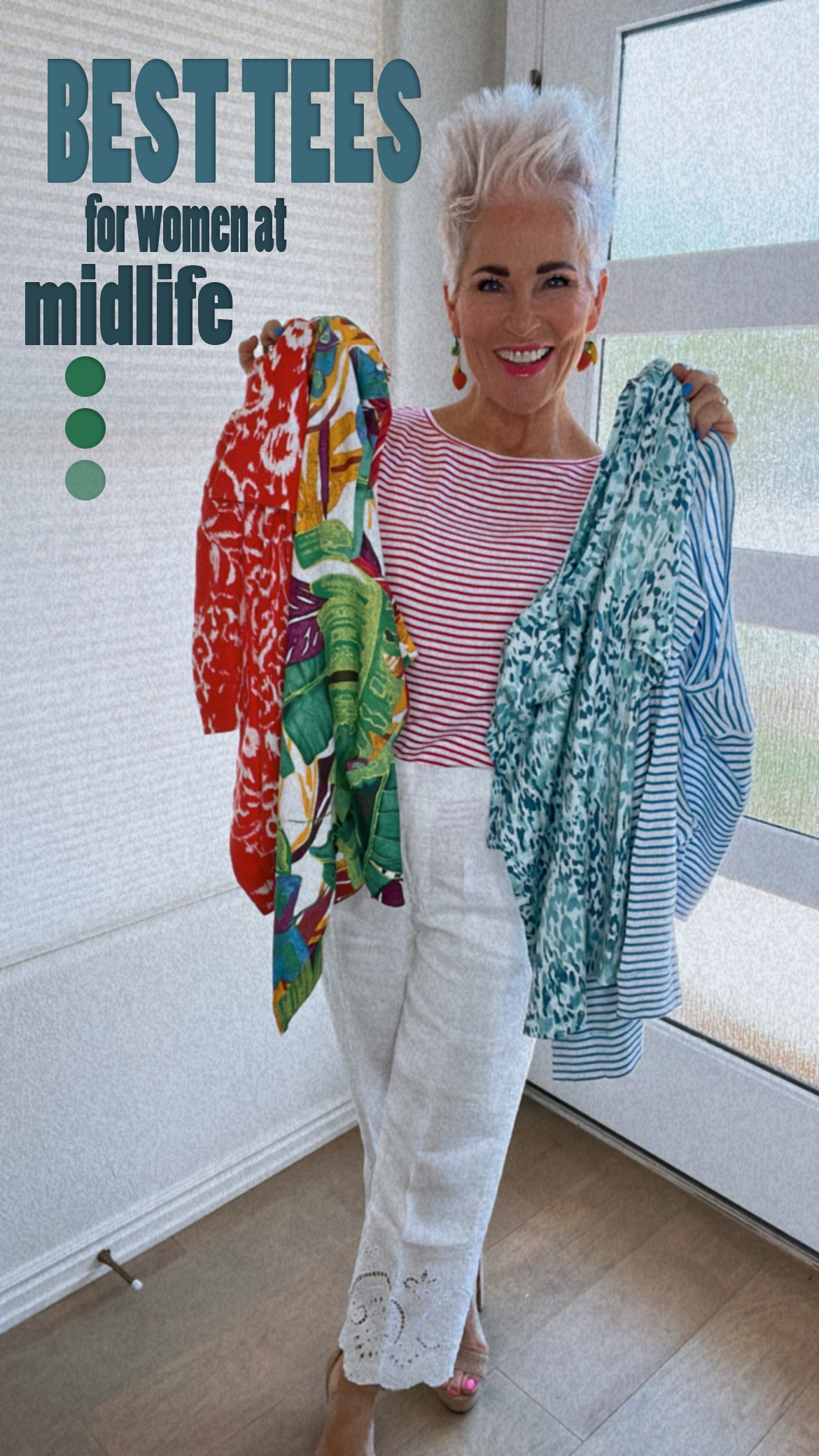 THE BEST TEE SHIRTS FOR WOMEN
Since tee shirts are what I wear the most, especially during the summer, I thought I would show you MY FAVORITES. My taste and specifics when it comes to tees have really changed as I've gotten older. I don't like anything tight, nor do I want it to be super sheer. The way the sleeves fit matter more to me now as well.
THREE THINGS I LOOK FOR IN A TEE SHIRT
FIRST let's talk about fit. Now that the oversized look is "in" I'm personally loving it! But you have to be careful to keep the proportions of your look on target. For me, I tuck them in. For someone with long lean legs, they could wear this style out with some skinny bottoms and look great. I used to love a snugger fit tee, but those days are quickly leaving. I'm starting to notice the back issues that women at midlife have, and I really don't want that showing! So grazing over those areas is just right for me.
SECOND would be the fabric. I don't love anything too sheer. Being able to see every line underneath to me, isn't flattering. In fact I avoid it at all costs. I think it looks tacky and messy. It seems I'm wearing darker colors more just to avoid this problem! That's one reason I like the oversized look, because you can't see all the lines! THIS TEE has just the right amount of looseness.
THIRD might be the thing I watch out for the most when shopping for a tee, and that is the style of the sleeve. I just gave a bunch of tees to my granddaughter that have a tight shorter fitting sleeve. I'm loving the longer length as well as the flutter sleeve. CHICOS makes the best sleeve in all of the tees I've shown  here in this post as well as  THIS REEL.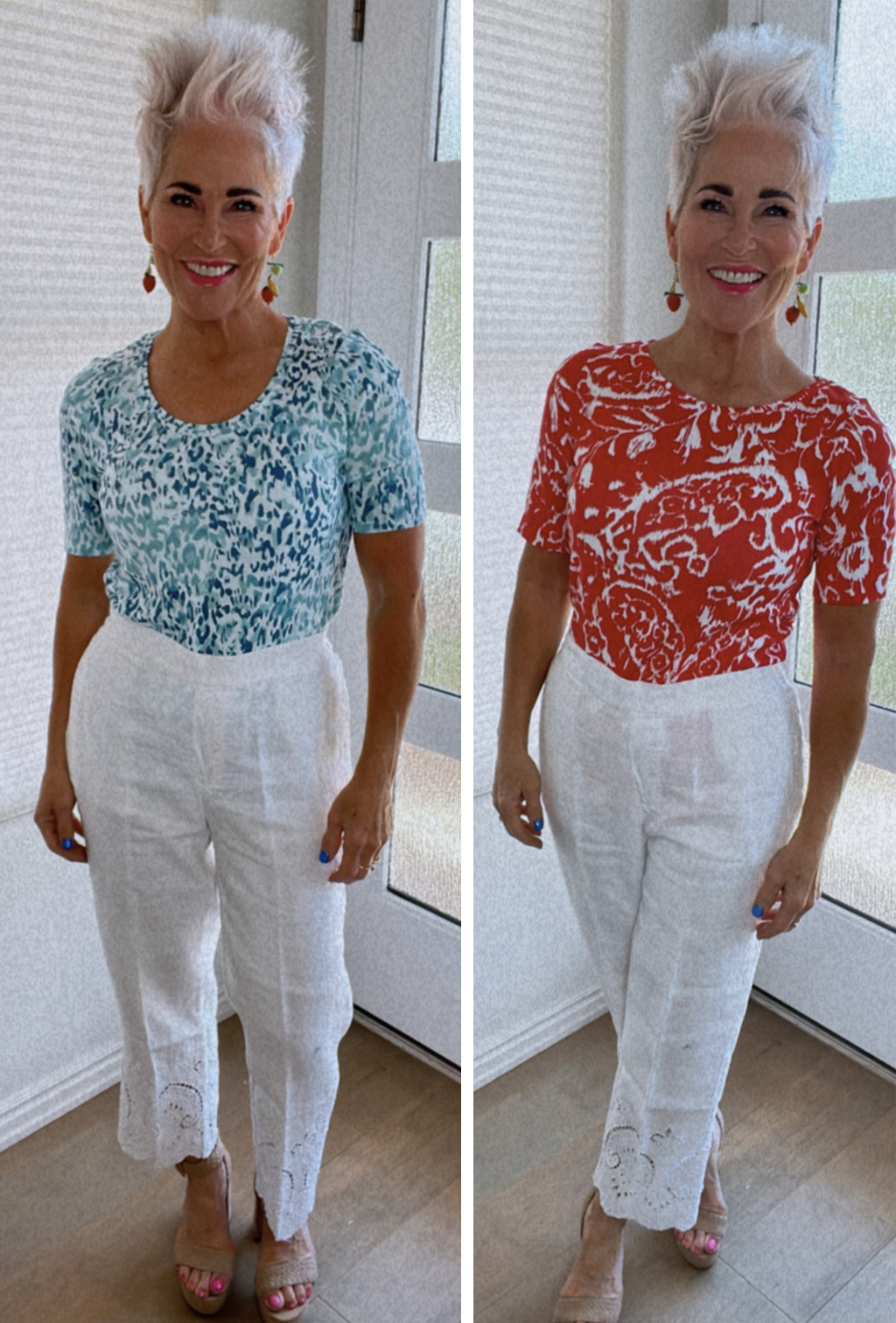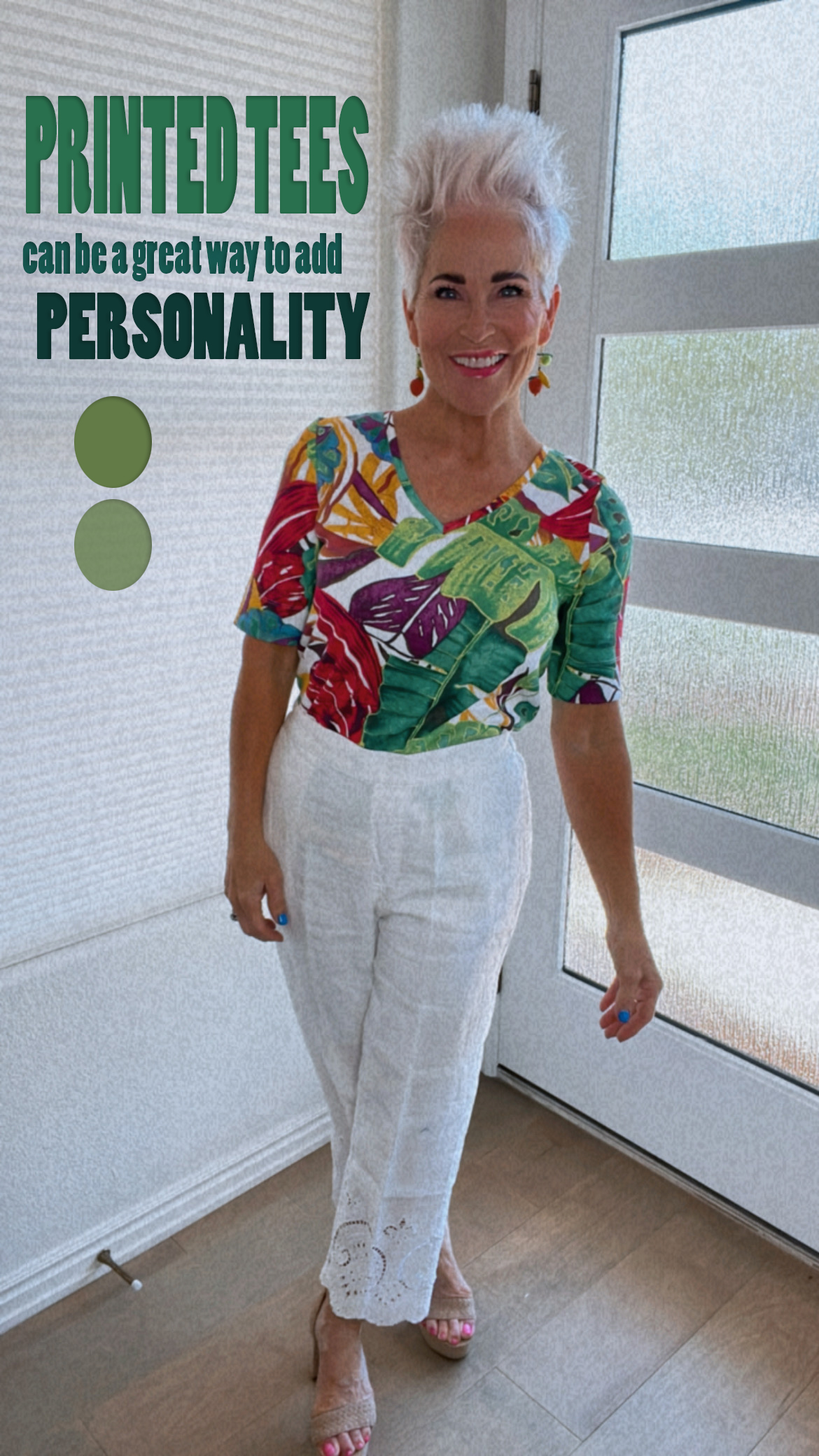 These printed tees I'm wearing here are from CHICOS and so cute! It's such a fun way to add loads of personality and color to your game! They do make such nice tees. The fabrics feel so good and they wash and dry to perfection. They won't lose their shape or quality. In a tee shirt you will definitely get what you paid for. For instance the tees from Target I like, but after a bunch of washings, they don't look as fresh. So if you like replacing your tees frequently these could be for you.
SHOP THESE SASSY PRINTED TEES

SHOP MY FAVORITE WHITE TEES

GRAPHIC TEES WILL GO WITH MORE THAN YOU THINK

So there you have it….. THE BEST TEE SHIRTS FOR WOMEN! Hopefully I have enough of a variety, but at the same time, I'm only posting what I have come to LOVE. I don't want to say how many tees I have……. but I believe you can't have too many. You need a little of everything to go with different bottoms. Would you not agree?
HAVE A WONDERFUL WEEKEND EVERYONE!
Shauna XO
MY TEES (OR SIMILAR) FROM THIS POST