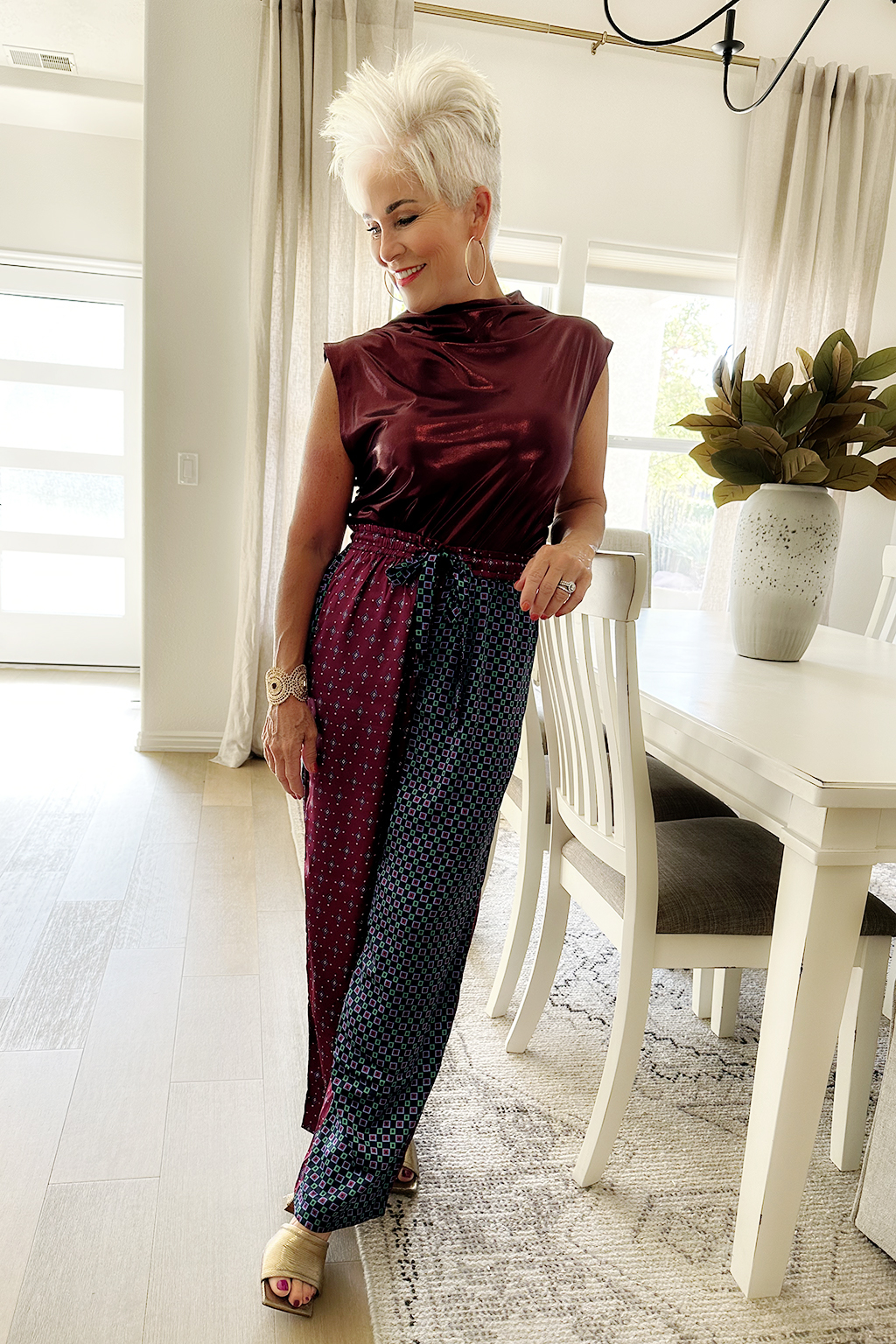 THANKSGIVING STYLE TIPS AND TRENDS THAT WILL KEEP YOU AHEAD OF THE GAME!
Do you all feel like Thanksgiving is next week? It always comes so fast! The air is turning crisp for most of us now…. at least for part of the day. Indeed the holidays are all about being grateful for all the abundance in our lives, but I'm ALWAYS thinking what to wear. This year, don't wait until the last minute to find the perfect little something-something. Instead, get ahead of the game and start looking NOW!
Thanksgiving marks the beginning of a season filled with festive gatherings and all the JOYOUS celebrations. Whether your plans are to gather as a family, or with friends, or with just part of your loved ones, or perhaps just you and your partner…… a comfortable outfit is a must. The holidays should feel special, and that all starts with how you look. I might just be out golfing that day, but for sure there will be some special food involved.
Here are some things to think about as you start planning your holiday STYLE….
VERSATILITY is key. You know me by now, if you can't wear something at least three ways, don't buy it! Think about how you can mix and match, how you can dress it up or down, and if it's comfortable. Clothing hanging in your closet, that you can't wait to wear, is exactly what you want! I just bought THESE. I made sure I could style them different ways…. with heels, with sneakers, with a tee, or with a sweater! Make sure your pieces can be worn for any of your holiday celebrations.
See how I've taken this gold pleated skirt and styled it multiple ways…. versatility is so important in your clothing. You MUST know how to wear EVERYTHING in your closet at least three ways. HOVER OVER THE IMAGE and CLICK TO SHOP.



COMFORT IS A MUST! There is nothing worse than being at a gathering, or hosting one, and feeling uncomfortable. You don't want tight fitting anything I say. You will want comfy shoes too! This look below would be not only BEAUTIFUL, but COMFORTABLE as well! I've posted the SOMERSET DRESS a lot, because I'm such a fan! It's extremely comfy and flattering, so will work for ANYONE! The velvet fabric and maxi length are really elegant. Even if you are hosting, this look won't get in your way. A comfy pair of flats and simple earrings, are what I would go for to feel girly. This lightweight sweater is perfect for when it gets chilly.

I am seeing pajama-type pants all over the place right now. I just bought THESE and THESE, and love this idea for the holidays. They are about as comfy as they come, and can easily be dressed up to look really nice. What about these two ideas here…. what do you think? I'm all over it!!!! You won't be more comfy in any other outfit! I'm wearing this look in my picture above.


AVOID LAST-MINUTE STRESS, by thinking this through now! When you wait last minute, chances are you'll buy something you don't love. Take the time now to decide. Starting early allows you to explore different styles and sizes, which will ensure you'll have the look that suits YOU!
ALTERATIONS TAKE TIME, and so another reason to SHOP EARLY. This is one of their busiest times of the year, and so if you're taking things to them last minute, you're going to have to pay for it! By deciding now, you'll have a perfectly tailored outfit that enhances your confidence and comfort!
_____________
Whether you're looking for a cozy sweater dress, a chic pair of trousers, or a great blazer…. now is the time to begin your Thanksgiving celebration outfit hunt. Remember, Thanksgiving is just the beginning of a season filled with festivities. Opt for versatile pieces that can easily adapt to different kinds of gatherings. With these Thanksgiving style tips and trends… you will be ensured that you'll look and feel your best! Trust me…… this will make it more enjoyable too!