RED PANTS A CLOSET ESSENTIAL AND LOADS OF FUN

When it comes to women's fashion, the possibilities are endless. That's the best part about being a girl….. fashion is so much more fun! One item that shouldn't be overlooked in your wardrobe is a pair of RED PANTS. The color red, with its vibrant and punchy personality, can add a touch of joy to your outfit. It might even be more versatile than you think. The fun color combinations you can create with red will bring life to your style!
Anthropologie's Colette cropped wide-leg corduroy pants are the perfect choice for red pants this time of year. These are really comfy and flattering too, and I want to show you how I styled them, as well as some other options for red pants. This color can really transform your style…. especially if you're into more neutral colors. Don't ever be afraid of red, and here's why.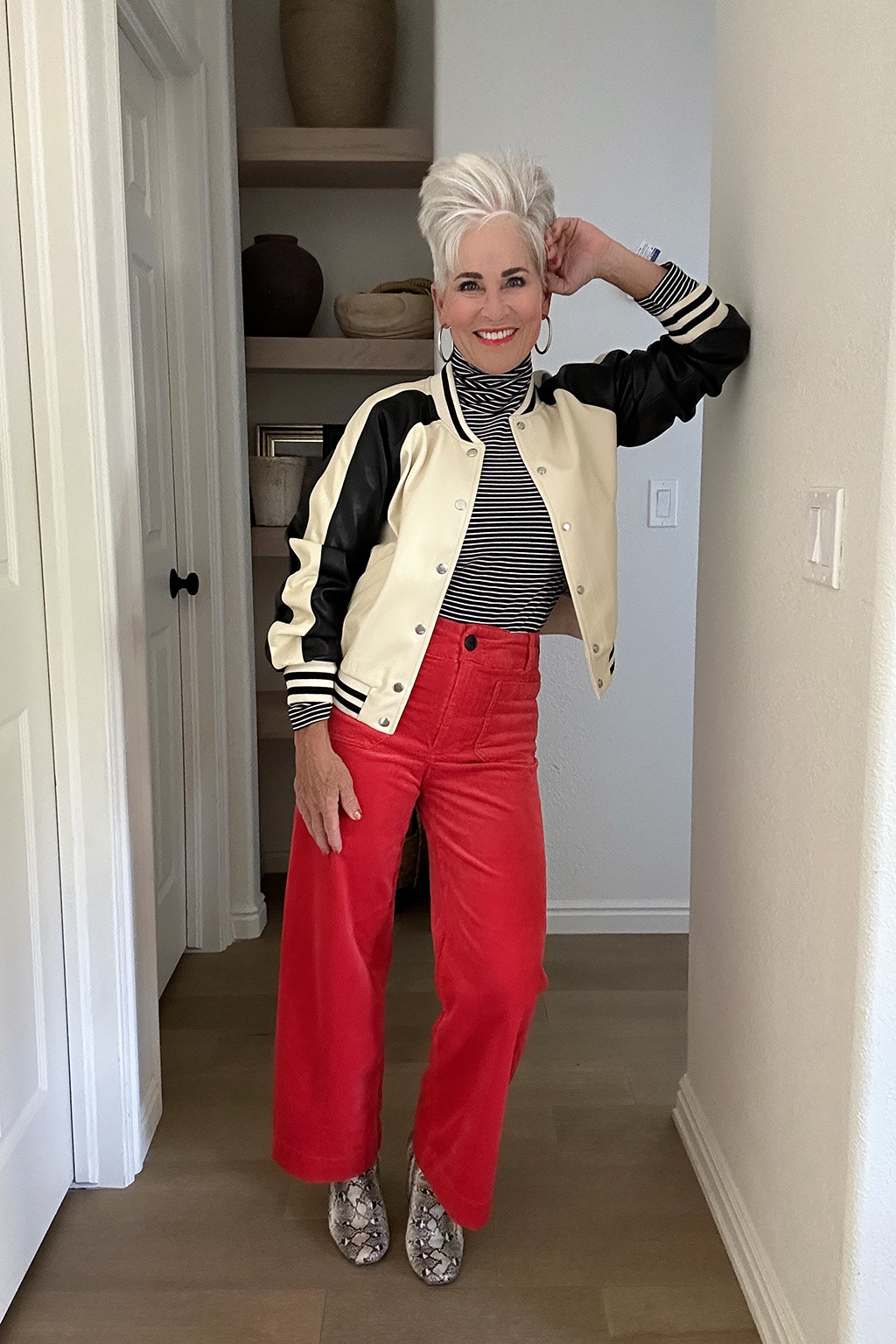 Red is a surprisingly versatile, and can be paired with a wide range of other colors. Think about purple, pink, mustard, forest green, and of course all the blues. It's a fun color to pair with the unexpected, for some eye-catching looks. And then there's all the neutrals, which for me right now is brown. These two colors go beautifully together. Red pants can really bring out the creative side in you.
DRESS THESE RED CORDUROY PANTS UP LIKE THIS…

Finally, red pants are definitely a wardrobe essential for every woman. It's such a happy and cheerful color, and this time of year is the perfect time to wear red. THESE HERE are absolutely gorgeous for the holidays…. VELVET. You'll be able to create so many captivating looks….. dress them up with a LACE TOP or down with a SWEATSHIRT LIKE THIS! I also think that red is the best color for accessories!

Don't miss out on the opportunity to add red pants to your fashion game….. you'll elevate your style to new heights!