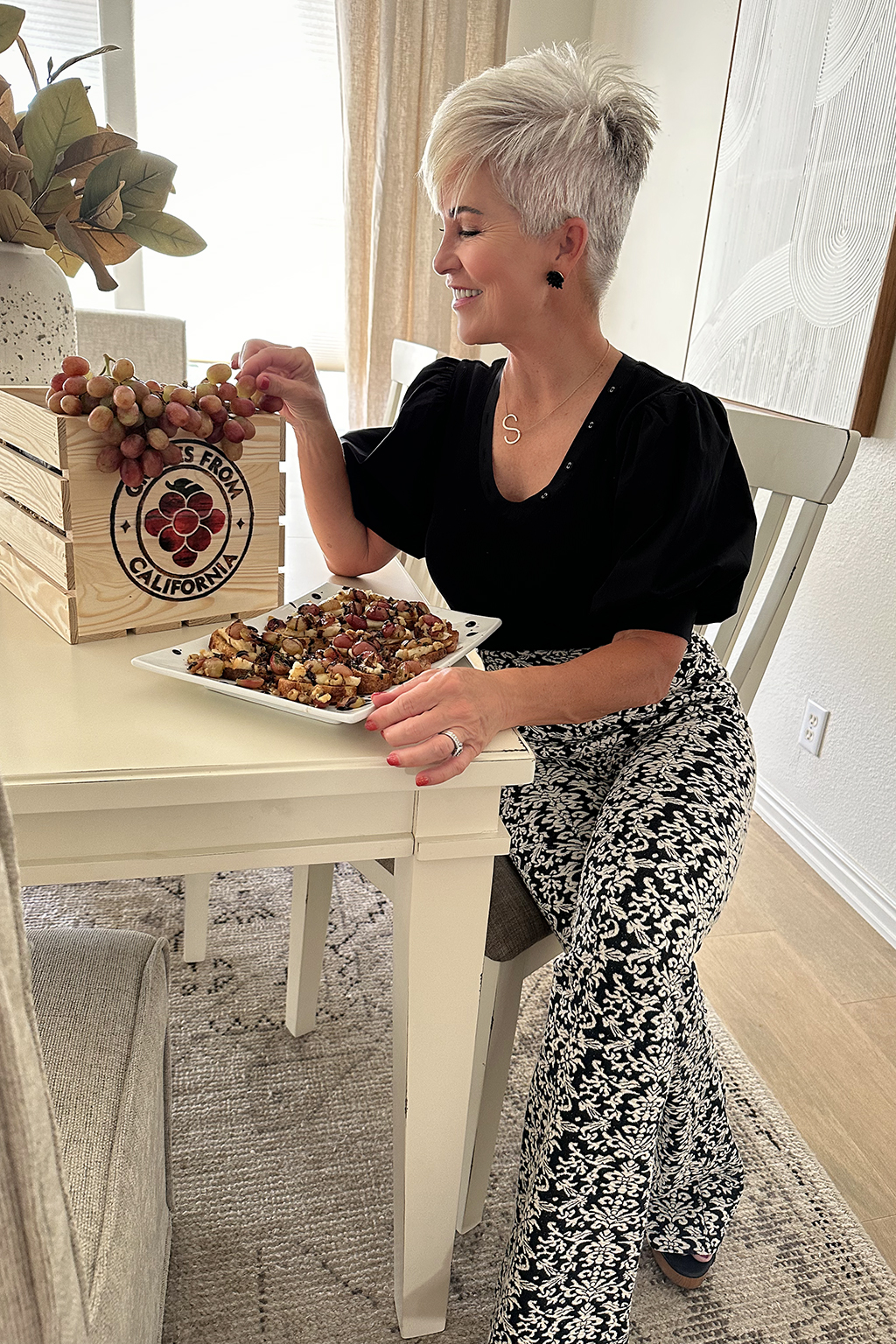 CALIFORNIA GRAPES FOR THE HOLIDAYS…. A DELICIOUS APPETIZER SURE TO IMPRESS
When it comes to holiday gatherings, there's one thing we can all agree on….. the appetizers are a delicious way to start your celebration! If you're searching for a delightful and unique appetizer that's sure to impress your guests, look no further! This baked cheese with CALIFORNIA GRAPES, is mouthwatering and is a yummy combination of sweet and savory. Here's how I made it….
DIRECTIONS ON HOW TO MAKE……
1 BLOCK OF CHEESE
1/4 C HONEY
1/4 C OLIVE OIL
1 C CHOPPED WALNUTS
2 C SLICED GRAPES
2-3 SPRIGS THYME
1 LOAF SOURDOUGH BREAD
Using Feta or Goat cheese is the best. Pat the cheese dry and coat it with honey. Crush up some walnuts, and use them to cover the cheese. Drizzle olive oil in the bottom of a baking dish and lay the cheese on top. Place sliced California grapes all around the dish as well as on top, and top with some fresh Thyme. Drizzle the whole thing with more honey and olive oil. Bake at 350 degrees for 30-35 minutes.
While the cheese is baking, slice some good sourdough bread into thin pieces. Brush each piece with olive oil and bake just until golden brown. When the cheese is done, slice into thin pieces and place on each piece of bread along with some DELICIOUS CALIFORNIA GRAPES and walnuts. Place on a serving platter and top with the drippings in the pan. To finish it off, drizzle some balsamic glaze over the top.
California grapes add a burst of flavor to this appetizer, making them the standout ingredient. I had never used grapes to cook with before, and WOWZERS…… are they ever scrumptious! They're not only super good, but healthy too! Did you know that grapes are a good source of Vitamin K? They are also low in sodium, and have zero fat! I like too that they also have some potassium. I'm always looking for sources of potassium.
The result is a savory dish that will have your guests raving. The combination of the rich cheese, the sweet and slightly caramelized California grapes, the nutty crunch of walnuts, and the drizzle of honey create a harmonious blend of flavors and textures that will leave everyone reaching for more.
____________
So…. why not use CALIFORNIA GRAPES this holiday season? Make a bold statement with your appetizers with this idea. Baked cheese with California grapes is not only a breeze to prepare, but it's a crowd-pleaser that showcases the delicious and nutritious aspects of California grapes. Whether it's Thanksgiving, Christmas, or any upcoming holiday, this dish is sure to make your celebration extra special. Your guests will love this pop of flavor, thanks to the wonderful addition of CALIFORNIA GRAPES. Enjoy!!!!