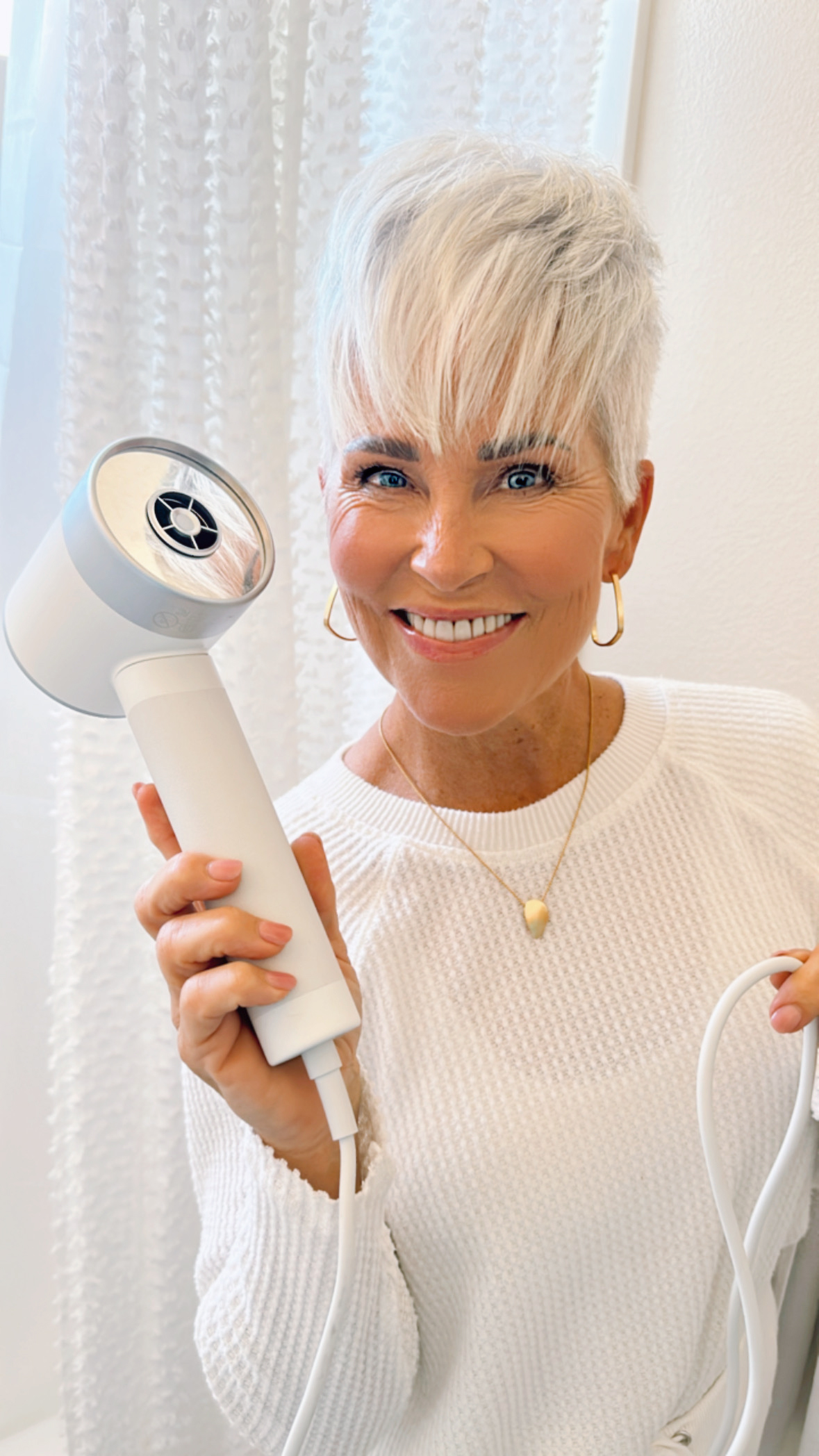 ZUVI MY MIDLIFE HAIR MIRACLE
As we journey through life, our bodies evolve, especially when it comes to our HAIR. For most of us at midlife, we start to notice changes in the health of our hair.
Time Magazine chose the ZUVI Halo hair dryer as one of the best inventions of 2022. Allure Magazine gave it the Best of Beauty Breakthrough Award in 2022. After using my ZUVI Halo hair dryer for several months it's become the ultimate tool for maintaining my healthy pixie, and I had to share it with all of you!
STANDOUT FEATURES OF THE ZUVI HALO
One of the standout features of the ZUVI HALO hair dryer is its gentle approach to drying. It uses patented technology called LightCare. Since using my hair dryer I've definitely noticed my hair to feel so much LESS DRY and much softer. It's less damaging, and will make your hair SHINIER, HEALTHIER, and SMOOTHER! And…. if you have colored hair, it will help maintain your color 57% longer.
With age, our hair tends to become more delicate and prone to breakage and dryness. ZUVI's advanced technology is designed to reduce heat damage, and ensures healthy and lustrous hair. The dryer's heat settings allow me to style my hair without compromising its health! It's sort of like a spa day for my hair, each time I use it!
MORE ABOUT THE ZUVI BRAND AND MIDLIFE FACTS
What's also amazing about the ZUVI brand, is its commitment to innovation! The brand has made it their mission to stay at the forefront of hair care technology. They are always striving to deliver products that meet the unique needs of their customers. They understand the importance of adapting to changes in hair quality that often comes with aging.
At midlife, we should all become more selective about the products we use on our hair. ZUVI's dedication to creating safe, effective, and environmentally friendly tools has won me over! They have designed their hair dryers to be energy-efficient and eco-conscious, making me feel really good about my ZUVI!
Finally, the compact and lightweight design is WONDERFUL! It has been so easy for me to pack along with me when I travel. It's super easy to handle as well. Yes, I do WANT sleek and stylish too, when it comes to my haircare tools!
____________
In a world of endless choices, finding the right hairdryer for your hair needs can be challenging. I had been looking to update mine, for a long time. ZUVI is a brand that not only meets the unique demands of our hair, but also cares about the environment. It's a WIN-WIN in my book, and I can confidently say that my ZUVI hairdryer is one of the secrets to my sassy pixie!
SALE SALE SALE!
ZUVI HALO HAIR DRYER IS 25% OFF DURING THEIR BLACK FRIDAY SALE!
Use my code Shauna5 for an extra 5% off.
Save a total of 30%, the best deal of the year is here!
You can give it a try and still have a 30-day money-back guarantee and 14-day Price Match Promise!!!!!!