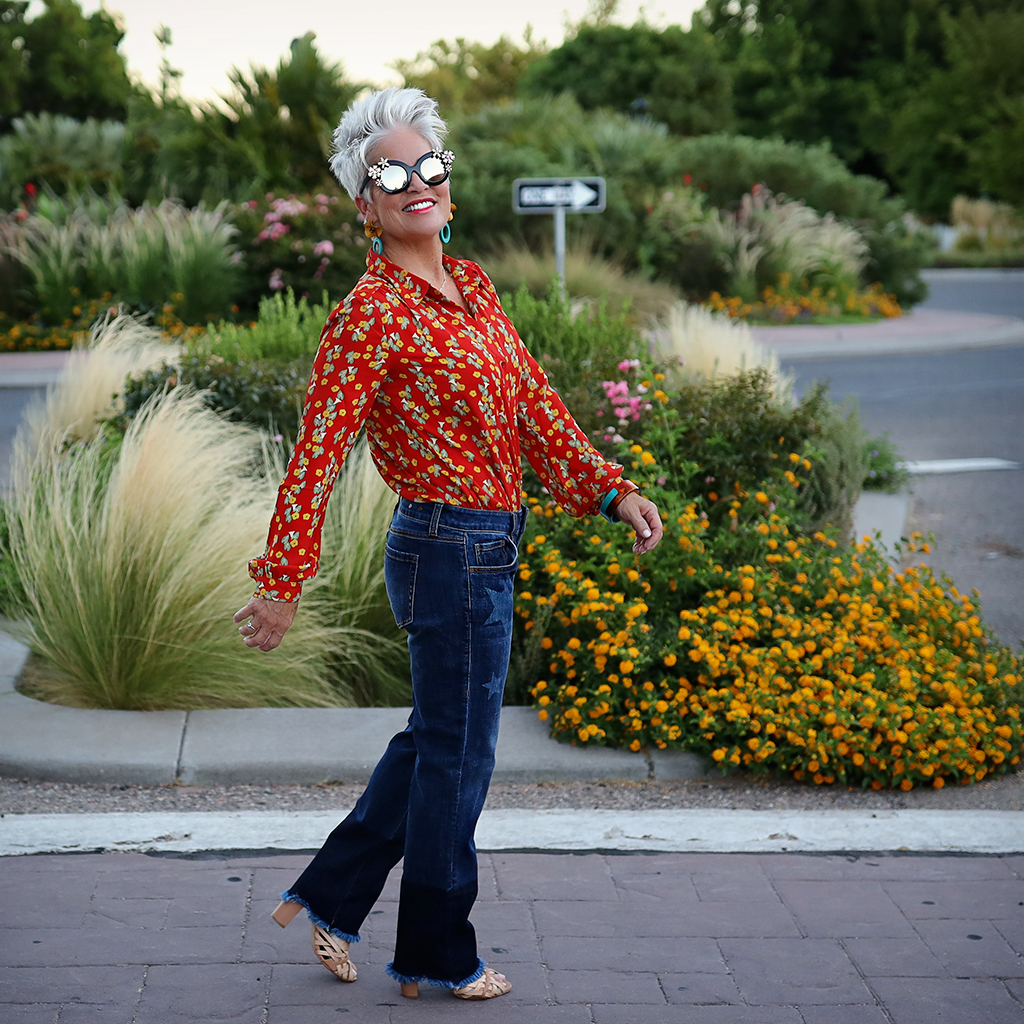 Ladies….. I'm such a fan of CABI. Have you heard of CABI CLOTHING before? I first found out about this brand a little over a year ago. I was asked to participate in their FALL CAMPAIGN 2019. I'll never forget the day when I walked in to this huge studio set in LA, with so much going on, and meeting everyone behind the scenes of this fantastic brand!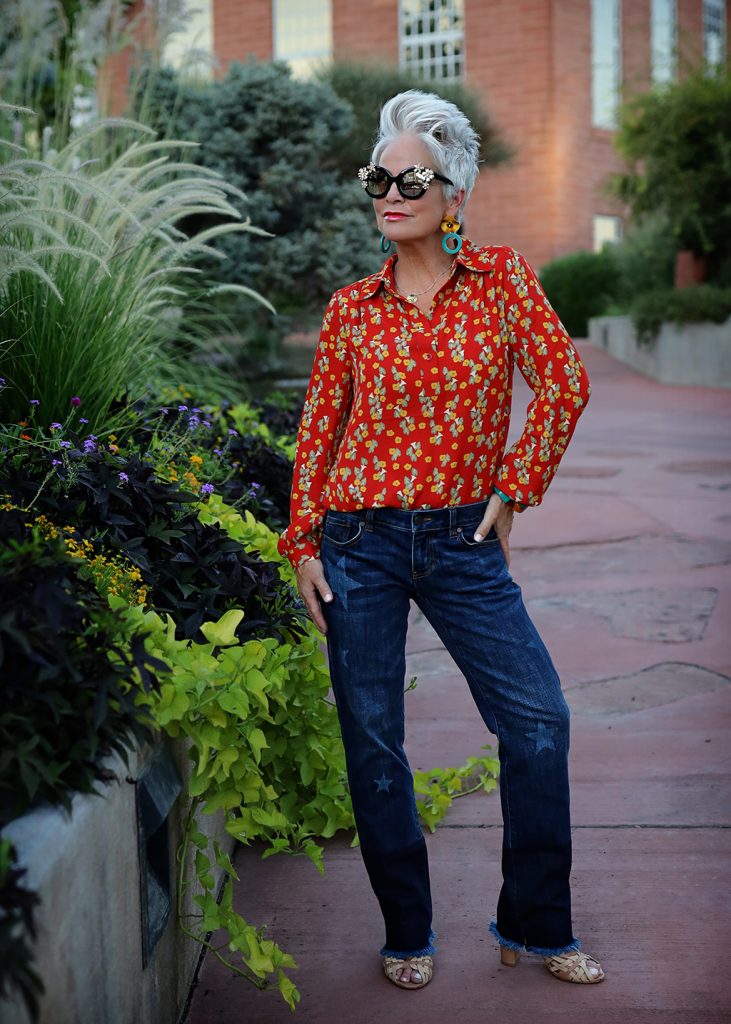 HERE is a look at that video for CABI'S 2019 Fall Campaign.
CABI CLOTHING says this….
LOVING THE WAY WE FEEL IS ALWAYS IN STYLE!
"In today's busy world, we don't have time to worry about what we put on, but we know that when we get it right…it matters. When we nail it, we step out the door with confidence, ready to conquer the day."
Their brand is meant to give women the ease they need for their busy lifestyles. Their clothes all coordinate with each other, which makes it SO SO EASY to put together AWESOME outfits with LESS THINKING! I am so excited to show you in the next months, all the FABULOUSNESS that CABI offers, as I am proud to say that I AM one of the ambassodors!
Ok…. let's chat about my outfit! First, these JEANS! Aren't they fun with the STAR pattern? These are the very first thing I spotted in the CABI ONLINE FASHION EVENT that I was able to watch! And the fringed bootcut leg is a little different than what I've had in a while! LOVE LOVE LOVE these jeans!
My bright red blouse is SO ME! The color is vibrant and cheerful, it's so comfortable, and so easily mixed in to my CABI wardrobe. I have some caramel colored corduroy jeans (I LOVE the button fly on these) that this will look SO CUTE with as long as some CABI black skinny jeans.
I wanted to show you MY FAVORITE jacket that I'll be wearing with this look as we cool down in temps! And what about THE BELT??? CABI always has THE BEST BELTS!!!! This, with the gold AND silver studs is FABULOUS!!!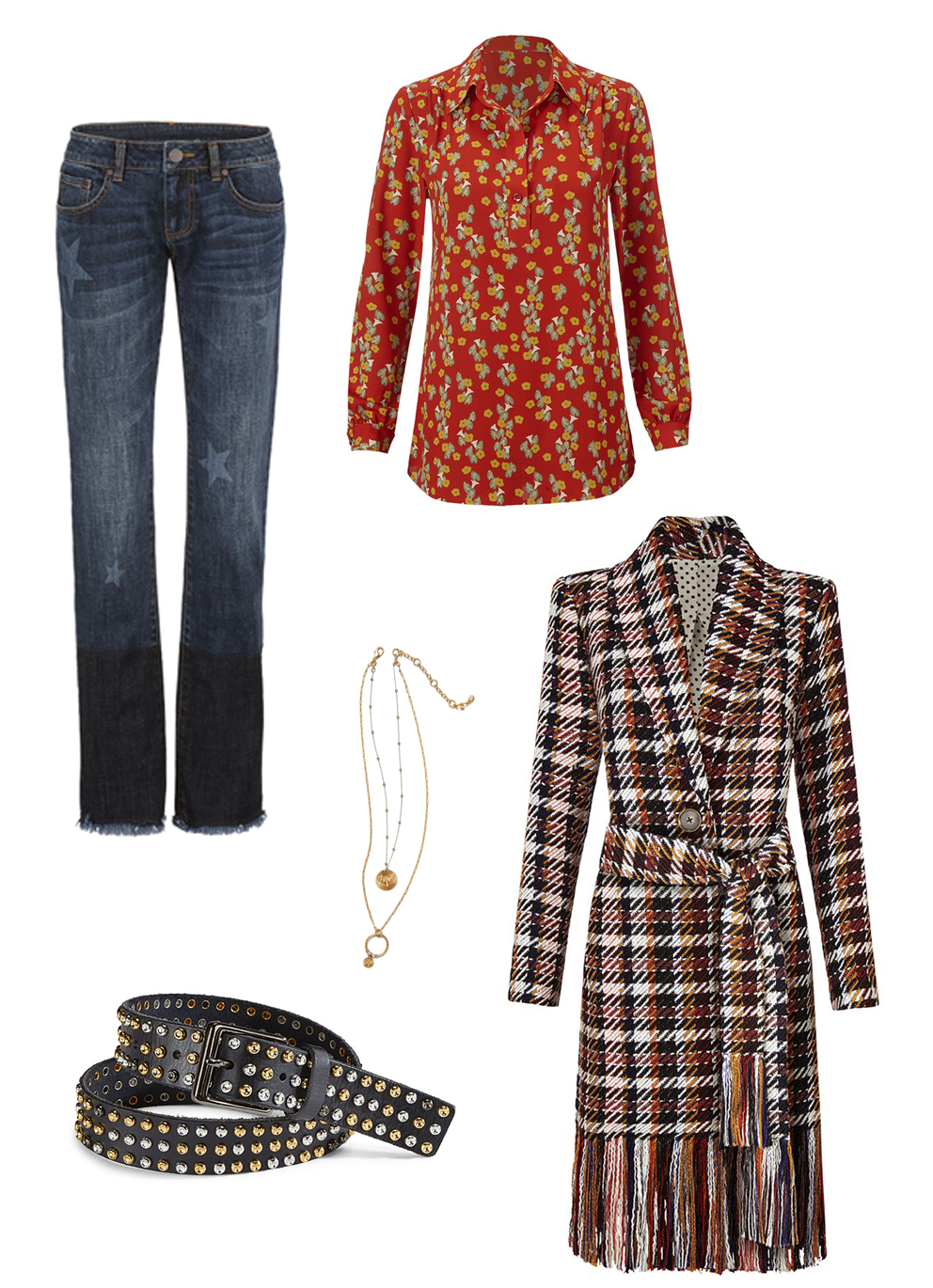 All of CABI'S pieces are wardrobe essentials. CABI has a way of offering to us women, clothes that can be mixed and matched in to numerous outfits! And not ONLY that, but their clothing is exceptional in quality! Their clothes are timeless, and you'll get years and years of wear out of them! I'm such a FAN OF CABI clothing! You see how it all works together, which is one of CABI'S main concepts! It's just spectacular!!!
LOOK AT CABI'S FALL LOOKBOOK….. it's simply FANTASTIC!
Shauna XO