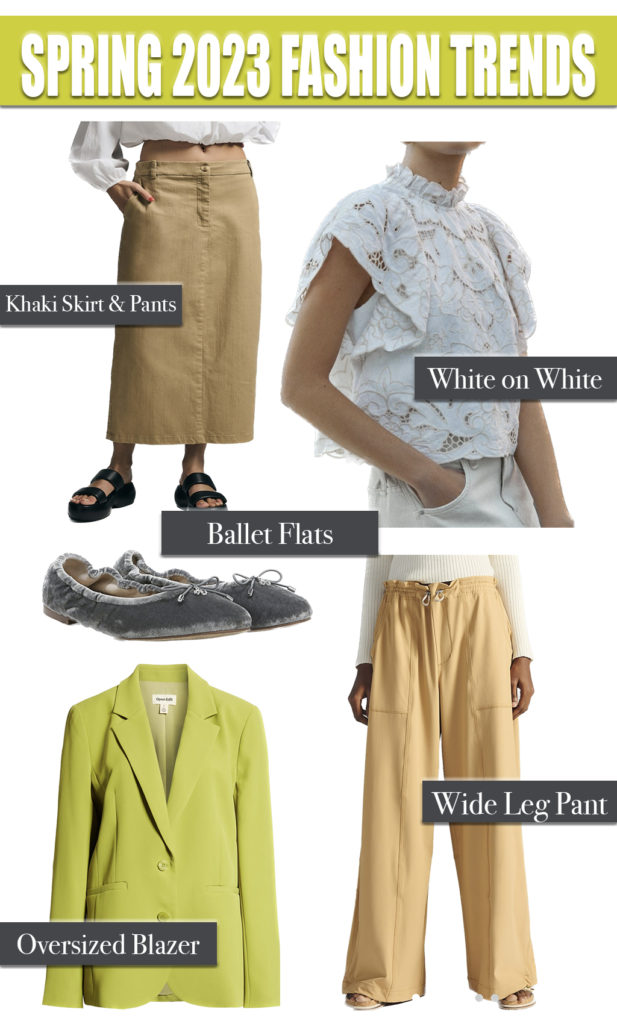 CLICK AND SHOP

I'm starting to get some SPRING FEVER over here, so thought it was time to take a look at SPRING FASHION on the horizon! I suppose you could find all kinds of opinions on what is trending. I never thought I would say this, but I'm starting to feel a teeny-tiny bit more subdued in my style. I'm finding that being a little more sophisticated is making me feel better. WHAT?? I know….. I said it, but it's true.
With that being said, let's take a look at my TOP FIVE TRENDS to watch out for, and I'll give you my ideas of how I would style each look. Remember you can still wear a trend, WITHOUT looking too over-the-top or like you're trying too hard.
____________
KHAKI CARGOS AND SKIRTS

Cargos and khakis can be really tricky to style. It's super easy to go frumpy with this look, so it's important to know how to style them! I like the idea of pairing these with classic pieces such as a white linen button-down shirt, classic white tees and stripes, heels, and great accessories. I would wear cargos like this…

WIDE LEG PANTS

I have always loved the wide leg pant. I think they are beautiful and elegant and most important comfortable. Make sure to wear something fitted on top with these, especially if you are petite like I am. Proportion is important with the wide leg. I would wear them like this…

BALLERINA FLATS

Ballerina flats are the ultimate classy and feminine shoe. I have several pair of CHANEL flats that I got back in the day that are still in great condition and of course they will ALWAYS be "in". Wear them with skirts, dresses, jeans and shorts. Your feet will love you! Wear them like this…

WHITE ALL OVER

There's nothing more fresh and clean than an all white outfit for spring. It's such a beautiful look and one you should think about for ANY of your vacations! You can go from white jeans to white gauze, linen and lace. It's all beautiful in all white! I would wear it like this…

OVERSIZED BLAZERS

This is a trend that I think is so chill and so classy. I have yet to get a new blazer, so maybe this spring I'll have to change that! I love these the very most with jeans and tees. Heels, sneakers or flats will all go perfectly with an oversized blazer. Use your blazer as a jacket for those cooler spring temps. My favorite way is like this…

____________
What spring fashion trends are on the horizon for YOU? Personally I'm going for the all white look and wide leg pants with maybe some ballerina flats thrown in! Regardless….. I'm just looking forward to spring because our winter has been FREEZING! In fact we've had snow here and it's not supposed to snow here, not EVER!
Shauna XO