How to wear CARGOS AND CHINOS….. because they are making a huge comeback! I'm seeing them everywhere! The timing was perfect because of my trip to Africa! But, can you wear them and make them look cute for everyday? I'm here to talk about just that and how I would style them. Of course you can always go the very casual way like I did in Africa, but there's a way to really amp them up and I want to show you how!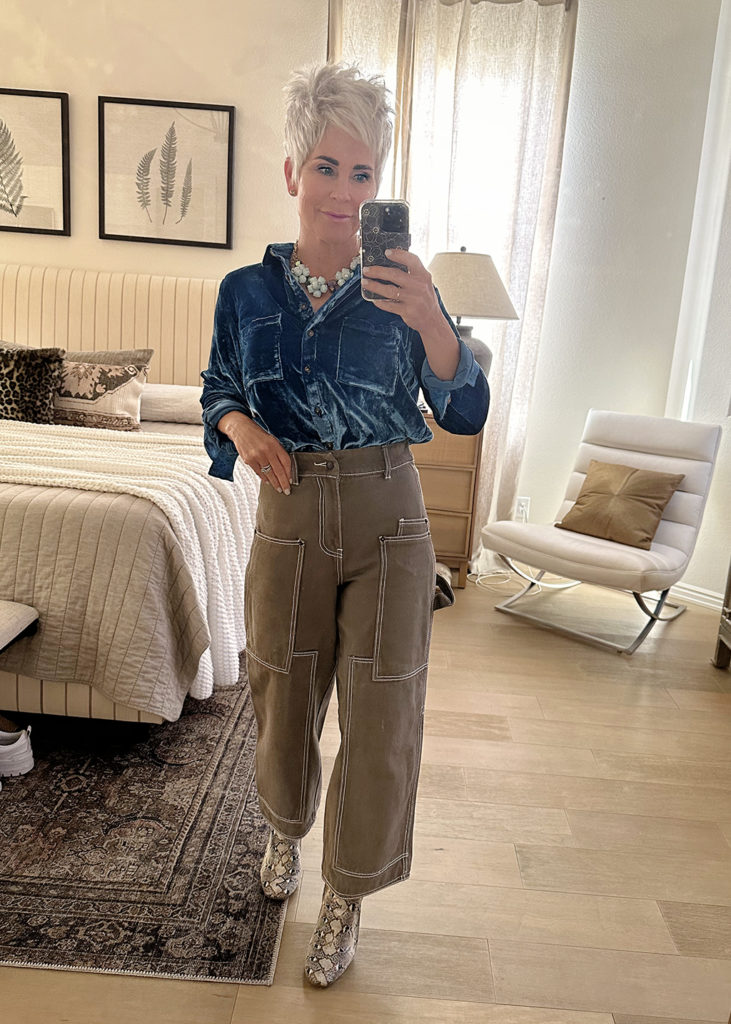 What is the difference between CHINOS and CARGOS? CHINOS have a cleaner streamlined look to them and definitely more dressy, and CARGOS or KHAKIS have more of a utilitarian look. I want to lump them in to one blog here and talk about how to style them so they look FEMININE and CUTE….. because they do have a tendency to look frumpy.
CARGOS first showed up in the military in the 1930's. The functionality was ideal with all the pockets. As far as FASHION goes, it was the 90's when we saw them in the entertainment world. U.S. fashion designer Ralph Lauren presented silk cargo pants as part of his runway show in 1998. You can now find them for women in softer fabrics and colors, sometimes with ribbon trim or embellishments. Cargo pockets have been added to shirt sleeves as well….. check out my CHIC SWEATSHIRTS with the cutest cargo sleeves!
CHINOS were first seen after World War II, returning GIs began wearing the plain-front pants. About the same time chinos were a common sight on college campuses, where they began to define the Ivy League aesthetic or "PREPPY" style. Hollywood soon followed, leading a generation to define chinos as effortlessly COOL.
WAYS I WOULD STYLE CARGOS AND CHINOS
My favorite place to shop for these is FREE PEOPLE. These HERE are so so cute! I love the lighter spring color and love the thought of them with a simple clean white tee. What would I add…… some heels of course and fun accessories! I added the lacy ankle socks for a touch of girly and also a great way to wear your open-toed shoes as you transition to spring. You could always add a fabulous BLAZER to this and look even more polished.

You can even find the CARGO style SKIRT! This is soft and feminine and so classy paired with the striped jacket. I love the white bootie with it which could be worn all through spring AND summer. But paired with a sandal as it gets warmer would be super CHIC too.

Now to CHINOS. Isn't this vibrant blue adorable? I've paired them with a cute and comfy graphic sweatshirt and a denim shirt underneath. Add a colorful neck scarf for some more color and some white sneakers. I love this fun and playful look, and it gives you a casual outfit that isn't jeans. Although, I will never tire of my jeans!

____________
SHOP MORE STYLES HERE

Do I have you convinced that you CAN wear CARGOS and CHINOS in a fabulous way? What do you think? Now is the perfect time to try them heading in to spring. You can find them at all different price points. I would suggest that if you're on the fence, pick some up that are inexpensive. That way if you decide against them, you can just donate them to your local thrift store!