I'm serious when I say….SOMA is the ONLY thing I sleep in. A few years ago I didn't know what SOMA was. Shortly after starting my blog I started working for CHICOS (which by the way is having a 40% off SALE) and they have been absolutely amazing to work with. I have LOVED working with them. I was then introduced to their parent company, that of SOMA. Soma is their jammie and lingerie line….and I love both!
You've heard me talking about how luxurious CHICOS fabrics are. And not only that but the construction and QUALITY! We are all aware of cost when it comes to clothing of any kind, but sometimes we sacrifice a LOT when it comes to the QUALITY of something. Well…..SOMA and CHICOS do NOT skimp on quality……not EVER!
I have several of SOMA'S jammies. You've seen me wear them with my friends as we've traveled together. Here we all wore SOMA APPAREL, yes they do have apparel too! One of my FAVORITE shots was over in Italy just outside the Trevi Fountain! The choices are nearly endless! You can find almost any style, any fabric, and any color!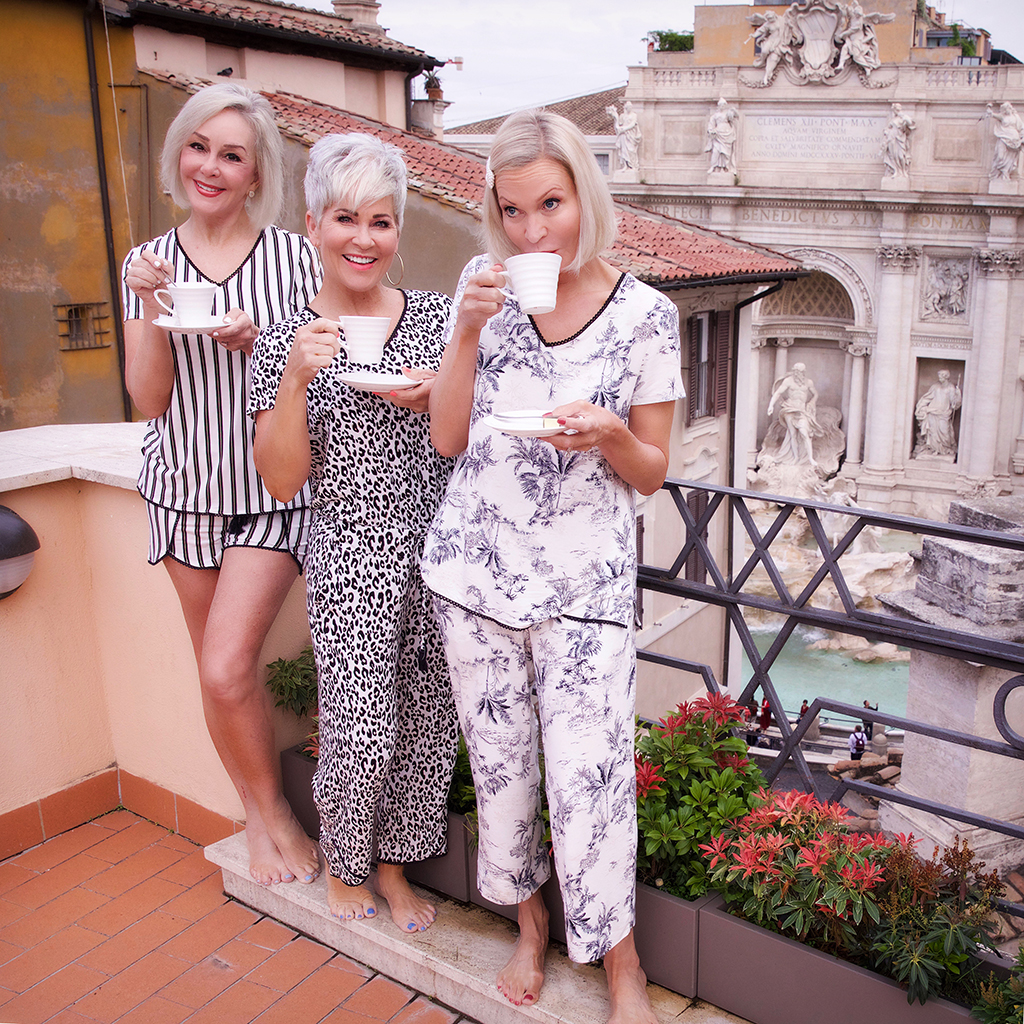 Soma also has amazing lingerie….bras, panites, etc. I've posted on their bras before and they really are beautiful! That blog is here. Any special occasion…if you know what I mean, Soma will have you covered!
I will be wearing these on my next girls vacay! It's coming up VERY soon, and it will be freezing. Any guesses to where I'll be going with SheShe and Jamie? We all have coordinating jammies and are so excited to bring them along!

So since Soma is the only thing I sleep in, I wanted to specifically make a SOMA gift-giving guide of all my favorites! THIS is the time you want to buy your Christmas jammies for everyone…..sisters, daughters, mamas, and girlfriends! So don't miss out on Soma's SALE! Take advantage of BOGO 50% off on BRAS, SLEEP, and APPAREL!
HAPPY SNOOZING SWEET FRIENDS!
Shauna XO