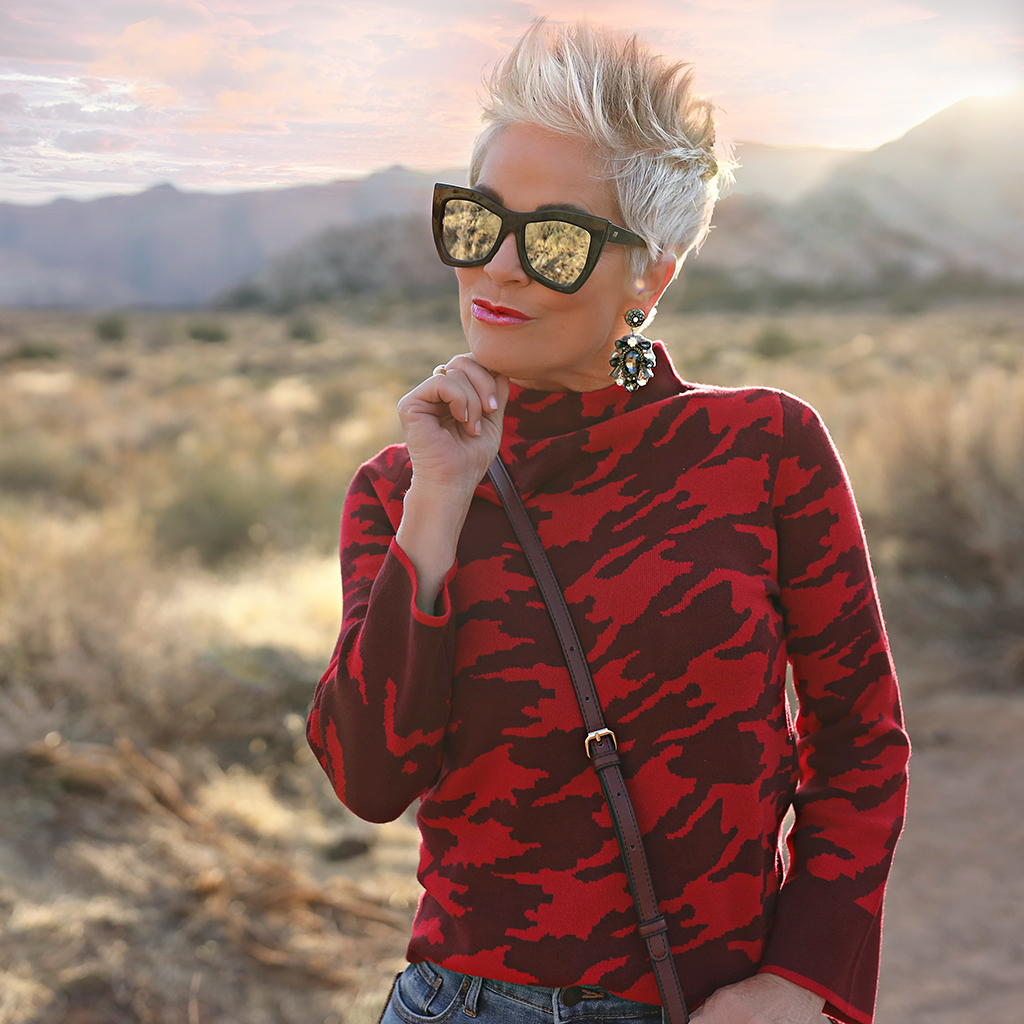 Ladies….. SHOP CHICOS for your holiday style! They have some beautiful things ALWAYS, but particularly right now! When THIS sweater first showed up on their website I immediately noticed it! The pattern and bright vibrant red color is SO CHIC! When color and pattern come together, I'm always IN! But then there's velvet, and lace, and all kinds of good things, just in time for the holidays.
Which brings me to….. the holidays this year and your celebrations. How will you all be celebrating? Even though our gatherings will be much, much, MUCH smaller than normal, the holidays STILL require fantastic outfits and festivities. Even……. if it's just for TWO!

I loved these velvet pieces because they are so comfortable to lounge around in at home. You can wear them separately with other things in your closet like…. the leggings with an oversized flannel shirt? Or the velvet top, with your comfiest pair of distressed boyfriend jeans and flats (or slippers). These are the kinds of pieces that will last for years, timeless you could say.

And this dress….. slash, kimono! Oh my heavens! It is FABULOUS! I like it the most worn open (over the velvet) like a kimono or some would call it a duster. The fabric flows beautifully! Worn as a dress with some heels is GORGEOUS as well! I will be wearing this with THESE FUN JEANS.
And the jeans have a sassy sequin stripe going down the side. They fit like a glove (I think my best fitting pair of Chicos denim to date) and will go with all of your Christmas sweaters, a blazer, even a simple tee and sneakers! I LOVE them!
My accessories today are a statement pair of earrings, gold bracelets, and this DARLING RED PURSE! The crossbody style is easy and the perfect size for your cell phone, lipgloss, mints, and glasses! Such a fun pop of color for any outfit. Red I'm pretty sure is a neutral!!!! Oh…… and of course my FABULOUS MASK too!! Chicos masks are so nice to wear because they're lightweight and silky against your face!
So….. shop CHICOS for your holiday style and you won't be disappointed. Not at all! And not only will these be great for the holidays, but throughout your whole winter season!
Shauna XO
THESE ARE SOME MORE OF MY FAVORITE CHICOS FINDS….
JACKET ~ FLORAL WRAP ~ JOGGERS ~ FLOARL PANTS ~ SWEATER VEST