We are absolutely ROCKIN THE AGES! This is my friend Sheree, and I call her SheShe. Her blog is called the SheSheShow, and she's quite fabulous. She lives in Texas and was one of the first bloggers that reached out to me when I started ChicOver50. I had never met her until just a couple of weeks ago when we were in LA. We had an instant bond…..like sisters! Her playful and colorful and vibrant style just connected with me. In fact when we were planning this shoot, (and it was just going to be for fun) we barely talked about what we were going to wear! She knew the skirt I was bringing, and that's about it. Can you believe we both showed up in the same earrings but different colors? We couldn't have planned this better. We really have to be kindred sisters!!!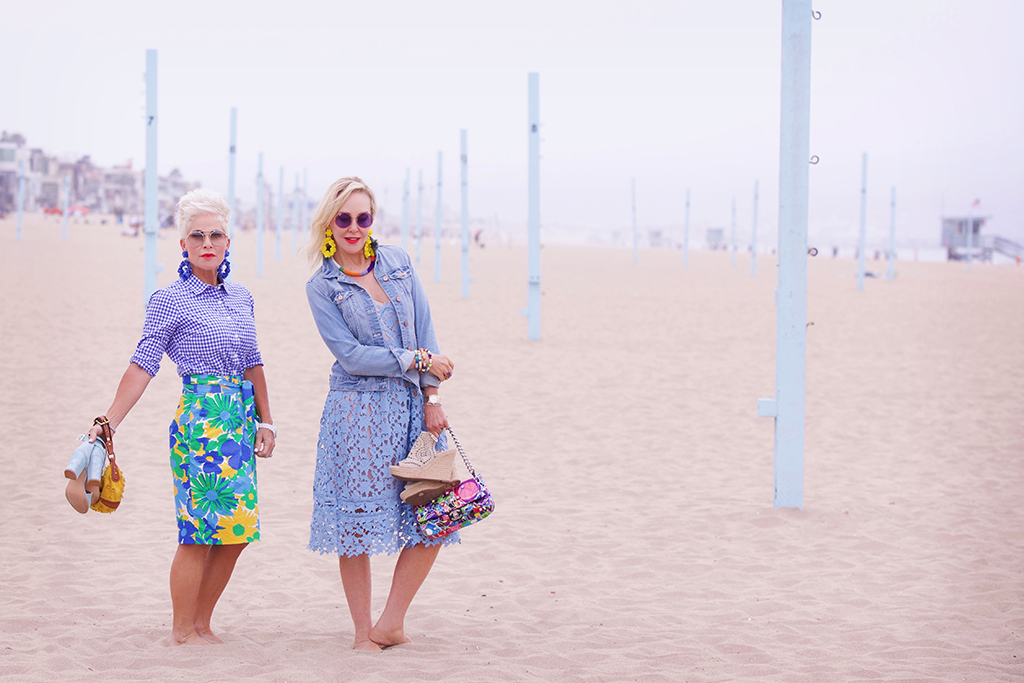 While I was in LA, SheShe called me one afternoon with the idea of doing an account called ROCKIN THE AGES! I was immediately game!!! We will post about things relative to women our age, whether it be lifestyle, health, fashion, or travel. There will be guest bloggers from all generations that we'll introduce you to. We will strive in posting interesting topics, and would like to show that we are still very YOUNG AT HEART! So….here's off to ROCKIN THE AGES! We are excited to see where this will take us! In the works for us will be Moab Utah and NYC!!!!
Our Instagram is @rockintheages and we would love to have YOU FOLLOW along!
I've linked a similar outfit to mine, below. The shirt I would get in the gray, and the earrings in the Sandstone color. The shoes are very similar to SheShe's wedges.
Similar Skirt  |  Similar Shirt  |  Similar Shoes  |  Earrings  |  Bag
Shauna…..XO