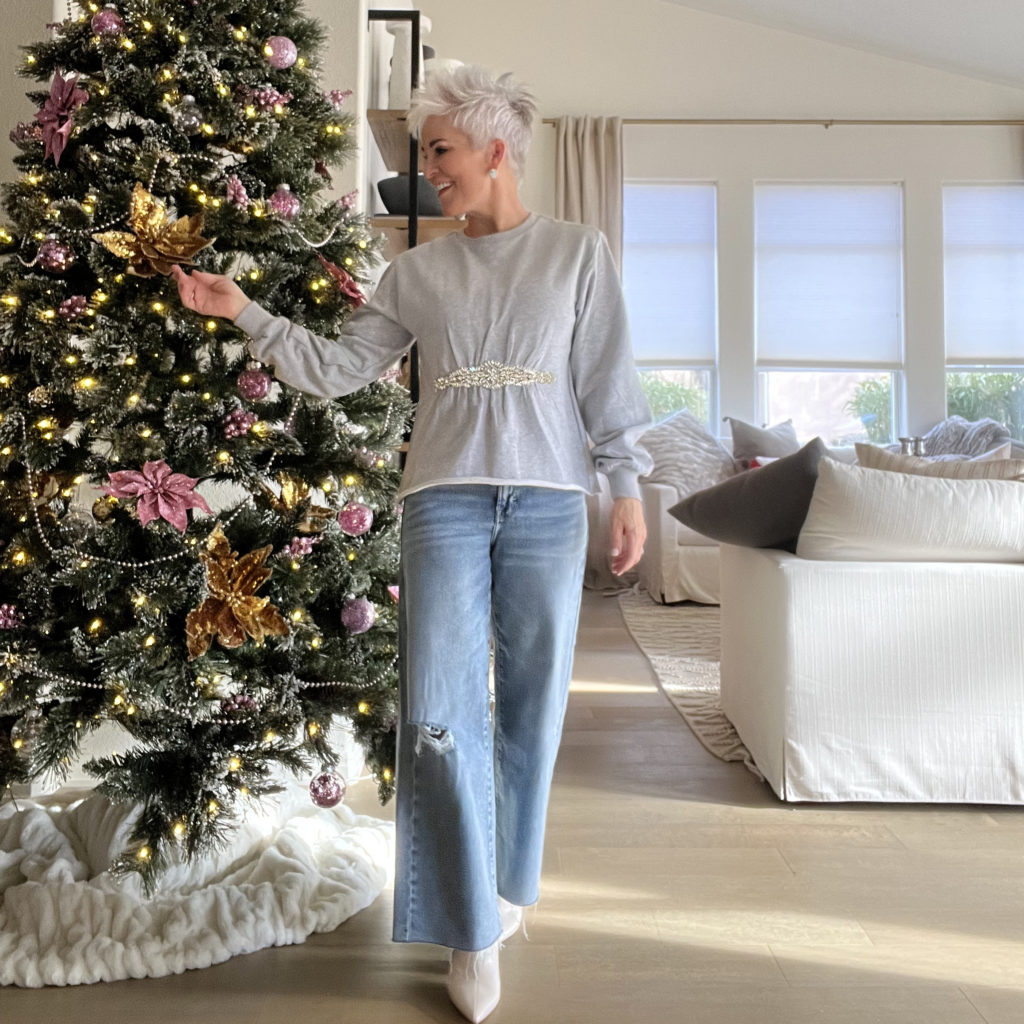 Let's chat about what's new at Shop Chic. I've just recently added some NEW ITEMS TO SHOP CHIC. If you've missed me on INSTAGRAM, I wanted to update you on some of my NEW ARRIVALS! It's been interesting to me to see what gets the most attention, and it just so happens to have been this GRAY RHINESTONE SWEATSHIRT I'm wearing above! It completely sold out in hours. I was able to get more which again sold out EXCEPT FOR ONE SMALL. If you're interested, ACT FAST! It's a great way to wear a little bling without being over the top!
PLEASE LET ME KNOW WHAT YOU'D LIKE TO SEE!
As I get more and more in to running SHOP CHIC, I would LOVE YOUR INPUT on what type of things would get your attention. The sweatshirt was a looser fitting style, so I'm thinking that that's why it was so popular. Please let me know your thoughts. Do you like the JEANS, the CHIC SWEATSHIRTS, or would you prefer to stick with just TOPS? What about the ATHLEISURE SETS? They are so cute and comfy and are what I personally wear the most.
ATHLEISURE SETS SOLD SEPARATELY
This DAISY SWEATSHIRT AND DAISY PANTS are so stinking adorable! The knit on these is really substantial and feels super nice. It's so easy to fold up and pack away in your suitcase with no wrinkling! I'm going on a fabulous trip in February and probably will have this in my suitcase. Each are sold separately, and will give you lots of versatility in styling. I would pair the pants with a denim jacket and a tee. The sweatshirt would look darling with your jeans and a white button-down shirt underneath.
The last items that are NEW at SHOP CHIC are this VELVET SHACKET and VELVET PANTS. Each are sold separately and also come in BLACK as well as the PURPLE. I love both of these. The velvet makes it a little special but the silhouette is so easy and relaxed. Again you could take either of these and style so many different ways. The shacket really is like a shacket in that it WILL definitely keep you warm like one. This is such a FUN OUTFIT for the New Year celebration!
____________
One more week until Christmas. How does this happen? I swear I just got home from my vacation in Hawaii over Thanksgiving. The years keep going faster and faster. And that brings me to the New Year and my resolutions. I've already started to think about them. Have you? I'm definitely big on setting goals. If you're not, you should consider. There's not a better feeling in the world, than accomplishing something hard!
Shauna XO