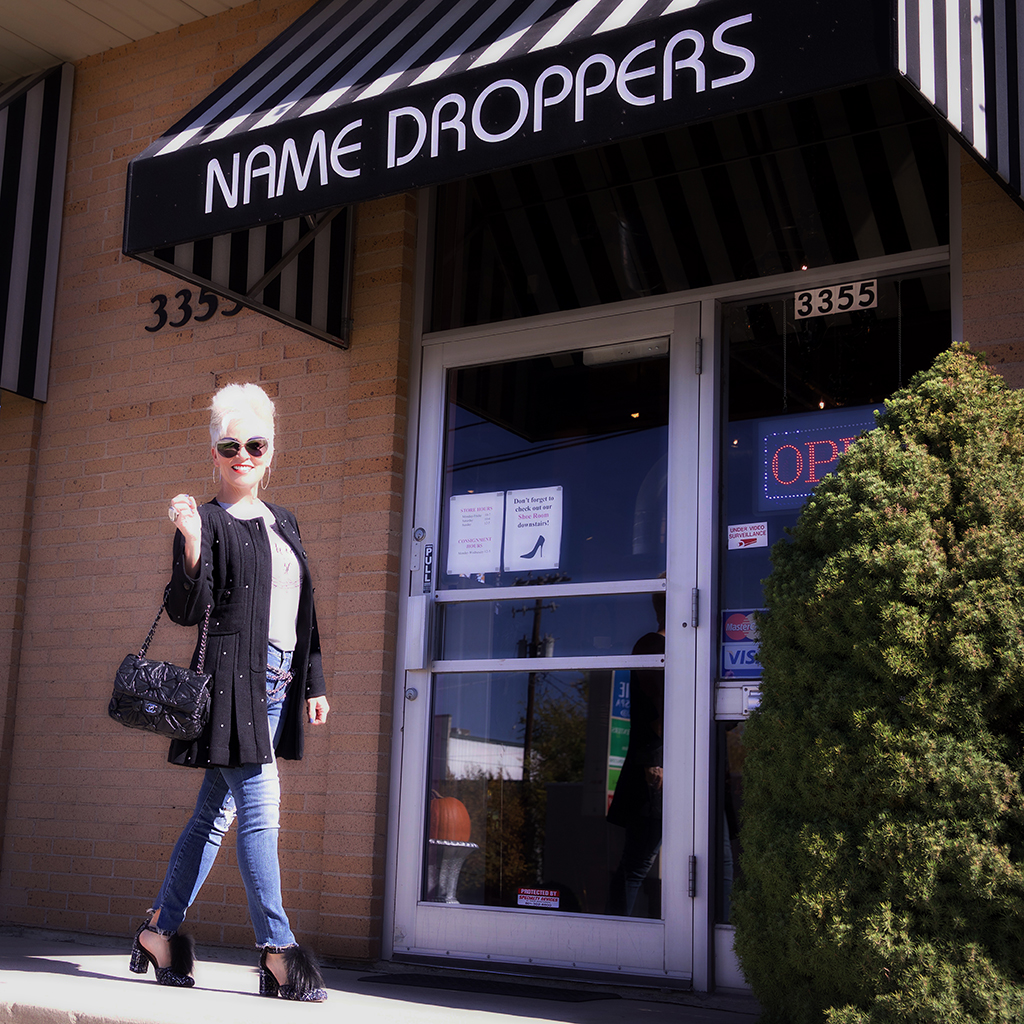 When I was in New York City a couple of months ago for NYFW, I had the greatest privilege of meeting Lyn from @iconaccidental. She has an amazing presense  and so one of my questions I asked her about, was her style and where she likes to shop. I was surprised to find out that she shops a lot at consignment shops. She says that there you can find unique pieces at incredible prices. I had gone to NY with several outfits from my local consignment store Name Droppers. That post is here, and I talk more about how all of that happened…purely unintentional! So after I talked to Lyn I was telling myself, I should take consignment shopping more seriously! And so I have…
Name Droppers has been in business for 21 years and has two locations. The consigner list has grown to well over 15,000. They have a complete line of women's, men's, designer bags and shoes, jewelry, and other accessories….there is something for everyone! And if that's not enough there is the Name Droppers Outlet store, on Parleys Way where discounts dive even lower!!!
Tiffany Coalizzi, the owner of Namedroppers knows her clients well, so she is very selective as to what is accepted in her stores. She and her well trained staff are excellent at finding the perfect style and fit for each body type. And I am a testament to that. It seems anything she shows me, works absolutely perfect and fits me like a glove! How she does this, I have no idea!!! One step inside of Name Droppers and you'll feel as if you've entered a hi-end designer boutique in NYC or LA. Don't be fooled by the beautiful interior, the bargains are really there! Racks and racks of beautiful clothing that is in like-new condition and current, but priced at a fraction of it's original retail price. Tiffany and her crew are intent on helping you look great and feeling comfortable in whatever you purchase!
You will find CHANEL, Louis Vuitton, Burberry, Dior, Gucci, Prada, Rag and Bone, Kate Spade and so much more!!! The jewelry is to die for! It's nothing short of stunning! A CHANEL bag that retails for $4600 and at Name Droppers it's $2895! The CHANEL black coat I'm wearing comes with a skirt. The coat was $9850 and at ND is $2895, the skirt $1780 and at ND it's $397! The sunnies I have on are Marc Jacobs for $150! The hat with the feathers along the brim is a CHANEL and retails for $3800 and at ND it's $895…..and is a BEAUTY!!! Absolutely INCREDIBLE prices. It's like Tiffany says, "Why not bring your goods that you're not wearing anymore, or don't fit in to, to Namedroppers  and trade up for a new little something???!" I'm loving the idea more and more!!! I found this darling little BW faux fur jacket that I'm so excited about, and this Free People Dress!  And to think I didn't spend a penny because my account covered my new finds!!! Score!
From the accessories to the shoes, everything there is in super great condition. It does NOT feel like used AT ALL! Don't get fooled by the assumption that everything at Name Droppers is gently worn. Over half of the inventory in both stores is new and with tags on it! Name Droppers deals with manufacturers, reps and small boutiques that need to make room for new in their showrooms and stores, so they send to Name Droppers! There is a special SHOE room downstairs at Name Droppers that is just like it's own boutique, with pretty lighting and a cute sitting area! Every corner of this store is charming and inviting! Check out these blue and green mules with bumblebees??? Cute as EVER!
Tiffany knows everyone loves the thrill of the hunt, but she will help you experience, "The Joy of the Find"! She takes such great pride in what she does, and it shows! It's such fun going in and seeing what's new. Most of the time when shopping consignment the items are one of a kind. So her best advice to anyone shopping there is, "The treasure you see here today may not be here tomorrow!" If you LOVE it you better buy it because it could be gone when you come back!
Name Droppers takes a 60/40 split. For higher end designer goods, they are willing to  negotiate a higher split. They take clothing Monday-Wednesday 12-5 or by appointment. There are no returns because the consigner gets paid as soon as their item is sold. They only take seasonal pieces, so now are accepting winter styles only.
Oh….and one more thing! The things I've featured here in this blog are all higher end pieces, but NOT TO WORRY! There's something there for everyone and they cater to all price points. It's a fantastic mix between super high end one of a kind pieces, and everyday affordable clothing! Happy consigning friends!!!
NAME DROPPERS |  3355 Highland Drive  |  Salt Lake City  |  801.486.1128
Shauna…..XO