This is my wrap-up of my very busy week It seems it went by in a blurrrr! I attended the Parade of Homes where I live, which took three full days. It could have taken all week to be able to see EVERYTHING, but there was no way I could have given up that much work time! It really was a lot of fun going through all of these amazing homes. I live in the desert and am in LOVE with the landscape. Most of these homes had GORGEOUS settings among all the red rock here in Southern Utah. The adobe exterior is MY FAVORITE, and I'm loving contemporary more and more!

This is what I wore out to dinner for Valentine's Day, very laid-back and straight from my closet! I've been in the process of thinning out and so have shopped my closet a LOT lately. This silky pink top and jacket were two that I hadn't seen for awhile. I wore them with some wide-legged tie-waist jeans! I have to remember that doing this is not only budget-friendly, but eco-friendly too!!!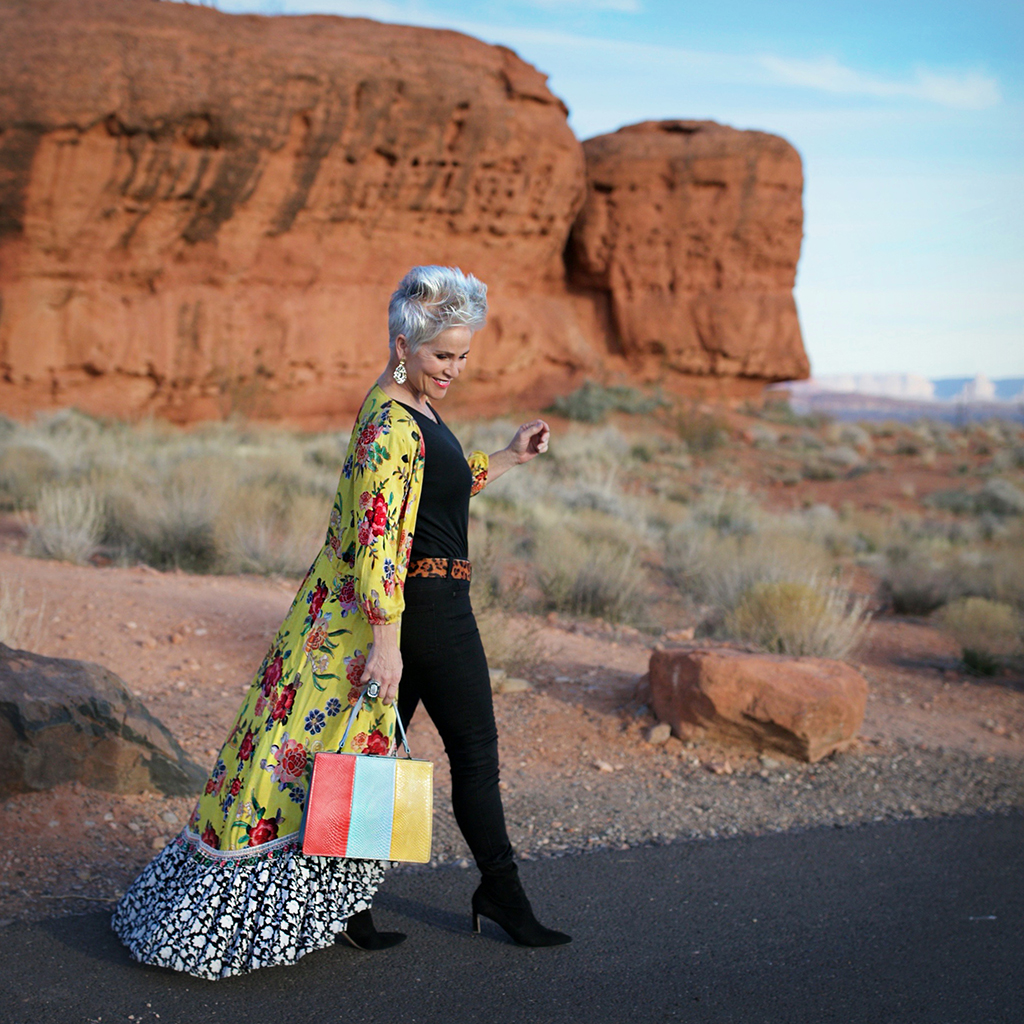 I wore this dress/kimono to some friend's home for dinner and games. Oftentimes when I get dressed up to go out somewhere, on the way we'll stop to do pictures, as was the case here! I'll never get tired of all these beautiful red rocks!!! This is actually a dress that's a few years old. The colors and pattern are so cute! I've never worn it as a kimono and think I like it better than wearing as a dress! This is why I like shirt dresses…. so you have the option of wearing it like this. We had such fun eating tacos and playing games! What are your favorite games? THIS is one of our favorites to play in a big group!

And next is a little throwback from Italy last summer. This was in Assisi, which if you've never been there, it is SO CHARMING! This was such a fun skirt to have on my trip! The colorful embroidery is adorable, and was easily dressed up. I liked it best like I'm in here with the white sneakers!

Have you ever had your car DETAILED? Mine hadn't been done for a couple of years….. but I also keep a tidy car! Jaden from BOOST BROTHERS DETAILING, came right to my door and I loved it because I'm so dang busy!!! He did an amazing job, almost 4 hours worth! If you are living in Utah you can contact him here on Instagram @boost_brothers_detailing Or, his phone number is 801-828-8801. He is offering you a 20% discount on your DETAIL until March 6th!
Lastly was a SPECTACULAR jacket with hand sewn flowers and beads that's a vintage piece in my closet. I'll write a short blog on this little number later….. because it just deserves that! It's from the German designer ESCADA!
So that's my wrap-up of my very busy week! Thanks for following along friends!
Shauna XO