My weekend getaway with the Hyatt Place, was just what we needed. Me and my husband were invited to stay at the Hyatt Place Lake Powell for a long weekend. It's located in Page, Arizona really close to Lake Powell. I've loved that area for many, many years. I lived in Arizona when my boys were young. We spent a LOT of time at Lake Powell on our boat. So I'm very familiar with Page. Back in the day there weren't a lot of nice options for lodging. We most often were on our boat camping on a beach somewhere on the lake, but if you didn't have that option, there just wasn't a lot out there to choose from.
You can count on the Hyatt Place for comfortable beds, clean accommodations, and excellent service. I was VERY IMPRESSED. We stayed for two nights and were treated so well by Lori and her staff. The first night we were there, it was Navajo Taco night. Oh my goodness….. I had never tried them, and they were delicious. There was a local lady, Vanessa, who was cooking up the bread. She stood over her hot skillet all night cooking her yummy bread. She told me that her grandmother had taught her how to make them, and that this was her family's favorite… I sure can understand why!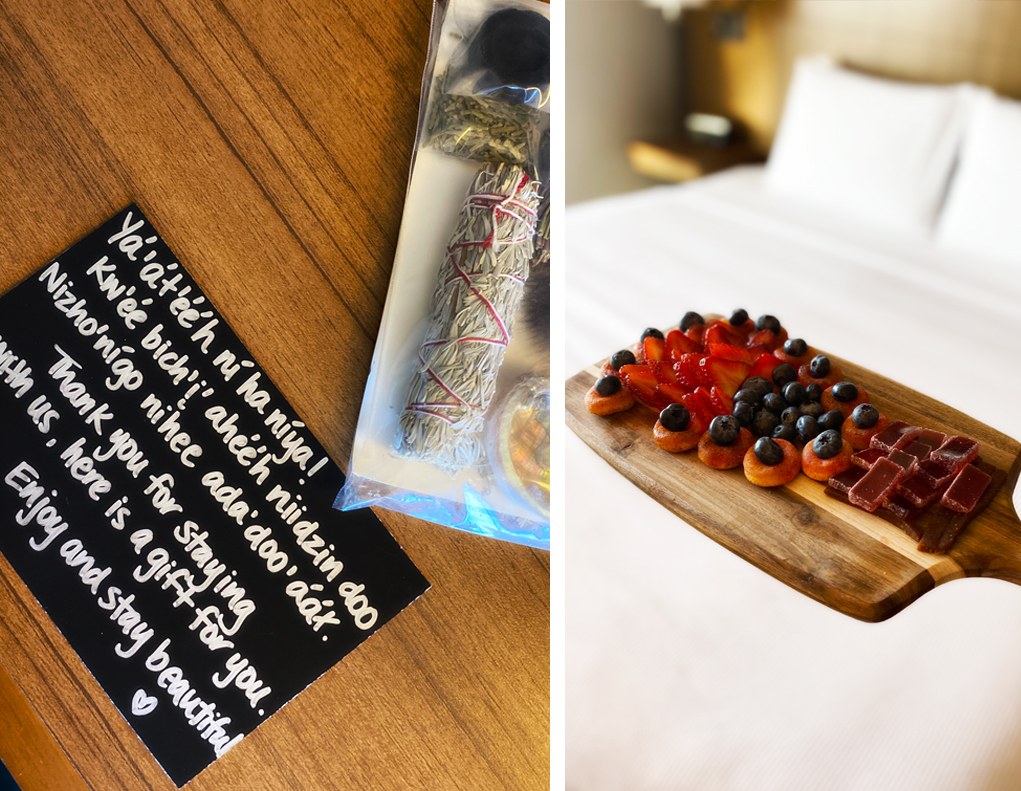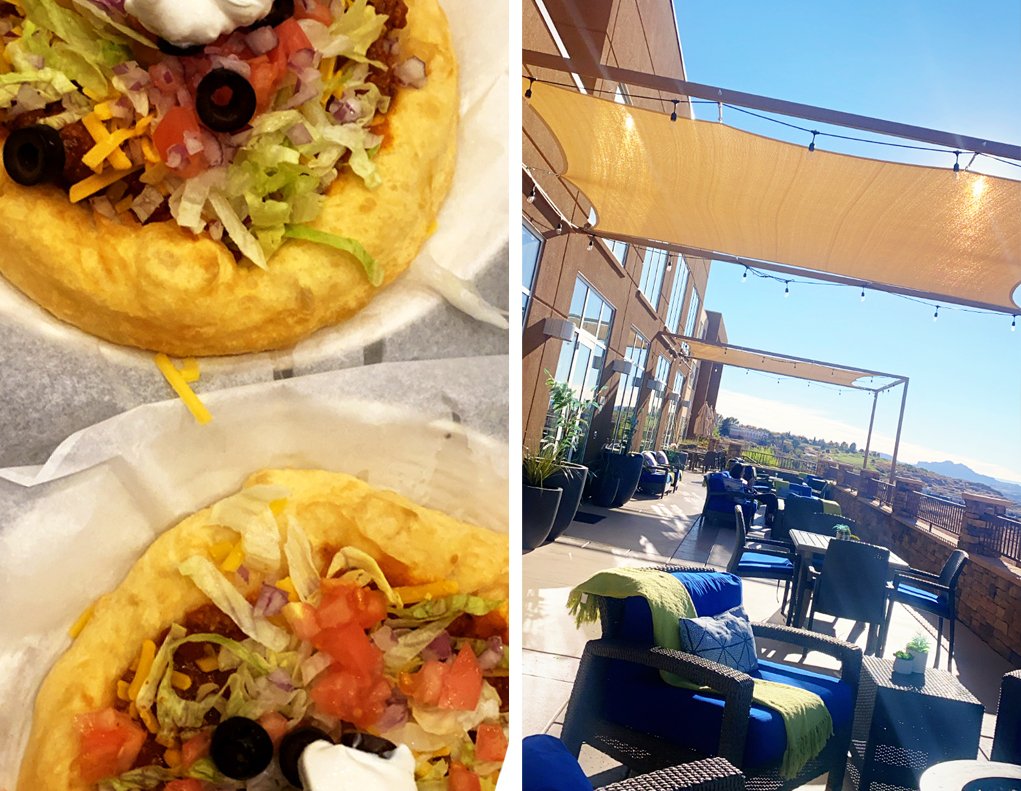 We sat out on the patio that night listening to live music from a local group. It was so relaxing sitting under the stars wrapped up in a blanket. We were out there until they were done playing. We loved it!!! This time of year, Page can get in to the mid-40's at night, so the blankets were super cozy!
One thing that I ALWAYS appreciate when traveling, is a gym. The fitness area at the Hyatt Place was clean, had towels, and all the equipment I needed to workout while I was there! Yes….. I do workout most of the time, when I travel!
The highlight of our getaway was hiking through Antelope Canyon with Ken's Tours. This was something that we had tried to get in to numerous times, and due to COVID and then just the popularity of it, we couldn't ever make it happen. So I was thrilled when the Hyatt Place arranged for us to FINALLY have the chance to see it!
We were mesmerized as we went though, about an hour and a half tour, looking at the color and designs in the sandstone. Our tour guide, Carson, was really good at pointing out different points of interest. A shark head, a bear, an old man's face, and many more. He knew exactly the right places to get the best pictures!
Each tour had only about six people. The groups were spaced apart and everyone was required to wear a mask at all times. We hiked from about 11:00 to 12:30, and I thought the light was BEAUTIFUL then! It's really crazy when you walk up out of it at the end, and then look back, you only see a slit in the dirt. Really AMAZING! This is a DEFINITE MUST SEE. If you are anywhere in the area, try to go. You have to have an appointment, so book well in advance to assure you can get in.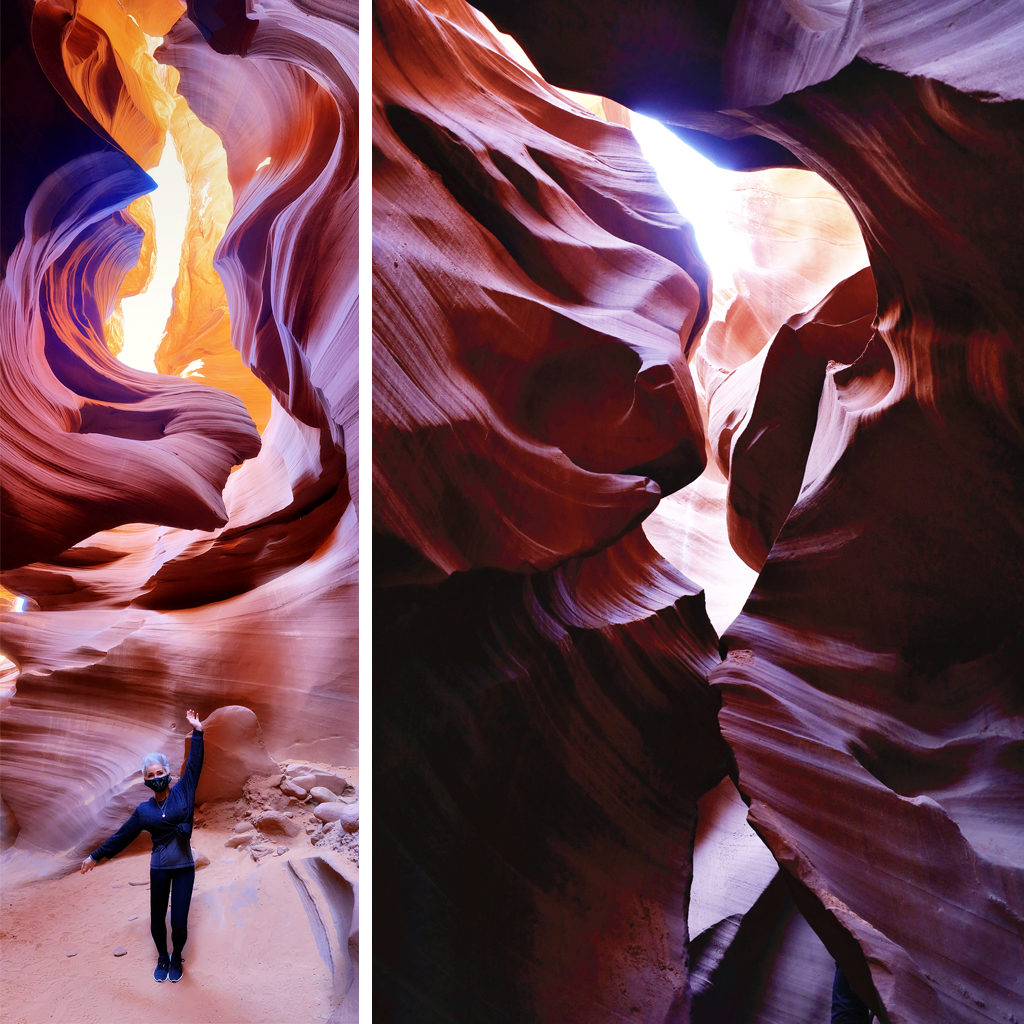 Fortunately for us, we were there on a weekend of a hot-air balloon festival. We have tried going to one before, but the weather got in the way and so the balloons couldn't go up. So Saturday night we went over to Main Street, where they had roped it off so all the balloons could line up the street. They lit them all at the same time, just for a short time (which we didn't know) for a spectacular show. Well….. we got caught in a restaurant eating, and by the time we got out, they were taking them all down. Darn…. we don't have very good luck at hot-air balloon festivals I guess. But still fun to be there taking in all the people and food trucks and arts and crafts!
Sunday we had a leisurely morning, a little bit of work, and then a goodbye to the staff. They were all so lovely to us, and we couldn't have had a better time! It really was such a fun weekend, and even though we got lots of R&R, we really did feel like we did a lot during our short stay. My weekend getaway with the Hyatt Place is definitely worth repeating!!!!!
~~~
You can book your visit now right here. You will have the best time!
Shauna XO
The photo in this blog was taken behind the Hyatt Place. This frame is set up for all kinds of photo ops!