This post is sponsored by Bluegrass Hemp Oil #BlueGrassHempOilPartner
Today I'm sharing MY VIEWS ON this CBD PRODUCT, Bluegrass Hemp Oil. I have had so many companies reach out to me to promote their CBD products. I haven't really been eager to try, for reasons mostly due to lack of education. This can be controversial and which I'd rather stay away from. I actually reached out to my brother who is a doctor, to see how he felt about all of this. It's definitely trending in our world, and has been for a while now. How do you feel about it?
It was important for me to do my research, and I did. It was important that I was educating my readers, as I wanted to educate myself. There are absolutely proven benefits from the use of CBD. Bluegrass Hemp Oil is changing the stigma! And isn't that a wonderful thing? When I spoke to my brother, he said that of course it's been proven in certain situations, that CBD can help certain people feel better. With the right CBD products there are so many benefits for those in need!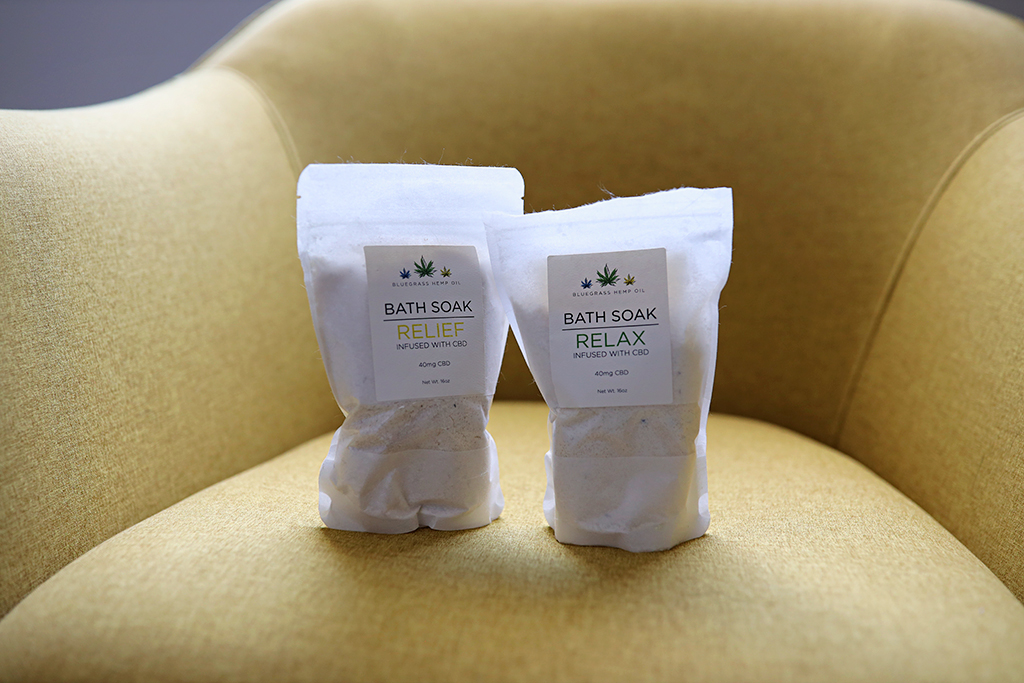 I looked into Bluegrass Hemp Oil and was intrigued by the brand because of this….
The founders of Bluegrass Hemp Oil have a son that was diagnosed with epilepsy. At age three he had his first seizure. Their son is the reason that Bluegrass Hemp Oil is around. They advocated for CBD products to increase the quality of their son's life. If anyone would know the true benefits of this type of thing, it would be a parent that has watched their child suffer!
Their story is here…
My views on this Hemp product are changing as I'm becoming more educated. Responsibility and consistency are key! I have loved using these two bath soaks…. RELIEF and RELAX, they have been heaven! The CBD extract paired with Epson salts and essential oils will make you feel better in no time. The RELIEF reduces inflammation (oh how I need this more and more) and the RELAX helps relieve physical and mental stress. They recommend using about 8 tablespoons. This is such a treat before bedtime!
As some of you know, my feet have titanium implants in them, because of worn out joints. I have chronic pain in them, but have just learned to live with it. The RELIEVING SALVE has really, really helped alleviate the pain. My husband has tennis elbow in both of his arms. He's been using it as well, and 95% of his pain has subsided! This is a great product to start out with if you are new to the CBD world!
And then there's the GENESIS BLEND OIL. This is used to boost the immune system, help with inflammation and pain, as well as help with anxiety. It's used underneath your tongue. You leave it there for about 20-30 seconds before you swallow. The oil is a great one to bring along with you when you travel. It comes in a small 1oz. bottle. It has a really, really nice calming effect. It's also good to know that it's safe for pets!
All of their products contain less than .3% THC in accordance to the Federal Farm Bill of 2018. I really like that! Their product is known for their high CBD/low THC content.
These products can be ordered online and they'll ship nationwide! Here is the BATH SOAK RELIEF, and the BATH SOAK RELAX….. both HEAVENLY! LOVE THEM! The GENESIS BLEND is here.
I hope that my views on this CBD product have helped you understand the benefits of Bluegrass Hemp Oil. It came from a parent's motivation to help their son. It has been interesting diving in to this topic and learning more about the positives instead of the negatives!
Shauna XO