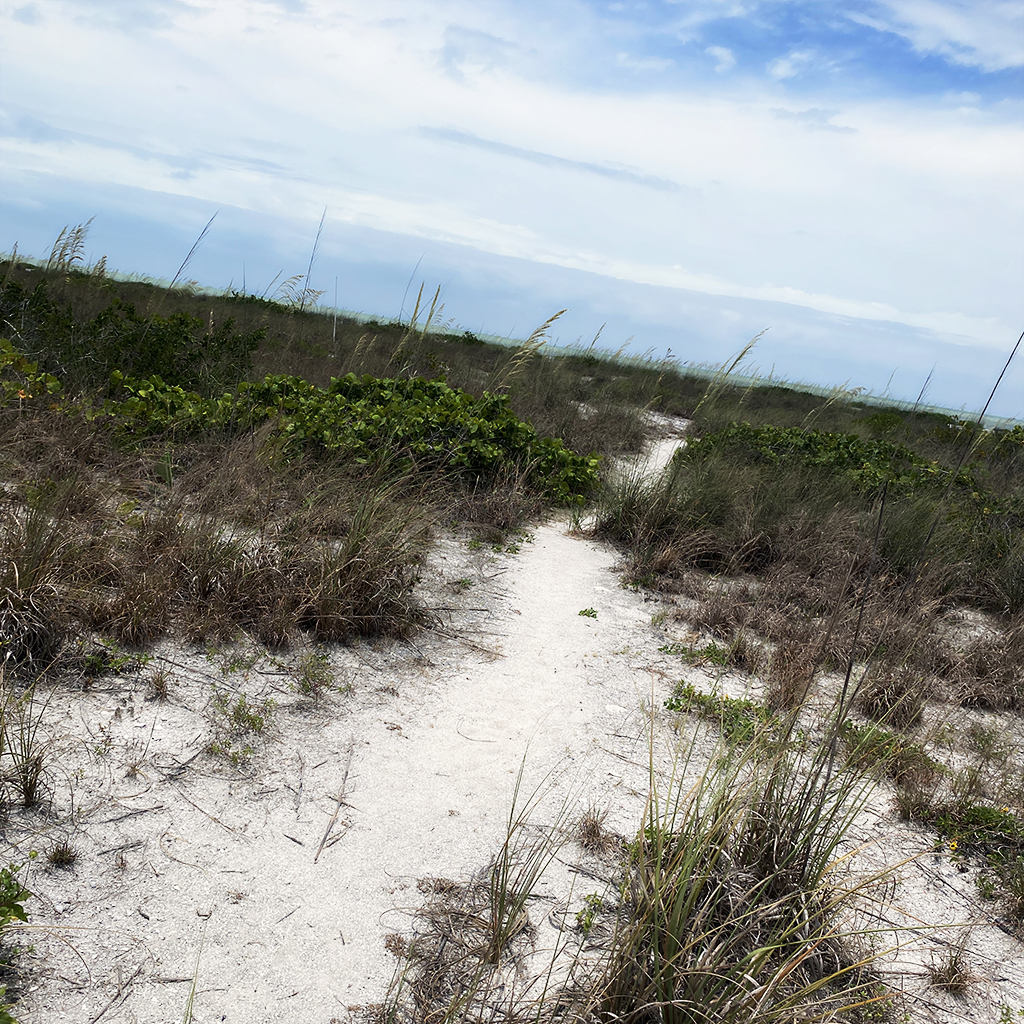 I thought I would share with you my trip from Sanibel Island last week. IT WAS FABULOUS! I mean it was actually BEYOND fabulous! I was invited to go down and stay with my girlfriend SheShe from @shesheshow. We have traveled extensively together, so I'm sure you've probably seen some of those trips…… Canyon Ranch, Italy, Colorado, Quebec, Boston, Santa Fe, and New York among others. We definitely JIVE!!!
While we were there, we worked for a full day with CHICOS, our most favorite brand. We both started with Chicos over four years ago and have been working with them since. They are such an amazing brand in how they have supported us, along with ALL WOMEN! They listen, they act, they come through, they are awesome! Our day with them was Wednesday. We met early at the original CHICOS on Sanibel Island. This store has quite the history with some of the original furniture pieces and the actual face of the main counter as you walk in.
The first Chicos store was actually in the garage of the owners, Marvin and Helene Gralnick in the early 80's. They met while living in Mexico and opened a tiny folk art gift shop on Sanibel Island. They named it Folk Art Specialties FAS, and later changed it to Chicos after a friend's parrot, CHICO.
That's where we met as we went LIVE on Instagram with Dena, who has managed this store for over 30 years. She explained while on air, all of the cool details of the store AND the brand! We also showed some new arrivals along with the new SOMA section upstairs, which is new in the last month or so. Soma Intimates is part of Chicos, and carries THE BEST bras, undies, and jammies.
The audience loved it!!! You can watch it right here with this link! So many of Chicos LOYAL customers dream about visiting the original store, and so this was a great inside look to all the fun! Afterwards we were treated to lunch with Kristen, Jennifer, and Marissa who all work in the PR side of the company. It was an AWESOME lunch meeting. Can't wait to share with you what's coming down the line with CHICOS. So many BEAUTIFUL THINGS!

We then went to Chicos headquarters in Fort Meyer, and met with Molly, the CEO of Chicos. She was dressed to the 9's IN THIS and THIS! Oh my heavens….. pictures don't do it justice! It's from Chicos and comes in PINK too! Again our meeting with her was absolutely fabulous as we talked ALL THINGS CHICOS! She was just LOVELY to us and is so right for the brand!
Then we went and met Barclay, and went LIVE on Facebook for about an hour. Barclay is over all the design and styling of the stores, etc. He knows his stuff and has wonderful STYLE himself! He was so much fun to work with! The point of Facebook Live, was to show THREE different ways to style an item. Those items were the white denim skirt, the linen tunic, and the open-stitch sweater! It was super fun to show and discuss how we each styled them and WHY. The audience ate it up and appreciated showing ALL KINDS OF WAYS to style the CHICOS brand!
You can watch the FACEBOOK LIVE show HERE where we share all of our styling tips on each piece.
Needless to say, we were exhausted afterwards! It was a FULL DAY but one that was SO MUCH FUN!!! WE LOVED EVERY SINGLE MINUTE OF IT! The next day we went back to Chicos and visited again on our own, thanking Dena and her crew once again for their hospitality!
~
My trip to Sanibel Island actually started with SheShe! My time staying with her was the best! She was so hospitable and I ALWAYS feel welcome in her home! Our friendship is undeniable and we could talk FOREVER! We get each other! We spent lots of time shooting pics for our blogs, for LillaP, and for Chicos. We chilled, we ate, and of course talked BUSINESS! Our time together always goes too fast! We couldn't believe it when Friday came and it was time for me to fly home.

This was our LillaP shot, that was taken at the Bubble Room on Captiva Island. They are known for their desserts, and I didn't even get one….. next time though. Captiva Island is magical with ALL KINDS OF COLOR EVERYWHERE! It's a blogger's playground for photo shoots!

I have more coming, so stay tuned. The shot above was one of the looks I modeled on Facebook Live…. the linen tunic. I chose to tuck mine in, but this shirt is a staple and perfect for the beach or poolside! And the shorts are a blast, very flattering with a hidden elastic band in back! They will be going golfing with me for sure!
I hope you've enjoyed my trip to Sanibel Island. I can't wait to go back and hope to share more FUN with you from this GORGEOUS place in Florida. Girlfriend time is so healthy and essential to one's well being. SheShe and me always do love our time together and hope that there's MUCH MUCH MORE in the future!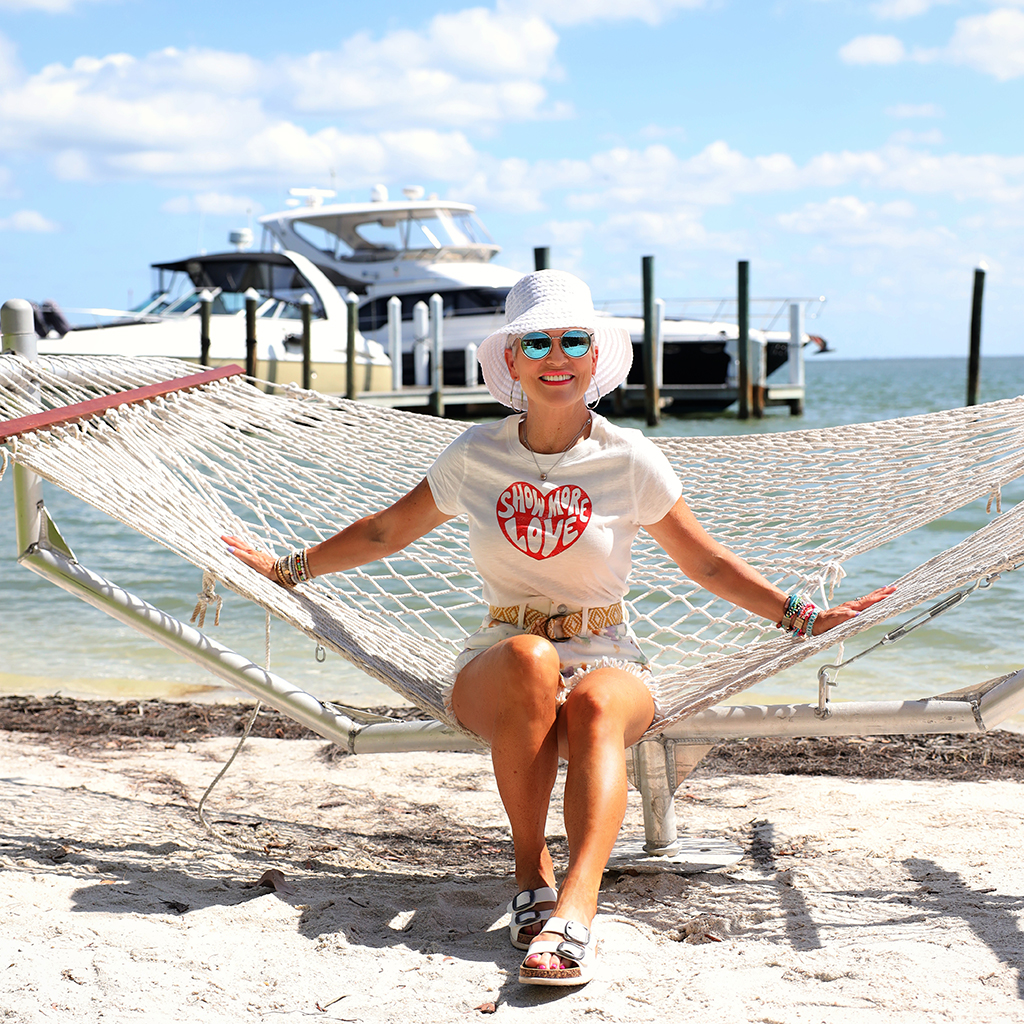 Until next time……….
Shauna XO