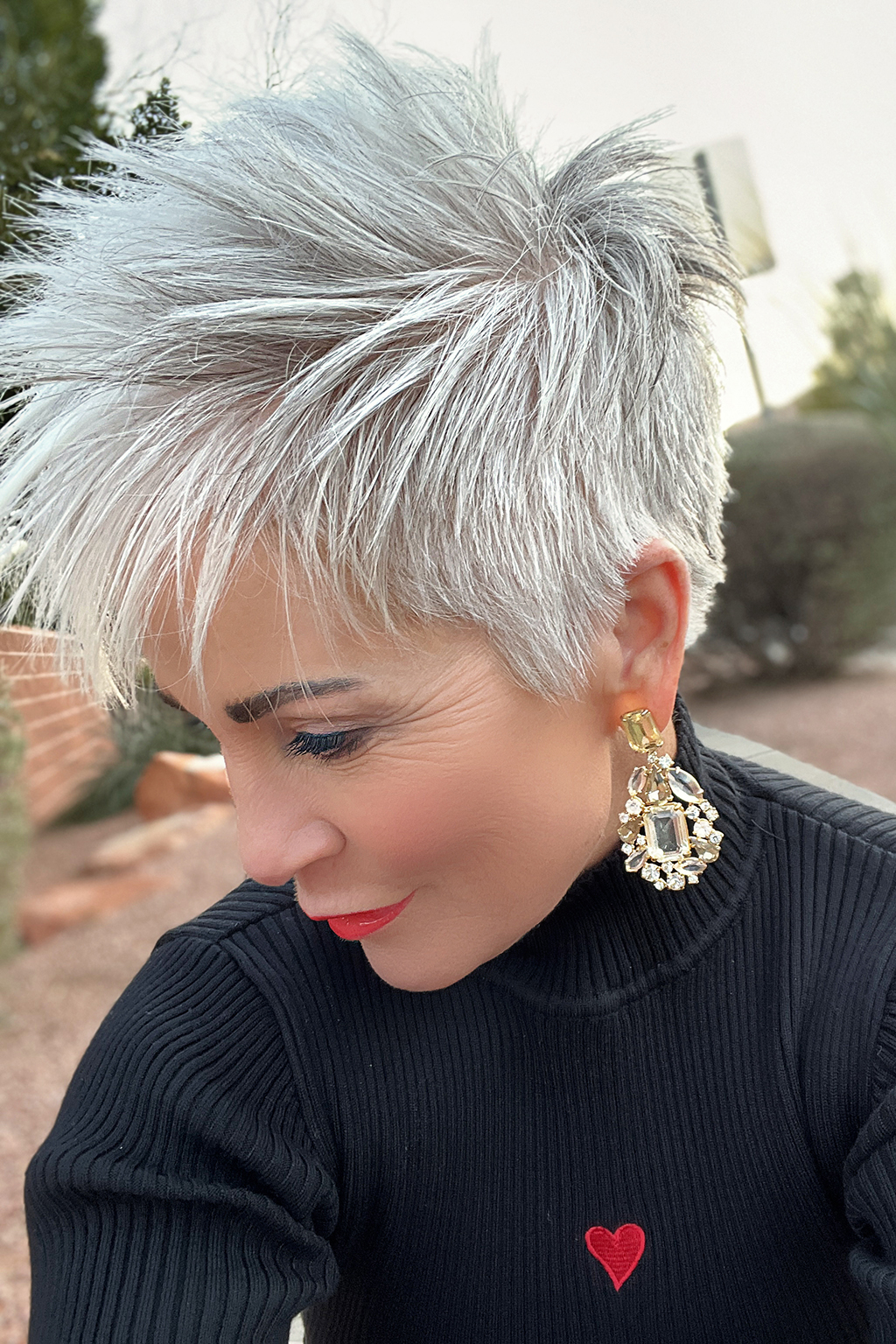 MY PIXIE STYLED DOWN
My pixie haircut has probably gotten the most attention of anything else, when it comes to being on social media. I remember several years ago, someone emailed me and said, "YOU need to have your own Pinterest account, because you are all over it!" I had no idea! I didn't know much about Pinterest, but sure enough…. when you search THIS you can probably find my picture in there somewhere! So…… PINTEREST was born for CHIC OVER 50!
SEE MY PINTEREST HERE!
OPINIONS ABOUT MY PIXIE
There are always so many opinions out there about my pixie. Wear it styled UP! You should wear it styled DOWN! It seems like the opinions are always very strong too…. and of course yes, I do get bad comments about my hair if you can believe it! LOL! I believe everyone can have their opinion, and unless it's just super rude and mean, I will leave it up without deleting.
I've mostly always had some sort of a pixie. My hair looks really bad when it's long. I'm much more comfortable in a pixie as it really suits my personality more, and I believe it's much easier than long hair. Recently I went on a weekend trip with a girlfriend who has long hair, and she has to plan when she washes it! I can't even imagine, but I guess if you have long hair, you just get used to what you have to do to take care of it.
WATCH A REEL OF HOW I STYLE MY PIXIE
So back to my PIXIE. You can watch a REEL right here of me with my pixie styled down. People think that there is a lot that goes in to me styling it, but really that's not true. I mostly finger dry it and use product and it's done. Not much to it at all! And I have to say that the PRODUCTS you use are very important!
You'll be able to see in this REEL, which way is my favorite way to wear it! It may not be what you think or it may be exactly what you think. I love though that it's versatile and easy and sassy and OH SO FUN!!!!!
HERE are all the blogs relating to MY HAIR!
Shauna XO
Currently I'm using THESE PRODUCTS BELOW to style my pixie. HOVER and CLICK!