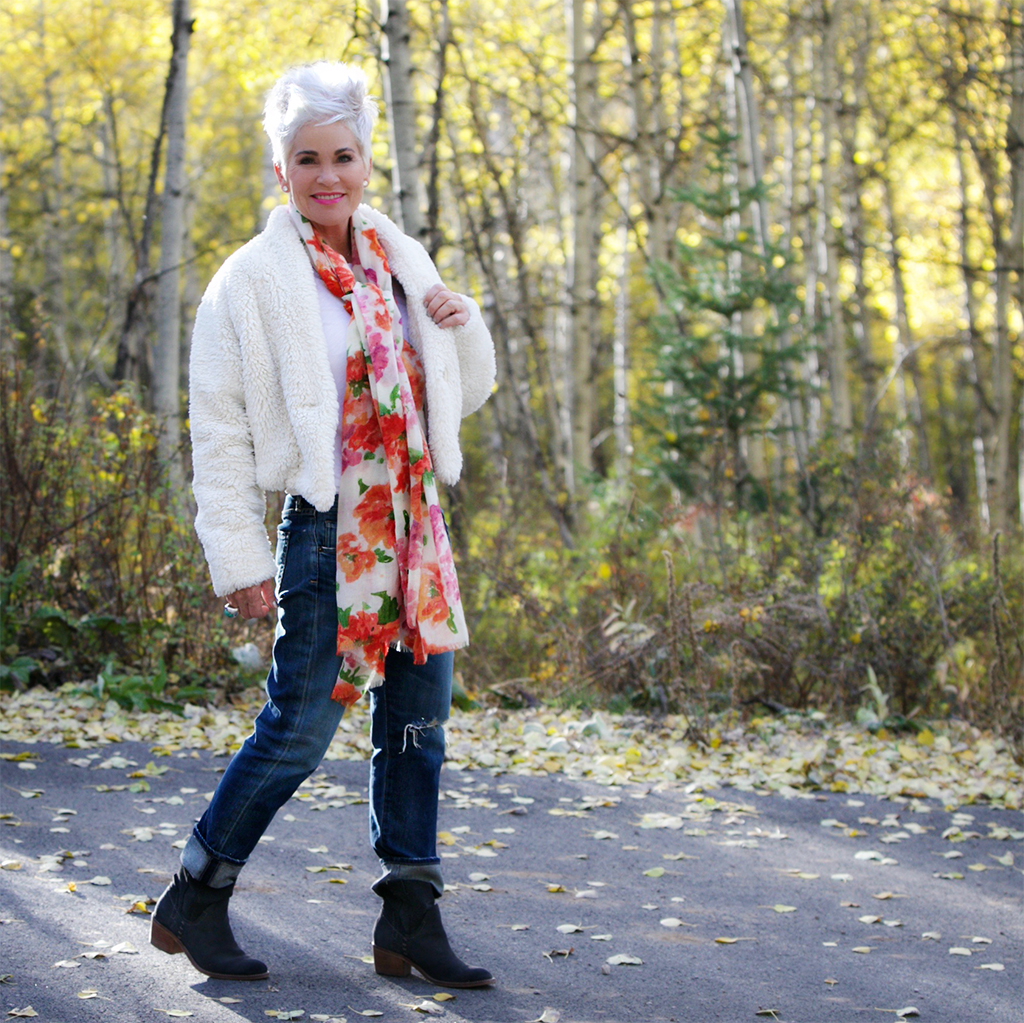 It's definitely fall where I live! Driving up the canyon over the weekend was absolutely GORGEOUS!!! The leaves were brilliant in color! I loved everything about it except that I will now be cold until next May!!!!!! I could be out in the changing leaves taking pictures all day long!
This little fluffy jacket though….is so perfect! It's very cropped, and so if you're long waisted and don't want an extreme crop, this might not be for you, however…..I beg to differ! I think it would be fabulous on a long waisted girl with some high-rise jeans! For me, it hits just right! I just have on a plain JCrew tee and these jeans from Anthro. I love a relaxed boyfriend cut, but still fitted jean for the weekends. The gray booties are from last year. I've linked another pair for you to look at. I love gray because it feels more of a neutral to me than black, a little softer. And lastly a scarf with some bright pops of color…my favorite kind! Everything can be so simple and plain, until you add your scarf! Tie it any which way to keep you more or less warm. Some of you have asked in my post a few days ago, about how to tie up a scarf. Seriously…I don't know!! I just sort of play around with it, until it looks right! There isn't a right or wrong way. I tie it up depending on what I'm wearing! I liked the just thrown-together look of it this way with the jacket! This scarf I'm wearing is from a long time ago, from JCrew. I have gotten some darling scarves there through the years, and take at look at this fall floral goodness I've linked below! SO CUTE!
HAPPY FALL FRIENDS!!!
Jacket  |  Tee  |  Jeans  |  Gray Booties  |  JCrew Scarf
Shauna…XO