Friends I wanted to share with you today my beauty routine with PLEXADERM SKINCARE. One of the many perks of being a blogger, is that I get to test and try so many products of which I wouldn't normally just go out and buy. I feel a real responsibility when I test these, to give you my honest opinion of each brand. I can't wait to share what I've learned about PLEXADERM SKINCARE, and why I love it!
I was gifted all of these products pictured below. I have tried their RAPID REDUCTION SERUM in the past and it is an absolute game changer. I am also in love with their PLEX PERFECT DAILY MOISUTRIZER, RESET & REPLENISH PADS, NIGHT TIME COLLAGEN PEPTIDE SERUM, AND DARK SPOT FADE GEL.I've used them all and can't wait to tell you about each one!
This post is in partnership with Plexaderm. All opinions are my own.
Paying attention to your skin is vital. I was at the dentist the other day. The hygienist asked how old I was and when I told her, she said, "What's your secret?" My answer without hesitation was, "I PAY ATTENTION and always have, TO MY SKIN!" Taking good care of your skin starts early, and consistency will pay off, I promise!
PLEXADERM SKINCARE caters to all your skincare needs. Fine lines and wrinkles? Dry skin? Dark Spots? You name it, they've got something for you. Try the products for yourself and use my special coupon code SHAUNA10 for $10 off an order of $59 or more on their website today!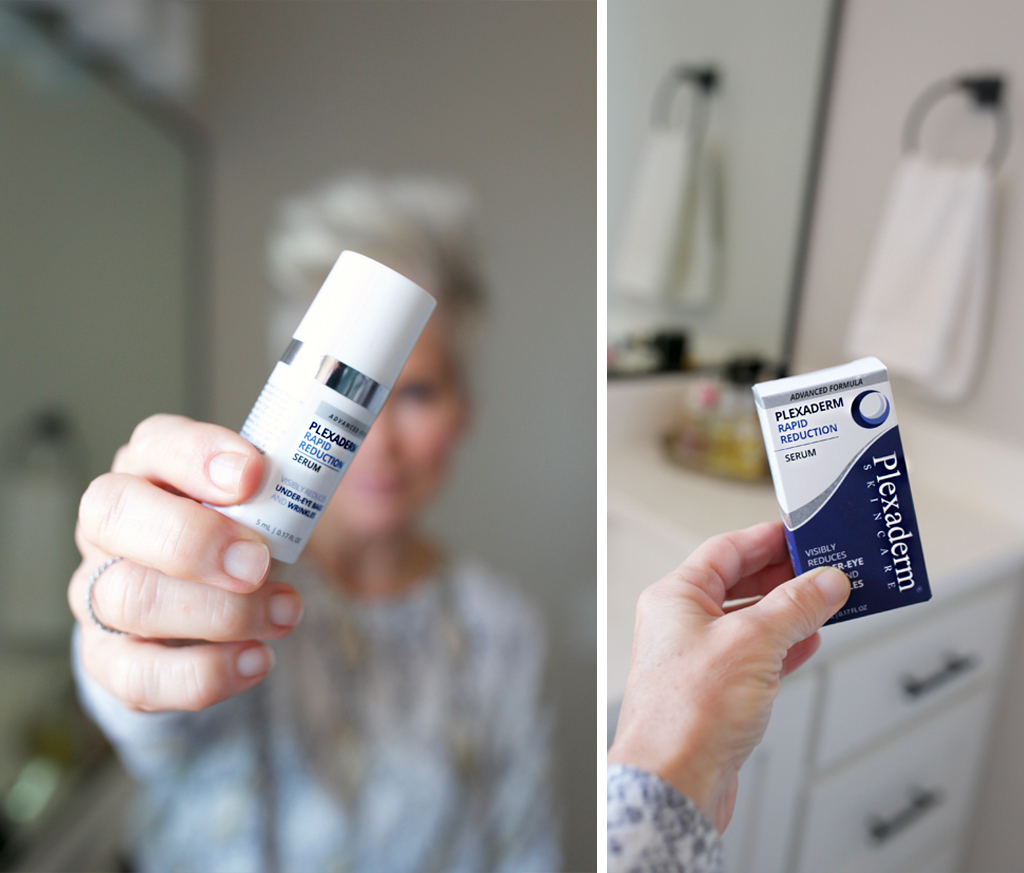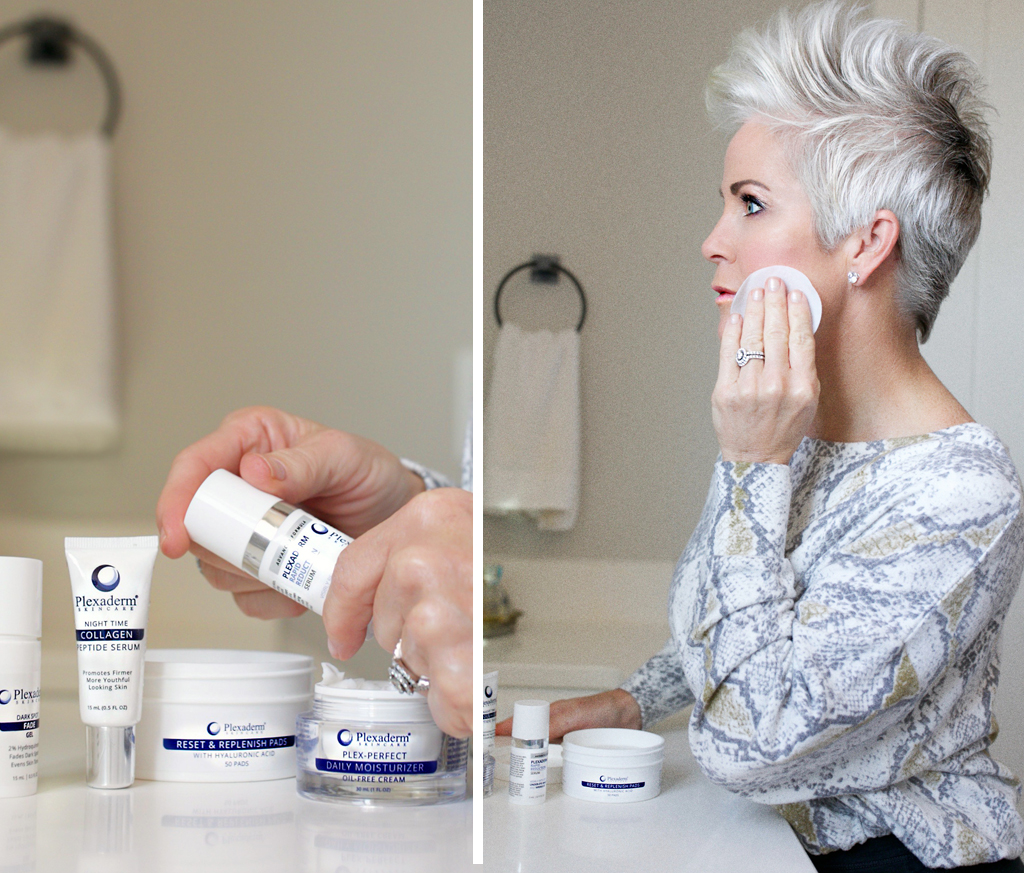 Starting with the star of the show and my absolute favorite, The RAPID REDUCTION SERUM. This is the magical one, the one that makes your skin look younger in minutes! And the most amazing part is, it will last for up to 10 hours!!! You can use it every day for an instant confidence boost or just when you want to look EXTRA GOOD for a special event. It's an amazing product!
The RAPID REDUCTION SERUM is the product you've seen that when you put it on it diminishes the fine lines and wrinkles around the eye area and even those stubborn 11 lines, crow's feet and smile lines. Does it work? YES! It doesn't make it go away, but it will keep your skin looking great for hours! It also minimizes the look of dark circles under the eyes, which is great for any of you busy bees out there running low on sleep. The best way to describe the way it feels, is TIGHT! It's not uncomfortable and the best part is, I can put my makeup over the top without noticing anything! Just remember that you need to wait for 10 minutes before applying your makeup. Once it dries, you can go about your daily routine and enjoy your new natural, youthful glow.
Is dry winter skin getting in the way of you feeling your best? No worries, the PLEX- PERFECT DAILY MOISTURIZER is a total life saver. It has an oil-free formula that works hand-in-hand with the RAPID REDUCTION SERUM to thoroughly hydrate my skin without impacting the amazing skin-tightening effects of the Serum. What's so unique about this moisturizer? It contains a Hydrate-6 complex. What's that you may ask? Their Hydrate-6 complex is a unique blend of moisturizing and skin-conditioning ingredients that works synergistically to penetrate the uppermost layers of the skin, providing deep, long-lasting hydration. This moisturizer will keep your skin nourished day-in and day-out.
I have loved using the PLEX-PERFECT DAILY MOISTURIZER the very most, right after I get home from the gym and after I use the RESET & REPLENISH PADS! The gentle, super-soft pads work to effectively remove dirt, oil and makeup. I am totally obsessed with how thoroughly cleansed my skin feels after using them. It never leaves a heavy residue on my skin either- meaning no need to rinse and more "me time" at the end of the day. Each pad is infused with a dose of skin quenching Hyaluronic acid, giving me a moisturizing boost in every application. It also helps skin to appear plumper, which I love. Probably more often than not, it takes me an hour or so to jump in the shower after a long day, so this little routine keeps my face nourished until I can spend more time on it!
I've been targeting a couple of age spots on the right side of my face, and the DARK SPOT FADE GEL is perfect as it reduces the discoloration of those nasty dark spots or hyperpigmentation as it's called!! It contains 2% hydroquinone, which is the MAXIMUM over-the-counter strength. Hydroquinone has a powerful blend of skin exfoliating and brightening ingredients. It is the ultimate skin brightening treatment for age spots, hyperpigmentation and skin discoloration. The best part is, it even exfoliates dead skin cells leaving my skin feeling super soft. I use the DARK SPOT FADE GEL every night.
Another must-have in my routine is the NIGHT TIME COLLAGEN PEPTIDE SERUM. This serum is to be used at night after cleansing as well. It does wonders for my skin. This product is great for anyone on the go and getting little-to no sleep because it works WHILE you sleep. I can wake up with firmer, fuller-looking skin, no matter how much rest I got the night before. With its time-released formula for continuous wrinkle fighting power, it reduces the appearance of fine lines and wrinkles, while also moisturizing and smoothing my skin. I can't say enough how important serums are to your skincare routine. This serum is fantastic!
That completes my review on my beauty routine with PLEXADERM SKINCARE. Like I said in the beginning…I review the products and give you the information so you can decide for yourself if these are products that could enhance your own beauty routine! And……… EVERY GIRL SHOULD HAVE ONE!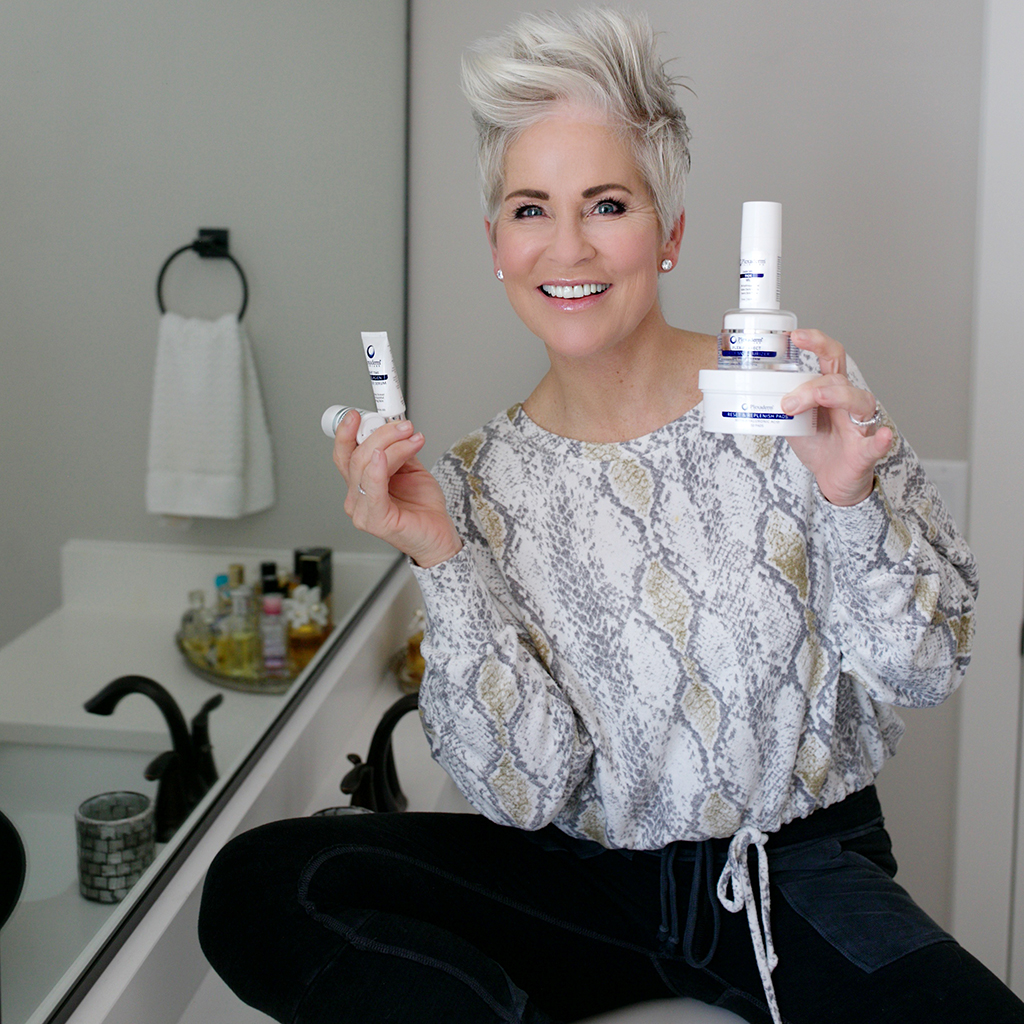 Shauna XO