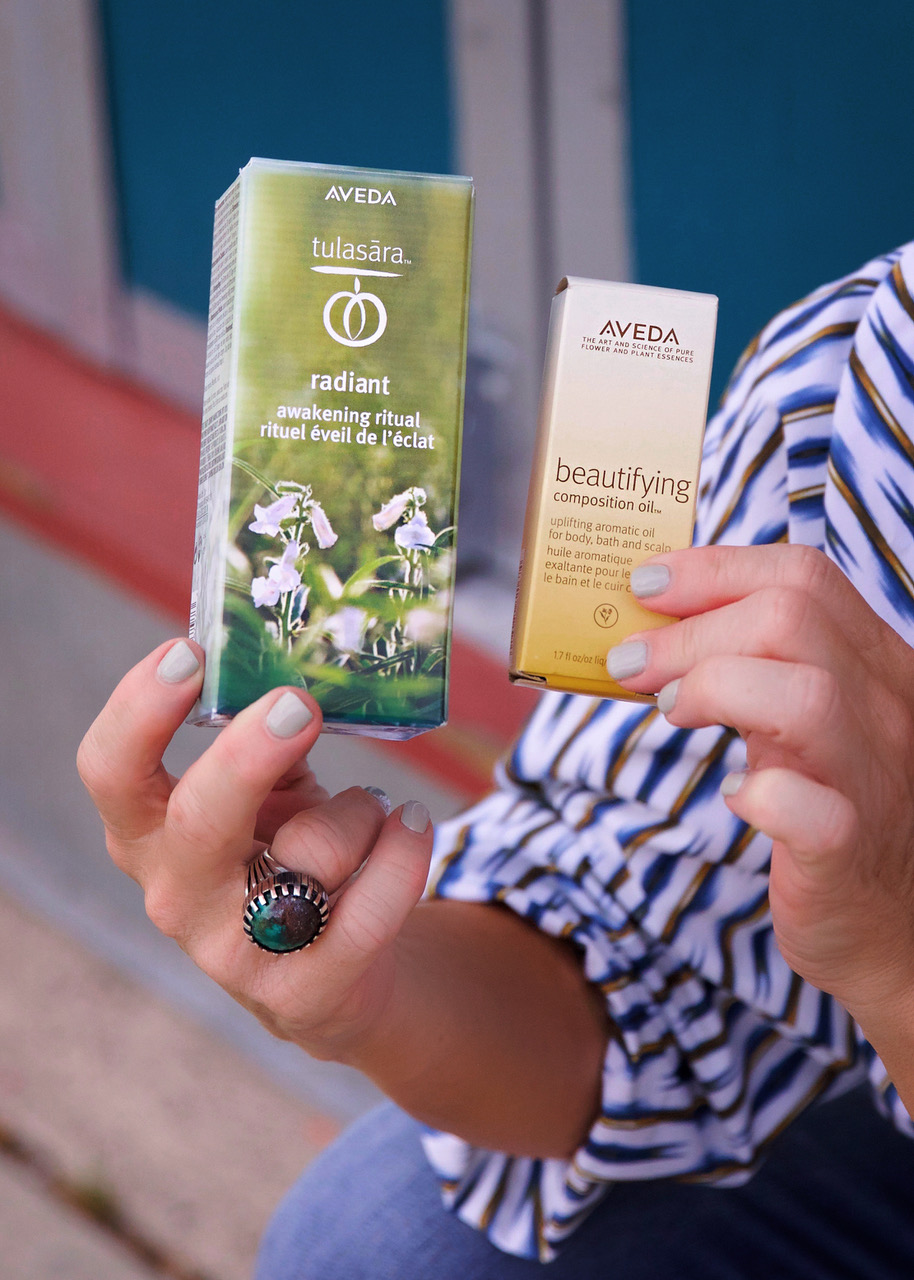 Hello friends…..it't time for my Aveda review! This time I want to talk about the RADIANT AWAKENING RITUAL and the BEAUTIFYING COMPOSITION OIL. I'm discovering so many amazing new things at my local Landis Aveda Salon!
About the Beautifying Composition Oil
As we get older our skin loses so much moisture and becomes dryer than ever before. Have you noticed that? I first noticed my face, but now it's everywhere! My hands, feet, legs, and hair!! So any type of product with OIL in the name, is good in my book and I'm always anxious to try! This Beautifying Composition Oil can be used for a lot of things. I've used it in my bath water….and that's heavenly!!! I LOVE LOVE the way it makes my skin feel after I get out! It has hints of rosemary, lavender, and bergamot. Sounds lovely, right??? But not only can you use it in your bath, you can also use it for massage, and as a moisturizer for your body! I love putting it on my legs and feet before I go to bed and let it soak in! My skin looks and feels so nourished in the morning! Believe me when I say……this works! Oh, and one more thing which I haven't tried yet, is you can use it as a hair and scalp treatment! It's such a great all-around product…..versatile as I would say!
About the Radiant Awakening Ritual
The second product I want to tell you about is the Radiant Awakening Ritual. This has been my FAVORITE! After I work out, and there's always a lot of sweating going on, oftentimes I don't shower right away. I'll get on my computer and start working, which is so bad for my face! What I TRY to do is immediately afterwards, I'll wash my face and then do this ritual! This comes with a super soft dry brush. I'll use it to GENTLY exfoliate my skin, and then I apply the oil, which is made from six different plant oils. I only use a couple of drops. I'll rub it on my face and let it sit for 10-20 minutes. Then I take a warm wash cloth and gently wipe it off, and then apply my moisturizer. It feels so good on my face and gives it such a beautiful glow! I look forward to it every morning!
So if you're skin is feeling DRY, these two products work like magic! I've been using both for a month or so and really do LOVE them!
Details About My Look
This cute jacket I'm wearing is from CHICOS, and is ON SALE! If you're a golfer, it's such a fun jacket for the golf course! It's wrinkle resistant too, so a great one to pack for a vacation! Also let me tell you about my earrings. They are from one of my very FAVORITE jewelry designers, grayc glass!
Enjoy your long weekend friends! I'll be with my FAMILY, celebrating in a very big way!!!
Shauna…..XO