If you happen to be looking for an AMAZING PLACE to vacation, I have a fabulous suggestion for you! The Mauna Lani Resort in Kamuela, Hawaii will check all the boxes for you…. no question! I walked away after our mini vacay over the Thanksgiving holiday, and felt such a sense of FAMILY. I really mean that! We were treated with such courtesy and kindness and were certainly given the ROYAL TREATMENT!
I've been on a Mauna Lani Resort vacation several times before, years ago. It was gorgeous back then, but they've since gone through a $200 million dollar renovation! This happened in 2018, and is now a part of the Auberge Resorts Collection, which are known for PURE LUXURY! It reopened again in January of 2020.
WHY I LOVE THE MAUNA LANI
This is why I LOVE the Mauna Lani Resort….. their attention to detail, doesn't get better! From the moment you set foot on the property, they are there to serve you! They made us feel so special and were there for our every request. They absolutely went above and beyond for us!
The feeling you get as you get to know the staff, is all FAMILY. You can tell they truly do respect and care for one another as co-workers. Right before we had to checkout, there was a Christmas tree lighting ceremony. The staff together, provided the Christmas carols for all to enjoy! It truly felt like you were a part of their big resort family!
The scenery and backdrops were exquisite! It was a photographers dream! The open lobby is breathtaking! The sitting areas were cozy and comfortable. The infinity edge pool was lovely as well as the busy workers gong about making sure each of their guests had fresh warm towels, drinks and food.
MORE ABOUT THE HAWAIIAN CULTURE
One morning we took our baby granddaughter to see the ancient fishpond. We learned all about turtles and their habitat. There is a person that does just that at the Mauna Lani…. he just watches over the pond and the turtles and fish! He's been there for years and years doing his job that he's so passionate about. In fact, he gave us all his card and told us we could email him anytime to ask him questions about the turtles. What a great resource this will be for my grandkids in their studies at school.
The hotel also offers such things as lei making, stargazing, coconut weaving, as well as canoe paddling. Also within the lobby area there is a mini cultural center and museum you can browse through and learn more about the Hawaiian culture. Uncle Danny, is the resort's "keeper of traditional knowledge". He's most happy to share stories about the Hawaiian ways. Their cultural is strong and deep and you sure do feel it there.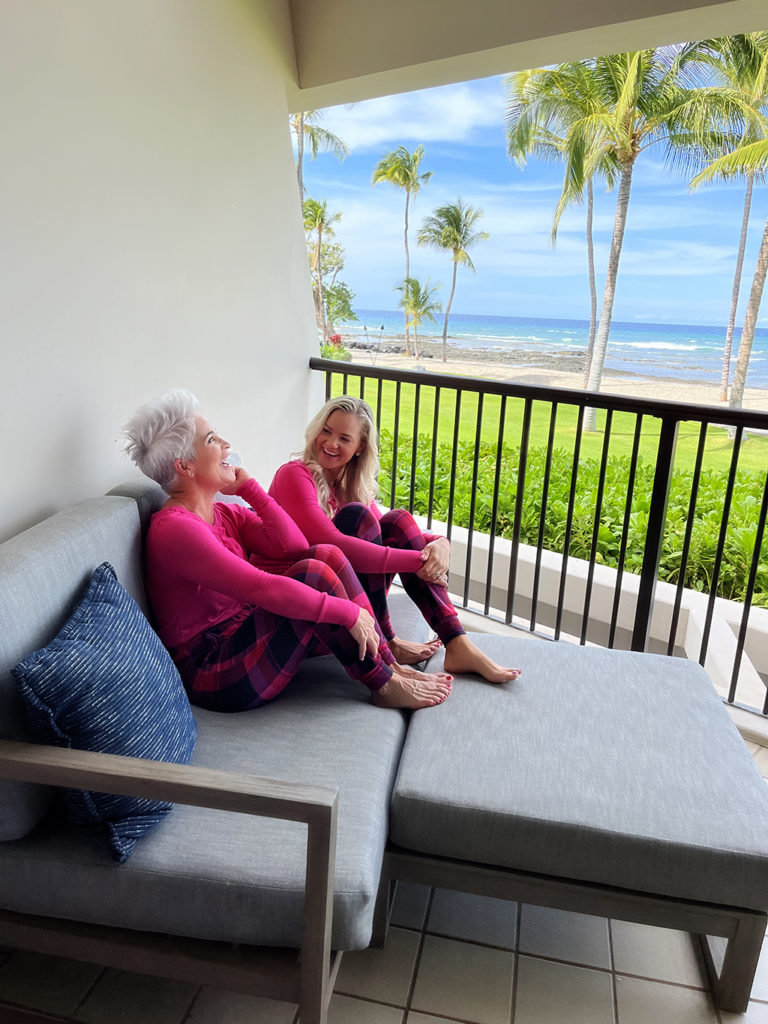 I definitely don't want to forget the food. The Mauna Lani is closely connected to all the local farmers and fisherman, and they use as much fresh local ingredients as they can in their yummy menus. We had our Thanksgiving dinner there and it was absolutely DELICIOUS! The best part of the meal was the pumpkin crunch dessert! And what a DESSERT it was!
Wouldn't you love to get a Mauna Lani Resort vacation from Santa?? WOW…. it would be the ultimate gift! It was one of the best mini vacations I've ever had. If you are lucky enough to visit, make sure to ask for Sergio, who is in charge of food and beverage. He was so good to us and HIS STYLE, WOW! As we walked out, we all said….. when are we coming back?
Shauna XO