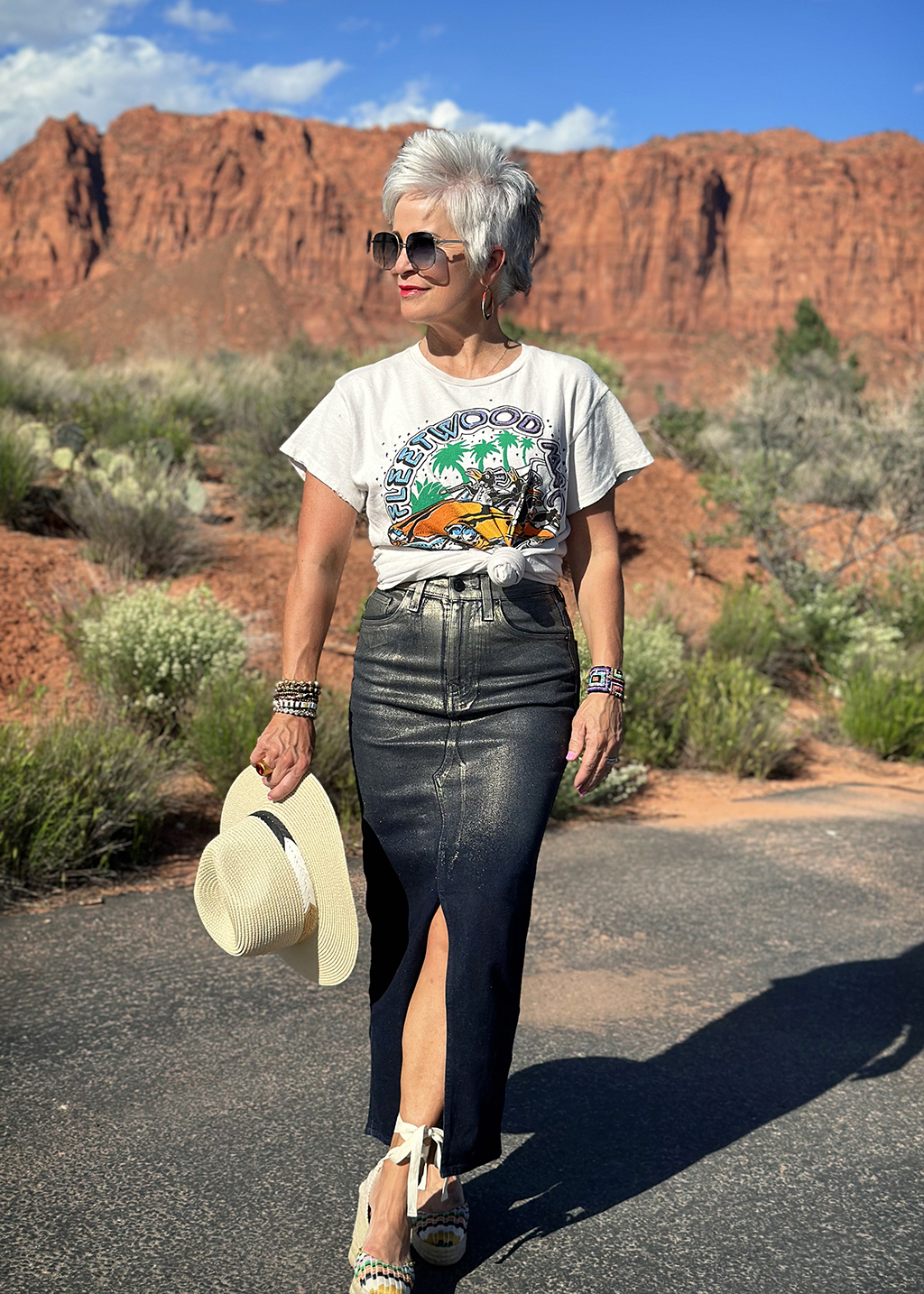 Mastering the midi denim skirt can be a challenge! This ever-trending skirt style is a stylish and versatile option for women who want to add a touch of vintage flair to their outfit. These are longer than a mini-skirt but shorter than a maxi-skirt, hitting right around mid-calf. They can come in different styles, including A-line, pencil, and button-up, and in various shades of denim, from light to dark.
FOLLOW THESE STYLE TIPS
FIND THE RIGHT FIT- When shopping for a midi denim skirt, it's important to find the right fit. A skirt that is too tight or too loose can be unflattering and make you look frumpy. The skirt should fit snugly around the waist and hips and then flow out to the mid-calf. If you're not sure about the fit, try on different styles and sizes to find the right one for you.
BALANCE YOUR PROPORTIONS- Midi denim skirts can sometimes make you look shorter or wider than you are. To avoid this, it's important to balance your proportions. Pair your skirt with a fitted top, such as a tucked-in blouse, a crop top, or a bodysuit. This will help to create a more flattering silhouette.
ACCESSORIZE- Accessorizing can elevate your midi denim skirt look and make it more fashionable. For example, you can add a belt to cinch your waist and add some structure to your outfit. You can also add a statement necklace, a pair of earrings, or a scarf to add some color and interest to your outfit.
SHOES ARE KEY- The shoes you choose can make or break your midi denim skirt look. To avoid looking frumpy, it's important to choose the right shoes. If you're tall, you can wear flats or sandals. If you're shorter, you can wear heels to elongate your legs. Sneakers can also be a great option for a more casual look.
EXPERIMENT WITH LAYERS- Layering can add depth and interest to your midi denim skirt outfit. For example, you can wear a denim jacket or a blazer over your top. You can also wear a cardigan or a sweater over your top to add some warmth and texture.
THREE CHIC LOOKS TO SHOP

This look is so EASY for spring and summer. The sandals are a steal, and the pretty lace top looks beautiful with the skirt. I would wear it with a French tuck and let the lace in the back show. I love the frayed out bottom of this denim midi skirt…. price point is fabulous too!

This demonstrates how professional and classic a denim midi skirt can look. I've paired it with a simple white tee and a beautiful white blazer. The metallic sandals dress it up and I thought the minimal hoop earrings looked just right. The fuller style skirt would be hard for me to pull off without something a little more structured. Being petite I feel better in a more fitted silhouette and definitely with heels.

I LOVE the texture of this ensemble with the sweater. I thought the white boots looked really great here. Remember you CAN wear boots in the spring and summer months. Think about wearing lighter neutral shades.
____________
In conclusion, the midi denim skirt is a versatile and stylish piece that can be dressed up or down. Mastering the midi denim skirt might be easier than you think! To avoid looking frumpy, it's important to find the right fit, balance your proportions, accessorize, choose the right shoes, and experiment with layers. With these tips in mind, you can rock a midi denim skirt look that is chic and fashionable.