FALL PUMPKIN CHARCUTERIE WITH GRAPES
When the fall season rolls around, it's time to take hold of all the flavors and colors of the harvest. One creative and delicious way to do that is by putting together a charcuterie board that not only looks like a pumpkin but also celebrates the star of the show….. CALIFORNIA GRAPES. This wholesome and fun activity is perfect for both the holidays and quality time with your kids and grandkids.
THE CALIFORNIA GRAPE ADVANTAGE
First things first……. let's talk about why CALIFORNIA GRAPES are the best choice for this culinary adventure. Their juicy sweetness and vibrant colors make them the ideal centerpiece for your pumpkin-themed board. Not only do they taste amazing, but they're also healthy and a natural source of antioxidants and other polyphenols. You see why they make the perfect portable snack and a key part of this cute pumpkin charcuterie board.
HEALTHY INDULGENCE
While the board may look like a sweet treat, it's also a wholesome and balanced snack. The combination of CALIFORNIA GRAPES, cheese, dried bananas, and whole-grain crackers offers a satisfying mix of flavors and textures that's both delicious and nutritious. Remember too, that grapes are a good source of Vitamin K, they are low in sodium, and have zero fat! They also deliver some potassium, which I'm always low on.
CRAFTING THE PUMPKIN
To create this board, I first spread a thin layer of cream cheese along the edge. This will hold everything on the board better. Then make rows of peppers, carrots, celery, dried banana chips, cheese, crackers, popcorn….. whatever you and your family love. Arrange the CALIFORNIA GRAPES to make the eyes, nose, and mouth. I used a zucchini for the stem.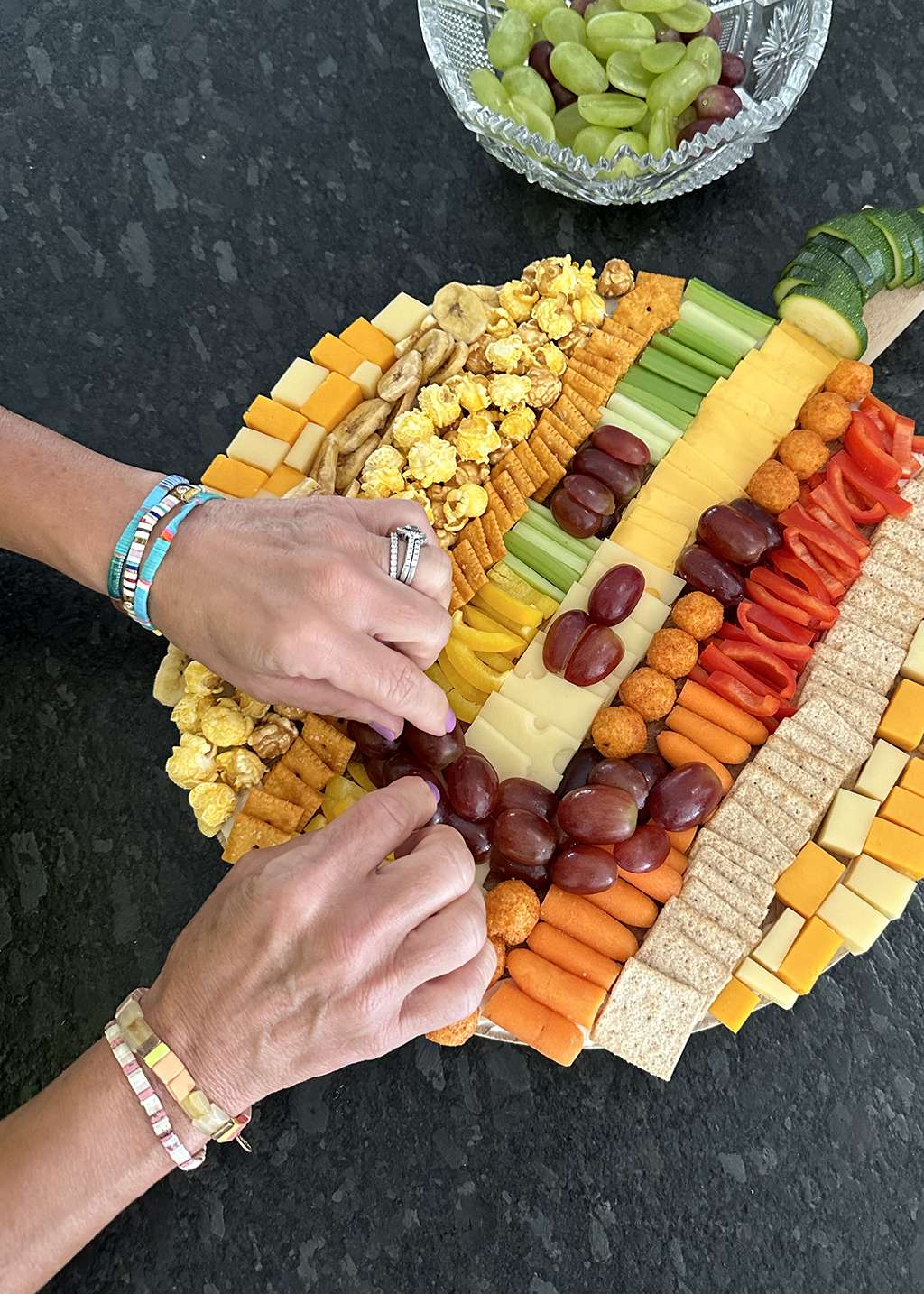 KID-FRIENDLY FUN
The best part about this charcuterie board is that it's a hands-on activity that your grandkids will absolutely love. Let them take part in arranging the grapes and picking their favorite snacks to add to the board. It's a fantastic way to bond, stimulate their creativity, and encourage them to eat more CALIFORNIA GRAPES.
____________
In conclusion, creating a pumpkin-inspired charcuterie board with CALIFORNIA GRAPES is a fantastic way to celebrate the fall season. Not only is it visually appealing and fun for the kids, but it's also a healthy way to enjoy the sweet goodness of CALIFORNIA GRAPES. So, gather your loved ones, embrace the season, and savor the delightful flavors of fall in this unique and fun culinary adventure.
CLICK HERE TO WATCH MY REEL