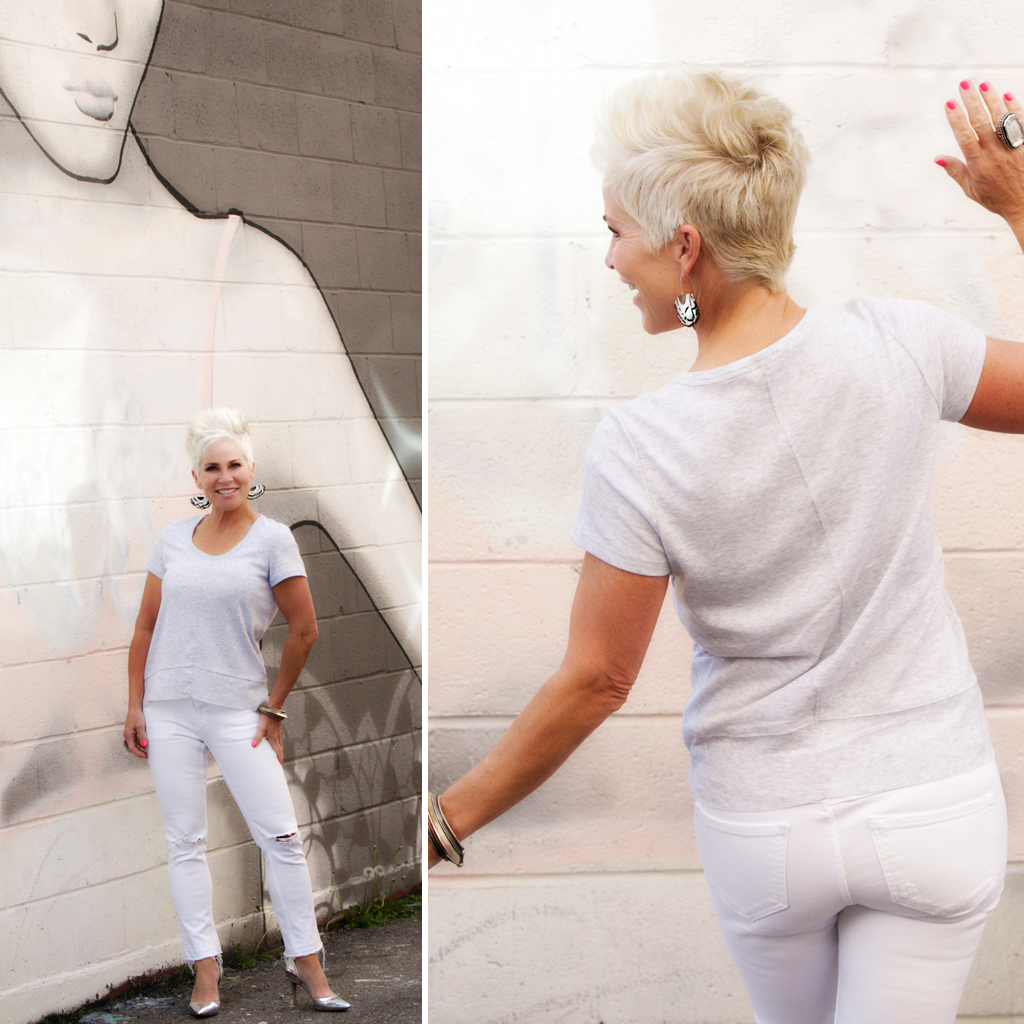 Hey…..here is another simple and perfect basic tee from Lilla P! When you think about getting dressed, how many times do you go to your closet and want to choose the same thing over and over again? This is the case for me, and I'm sure many of you! How many white and neutral tee-shirts do you buy? A LOT!!! I don't think you can ever have too many! They go with anything and everything, layered under jackets and sweaters, and options galore!!! I'm sure I wear jeans and tee-shirts 90% of the time!
This one, has such a fun cut to it! It has a  raw edge rib bottom, and scoop neck. With a slightly shorter length, it's perfect with a pair of high-waisted jeans. And I love the seam down the middle of the back….such a fun detail. My Lilla P tee-shirts have been fabulous! They wash up so well, and the fabrics are supreme quality, this one 100% Pima cotton! I have the feeling it will go on and on with me throughout the spring and summer!
I wore it with my favorite distressed white denim from last spring. However, Madewell I've recently discovered, has the best jeans, so I've linked them below. And these silver pumps again from last spring….go with anything. I loved them with the white and gray going on in my outfit! The ones I've linked are about a 1/2″ lower heel than what I'm wearing, which would be SO much more comfortable. It's amazing what just that much will do when it comes to being able to wear them all day, versus three hours! And then here we go again with the statement earrings! TRENDING everywhere. The ones linked are adorable and not crazy expensive! The ones I have on are also from Anthropologie, and given to me by my sweet friend Cathy. I actually wore them in the Anthro Spring Fashion Show last spring!
Have a great day everyone!!!!!!
similar jeans  |  similar shoes  | statement earrings
xo