LAKE POWELL AND WHY YOU SHOULD VISIT
I've been going to Lake Powell for years. Since being married (three years) I've had the opportunity to go every summer with my new family. It's always one of my favorite getaways. It's one of the most unique lakes in the world, as it sits between massive red rock canyons.
Lake Powell has lost so much water, and there has been lots of chatter about what will happen to it. Will it dry up? Is it safe to go? What about the marinas? I was really curious as to what it would look like. I was pleasantly surprised! It's still stunning, it still looks the same overall, except some of the beaches I remember. No question, it was bustling!
The drive down to the boat dock from the parking lot was surreal. The marina looked beautiful peeking through the red canyon walls that were once full of water. I don't know why it struck me, other than it gave me a true perspective of really how much the water levels had gone down at the lake.
SOME HISTORY OF THE LAKE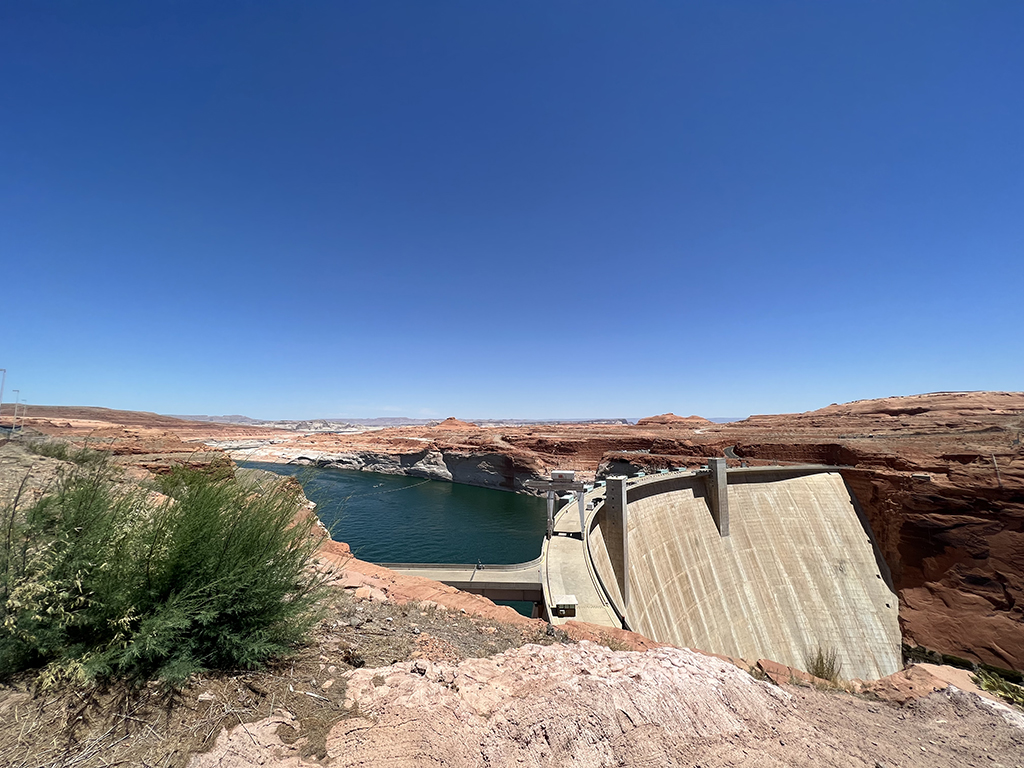 Lake Powell was created by the flooding of Glen Canyon by the Glen Canyon Dam. The reservoir is named after John Wesley Powell, who was a war veteran that had explored the river in 1869. It's mostly located in southern Utah, with a tiny bit in northern Arizona.
THIS ARTICLE was in the Salt Lake Tribune that you might find interesting.
The reservoir has lost water due to a severe drought. The water level fell below the targeted elevation of 3500 feet which would affect the production of hydropower. It's now just barely above the 3500 feet mark and we are all hoping it continues to fill. The last time the lake was considered full was in 1999.
I blogged some about Lake Powell HERE.
ABOUT OUR TRIP
After we found our camp spot for the houseboat, it didn't take us long before we were doing all the things there is to do at Powell. There was definitely a lot of water time. The site-seeing and surfing were perfect. I thought it would look much different because of the water loss, but it was as beautiful as ever. The water temperatures were just cool enough to take the heat off, but so comfortable to get in. The outside temps were hovering at 100 degrees.
All the food was prepped by my husband's daughter. She had everything organized in bins according to days. Subsequently it makes the food situation so easy! We all contribute with the cost and taking charge preparing the meals. The food always tastes more delicious out on the lake.
HOW WE SPENT OUR TIME
We played games, rode waverunners, chatted with friends and family, went kayaking, slept, got glittered tatoos, and hiked. We also had a blow-up movie screen set up on top of our houseboat to watch movies underneath the stars. This is always one of our favorite things to do! The movie screen was like THIS and THIS was the type of projector we used. My husband made his famous caramel corn to snack on which is EXTREMELY addicting!
This time we were there, there were only adults (besides a new 7 month old baby granddaughter). Without kids the trip can feel so much different. It felt more relaxing and definitely quieter. When there are kids we have sand sculpture contests, more outside games, and lots more energy! But the lack of energy that was felt, honestly was AWESOME. I sure needed some chill time!  
_____________
If you ever have even a close chance to visit Lake Powell, do NOT pass it up! It's an absolutely SPECTACULAR place to see. Without a doubt, the rock formations all around you are simply STUNNING! Above all, it's clearly one of the best places to RELAX!
Shauna XO