TRAVELING WITH AARP MEMBER BENEFITS
I have lived in Utah most of my life. As a young girl I traveled to Bryce and Zion National Parks, but don't remember much about it except for the car ride and definitely not the sheer MAGNIFICENCE of them. I've said for years that I want to go back and spend some time seeing the BEAUTIFUL state I live in!
I had the opportunity to travel through the Great Parks of the Southwest on a VACATIONS BY RAIL tour and even got a discount as an AARP member. The benefits available to me as an  AARP member provide so many opportunities to travel, play and explore….. ALL WHILE SAVING MONEY!!!! Now that my husband is retired, traveling for us has become much easier. We love to see the world together experiencing new and different places. It's a great way to reconnect with one another.
This VACATIONS BY RAIL tour began in Chicago and traveled by train to the Grand Canyon in Arizona. I caught up with the group of about twenty after they arrived. Our accommodations were especially nice, and the coach we traveled in was extremely comfortable. It had big windows to see out from anywhere, a power source to charge my phone, and it even had a bathroom and always fresh bottled water. Our tour director, Bill, was knowledgeable and fun and always conscientious of accommodating my needs.
DETAILS OF MY TRIP WITH AARP
GRAND CANYON~
This is an absolute bucket-list item! It is SPECTACULAR! It became a National Park in 1919. Some fun facts about the Grand Canyon are….. it's been estimated that there are 1000 caves in the canyon, but only one opened to the public called the CAVE OF THE DOMES on HORSESHOE MESA. And did you know it's bigger than the state of Rhode Island and the most visited of all the National Parks.
GLEN CANYON DAM~
This dam is the second largest in the United States. The only one bigger is the Hoover Dam. It provides power that is produced by the dam's eight generators which meets the needs of the growing population in the West. The beautiful LAKE POWELL was formed by the waters of the Colorado River and where I spent a lot of time raising my family. It truly is unlike any other place you'd be on a boat. There are miles and miles of INCREDIBLE shoreline!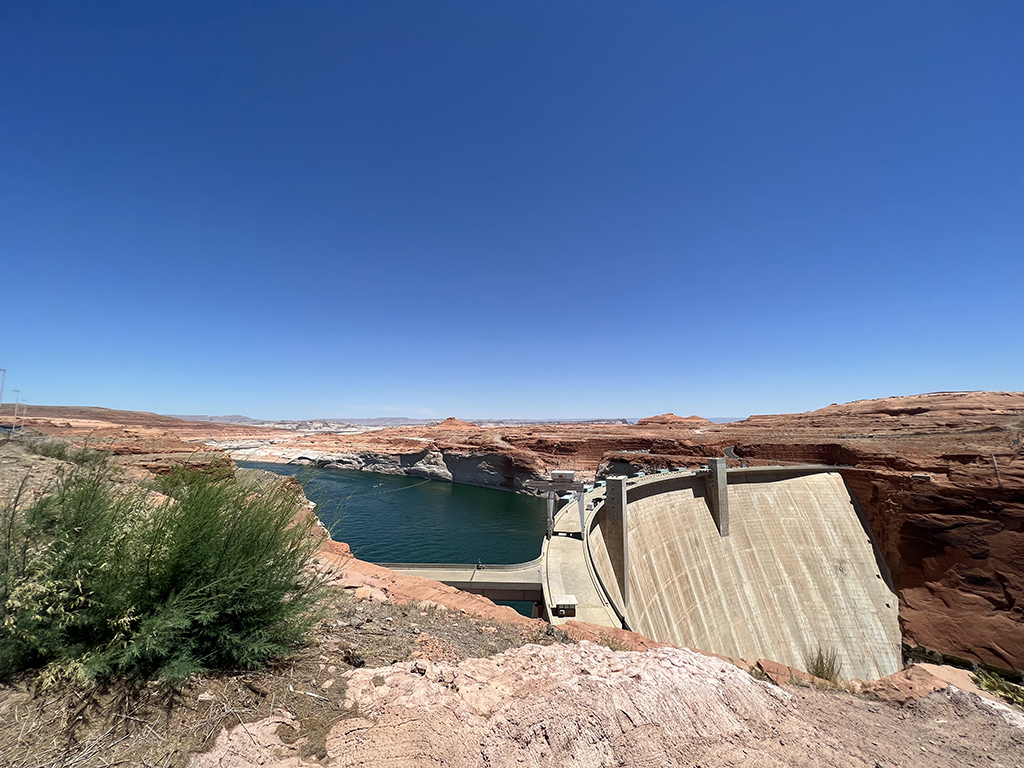 ZION NATIONAL PARK~
Zion is near and dear to my heart, because it's very close to where I live. I've spent a lot of time there with my husband. You'll find all kinds of hikes at all levels, fun rock and souvenir shops to browse through, along with the amazing tram ride, which was part of the day's activities in Zion. The tram has open-air visibility and personal headsets. Rides are from 60-75 minutes long. BREATHTAKING is the word for ZION NATIONAL PARK.
BRYCE CANYON NATIONAL PARK~
I remember going here as a little girl, but as I said earlier I don't remember much about the park itself. BRYCE WAS ABSOLUTELY CRAZY COOL, and unlike anything else! I liked the views even more than Zion. It is MAGICAL!!!! The Hoodoos (abnormal columns of rocks) add loads of interest! We hiked to Inspiration Point, Sunrise Point and Sunset Point. Bryce offers hiking, stargazing, cycling and camping.
GRAND STAIRCASE MONUMENT ESCALANTE NATIONAL FOREST~
The region of the Grand Staircase is spectacular but not often visited. It has the most extensive network of Utah's slot canyons. It's located north and west of Glen Canyon and the Lake Powell area. The main visitor center is in Kanab. 
CAPITOL REEF NATIONAL PARK~
I really enjoyed my day in this park. It's filled with canyons, cliffs, towers, domes, and arches. Apple, peach, pear, apricot, cherry, and plum orchards are very much a part of this area with over 2,000 trees. We sampled some fresh baked pie at one of the local bakeries which was DELICIOUS. Afterward we spent some time looking at some really cool Petroglyphs. These are located along Highway 24 just east of the visitor center, and a must see!!!!
We then drove to Moab, Utah to finish out the trip at Red Cliffs Lodge. This is a gorgeous resort that's tucked in to majestic 2000 foot red cliffs with the Colorado River running through it. We stayed in their charming and spacious cabins that overlooked the river. I seriously didn't want to leave! It's a beautiful property and absolutely tops in Moab!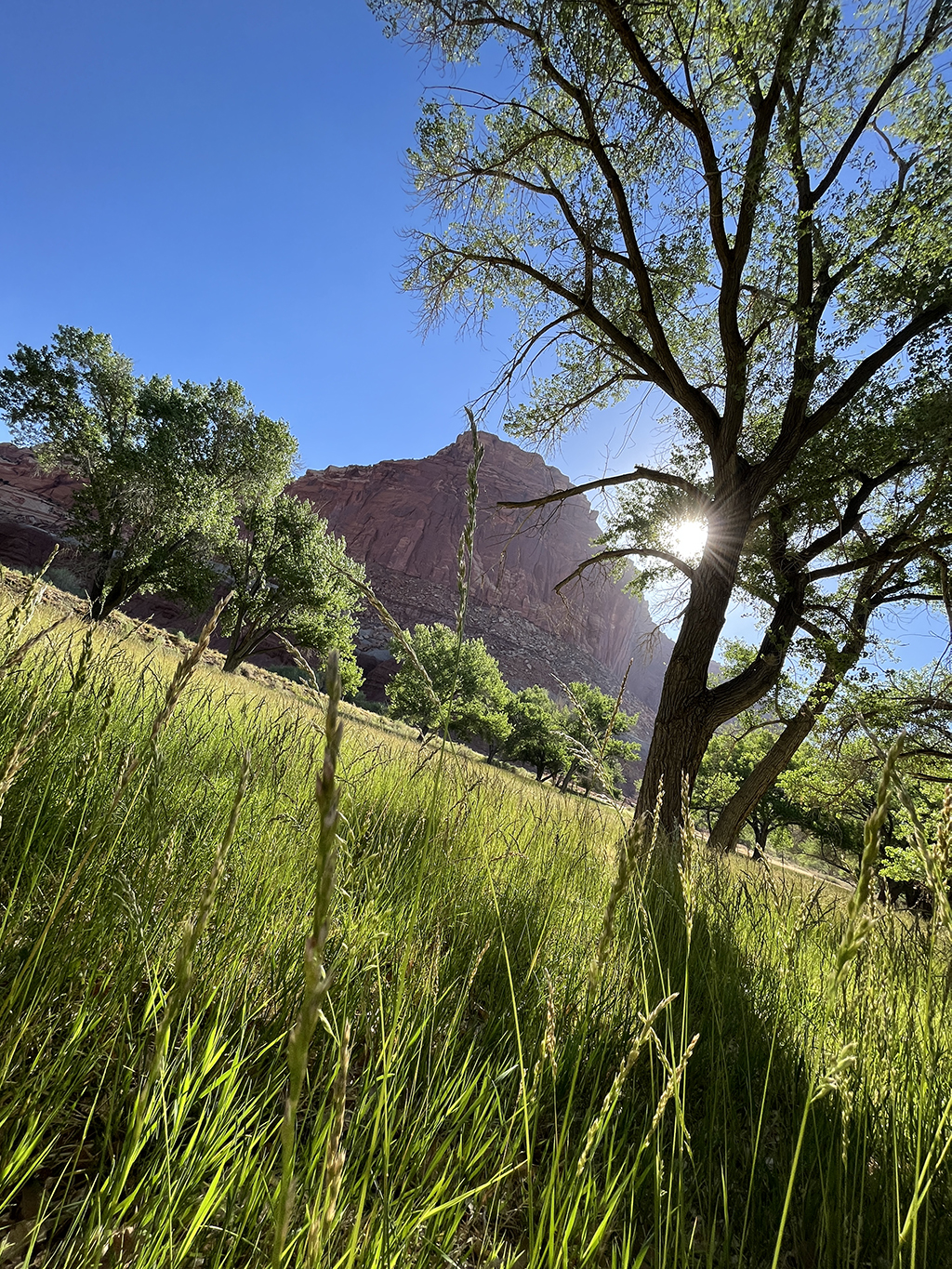 ARCHES NATIONAL PARK~
Our last day was spent visiting this red-rock wonderland! The park has over 2,000 natural stone arches, hundreds of soaring pinnacles, massive rock fins, and giant balanced rocks. Arches is an incredible place! It's also perfect for stunning sunsets!
WHY YOU SHOULD TRAVEL WITH AARP & VACATIONS BY RAIL
If you are looking for an AMAZING AND SPECTACULAR trip through some of our nation's most GORGEOUS national parks, this trip would be one to consider. And taking advantage of the savings available to me as an AARP member was so easy and convenient! AARP Members save 5% on worldwide rail vacations, tours, and select train tickets in the U.S., Canada, Europe, and beyond.  Itineraries include the Canadian Rockies, America's National Parks & Monuments, and many more. Indeed it was the perfect mix of site seeing, education, relaxation, and exploring. I would go again in an instant as well as recommend it to any of my friends or family. Undoubtedly THE BEST way to see our beautiful National Parks. Traveling with AARP Member Benefits was WONDERFUL!
SIGN UP HERE TO BECOME AN AARP MEMBER.
Shauna XO
Related blog with AARP is HERE.
Credit to Obscure Photos for pictures of Grand Canyon, Glen Canyon, and Arches.