INFLUENCERS OF MIDLIFE CONFERENCE – EMPOWERING WOMEN FOR SUCCESS
This last weekend in the vibrant city of Las Vegas, I had the privilege of attending the "Influencers of Midlife Conference." It was a transformative experience that left me feeling inspired and motivated, with a renewed sense of purpose in my journey as an influencer. This conference, curated by Robin Lamonte, brought together a group of women who are all on their own journey of influencing. Our topics of discussion were on HOW TO ACHIEVE GREATER SUCCESS IN THE WORLD OF INFLUENCING!
The event was truly a testament to the power of women supporting women. The speakers, were from various backgrounds and niches, provided a wealth of knowledge on everything from content creation and branding to social media strategies and personal development. Each talk was not just informative but also empowering, reminding us that midlife is a time of endless possibilities.
AN OPPORTUNITY FOR SOME ONE ON ONE TIME
I drove in a day early to meetup with my bestie SheShe from Houston. We spent our first night at the CARRIE UNDERWOOD concert which was SUPER DUPER FUN! Loved our connecting rooms and woke the next day for some content creating at SEVEN MAGIC MOUNTAINS. SheShe had never been before and of course loved it as much as I do! The colorful rock towers make the best backdrop for great pictures! We almost passed out in 90+ degree weather however, but accomplished our mission and got some great content!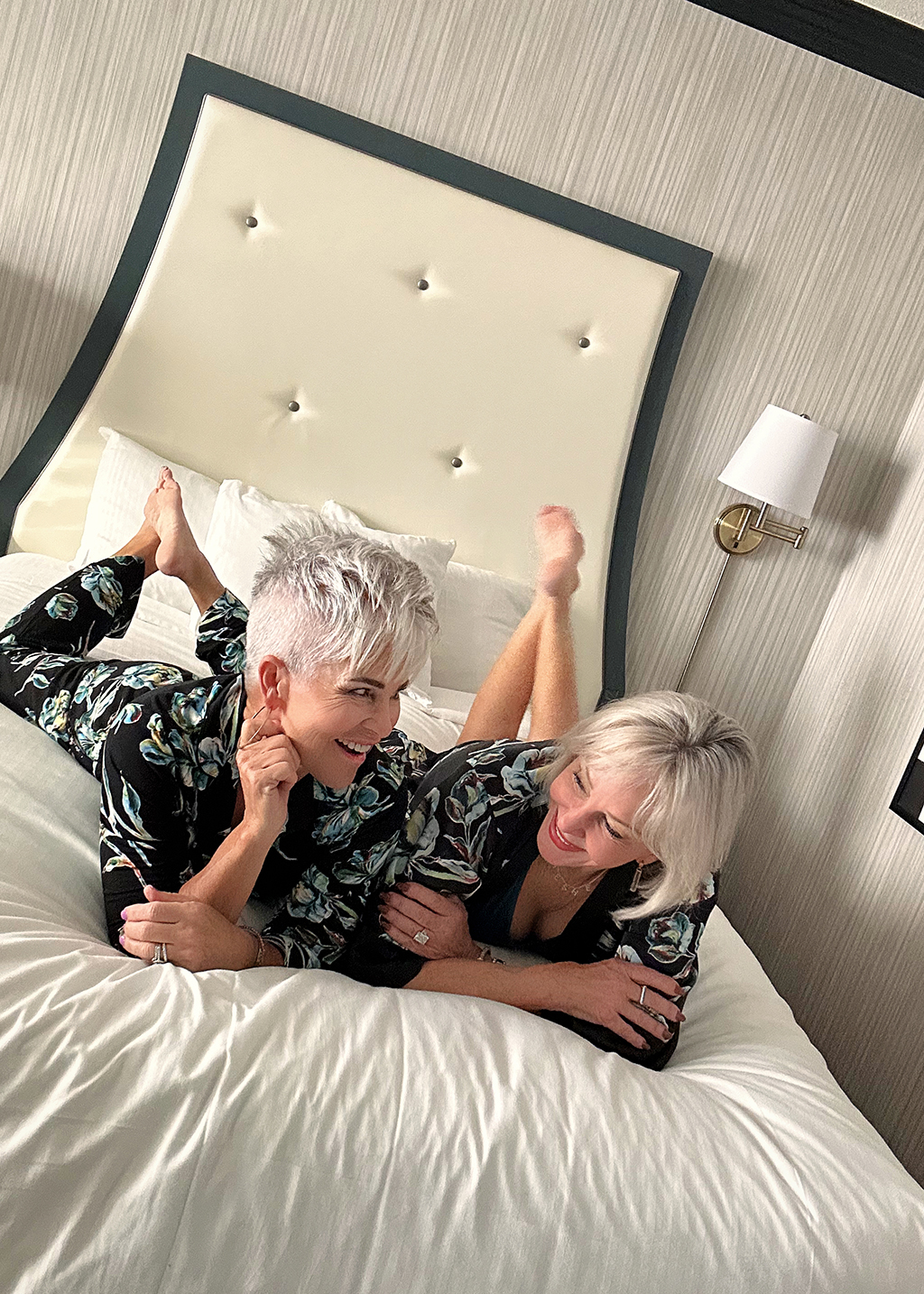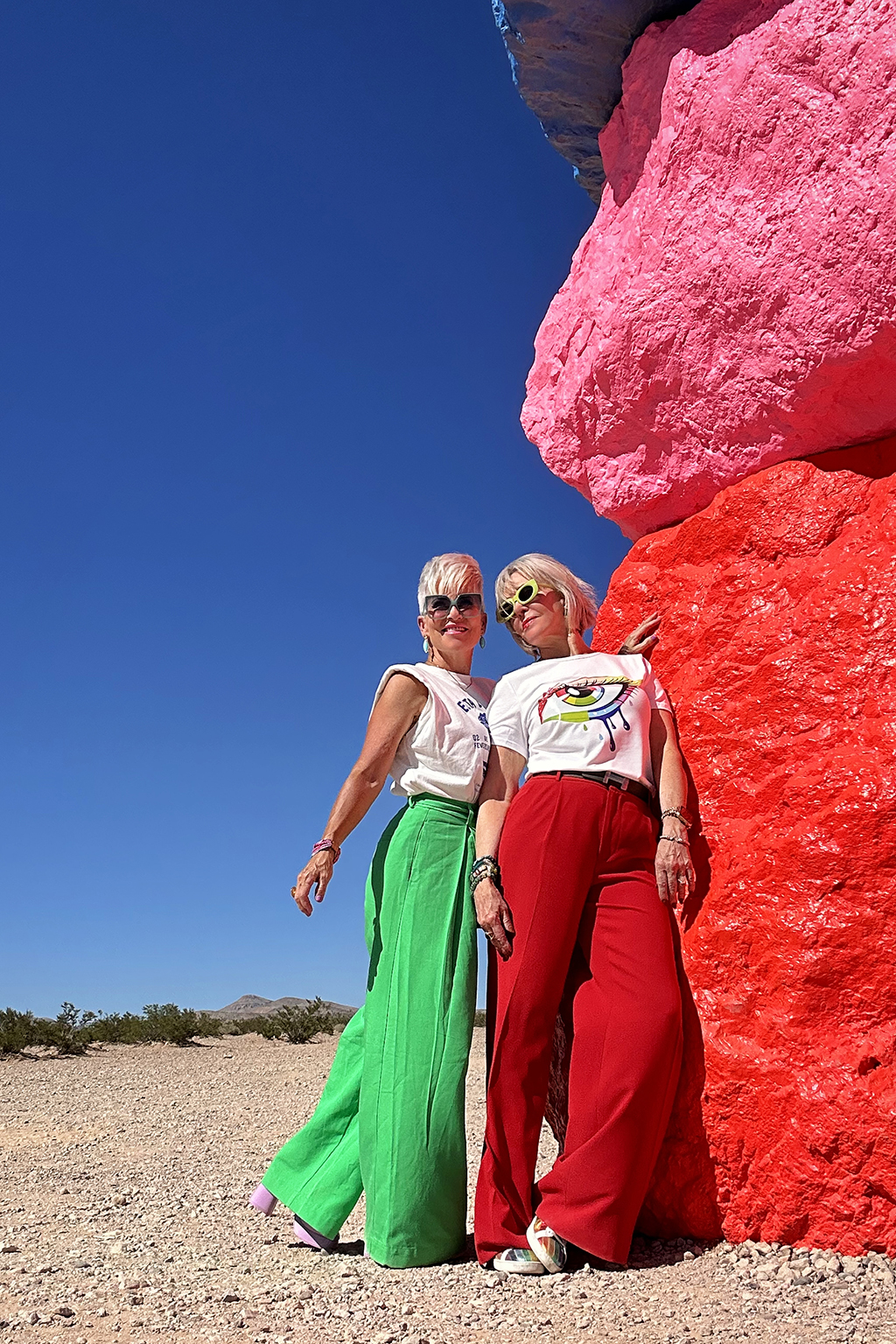 Robin, the driving force behind the conference, deserves special recognition for her vision and dedication. Her passion for fostering a community of midlife influencers was palpable, and her commitment to helping women succeed in their influencing businesses is truly commendable. Her leadership inspired all of us to AIM HIGHER and ACHIEVE OUR GOALS.
One of the most memorable aspects of the conference was the keynote speaker, Cristina Ferrare, RIGHT HERE. I remember watching her on the ABC network years ago. She was beautiful then and even more beautiful now! What a life she has lived, with many ups and downs as we all have. The disappointments, the accomplishments, the embarrassments, the rebuilding, and health challenges too.
Sitting next to Cristina at dinner was an extraordinary stroke of luck. Definitely she is a very captivating and accomplished woman. Throughout the evening, we engaged in heartfelt conversations about personal experiences and the intricacies of navigating the often unpredictable journey of midlife. Her genuine demeanor instantly put me at ease. She's got the ability to connect on such a personal level and her wealth of wisdom were truly inspiring. It was a night I will forever cherish!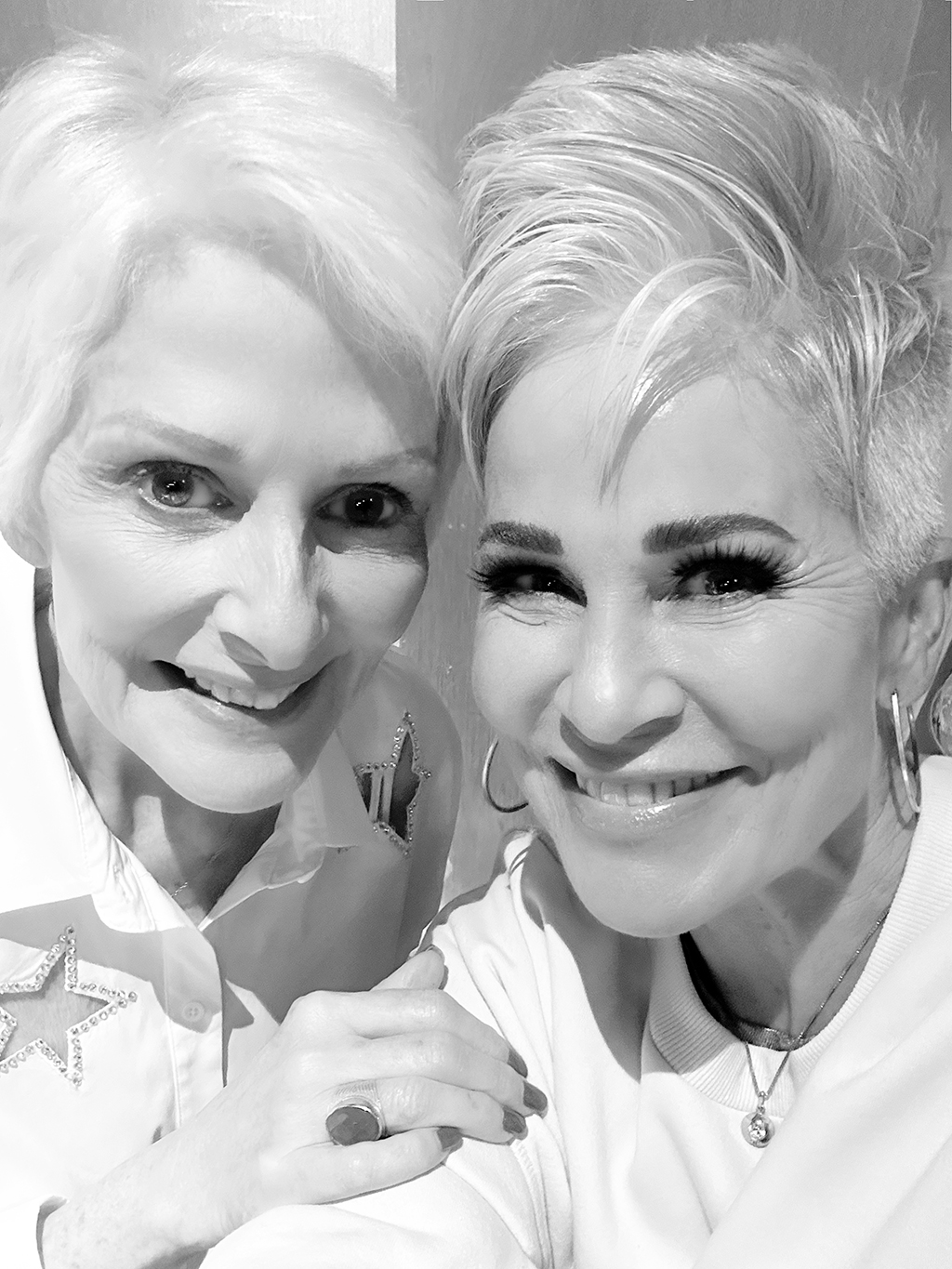 A LINEUP OF INCREDIBLE SPEAKERS
The other speakers consisted of not only myself, but my bestie SheShe, Tracey HERE a spectacular motivator, two tech girls, and an iPhone photography expert. We also had a panel discussion with some of us, discussing how to run our businesses better and most importantly….. how to KNOW OUR WORTH! Too many influencers are doing campaigns with brands as a "gifting" opportunity. This really does dilute our value as an influencer.
Not only did we have fantastic speakers and discussions, but we ate the most delicious food too. We all loved attended a MAGIC SHOW with Shin Lim, which was fascinating! How does he do the things he does…. INCREDIBLE! And in-between all of this we managed to squeeze in a photo shoot for Chicos. You can watch that with the link below. CHICOS has always been a brand that champions midlife women. They have been with me from the very beginning and given me so many opportunities!
SHOP OUR LOOKS WITH THE LINKS BELOW

_____________
As for the idea of attending another IOM conference, I'm absolutely on board. This conference has shown me the immense VALUE of gathering with like-minded women who understand the unique challenges and opportunities that come with being an influencer. There's already chatter about the next IOM conference!
In conclusion, the Influencers of Midlife Conference reinforced the idea that it's never too late to pursue your passions and make a meaningful impact. I'm grateful for the knowledge gained, the connections formed, and the motivation received. Here's to future conferences that empower women to thrive in the world of influencing.