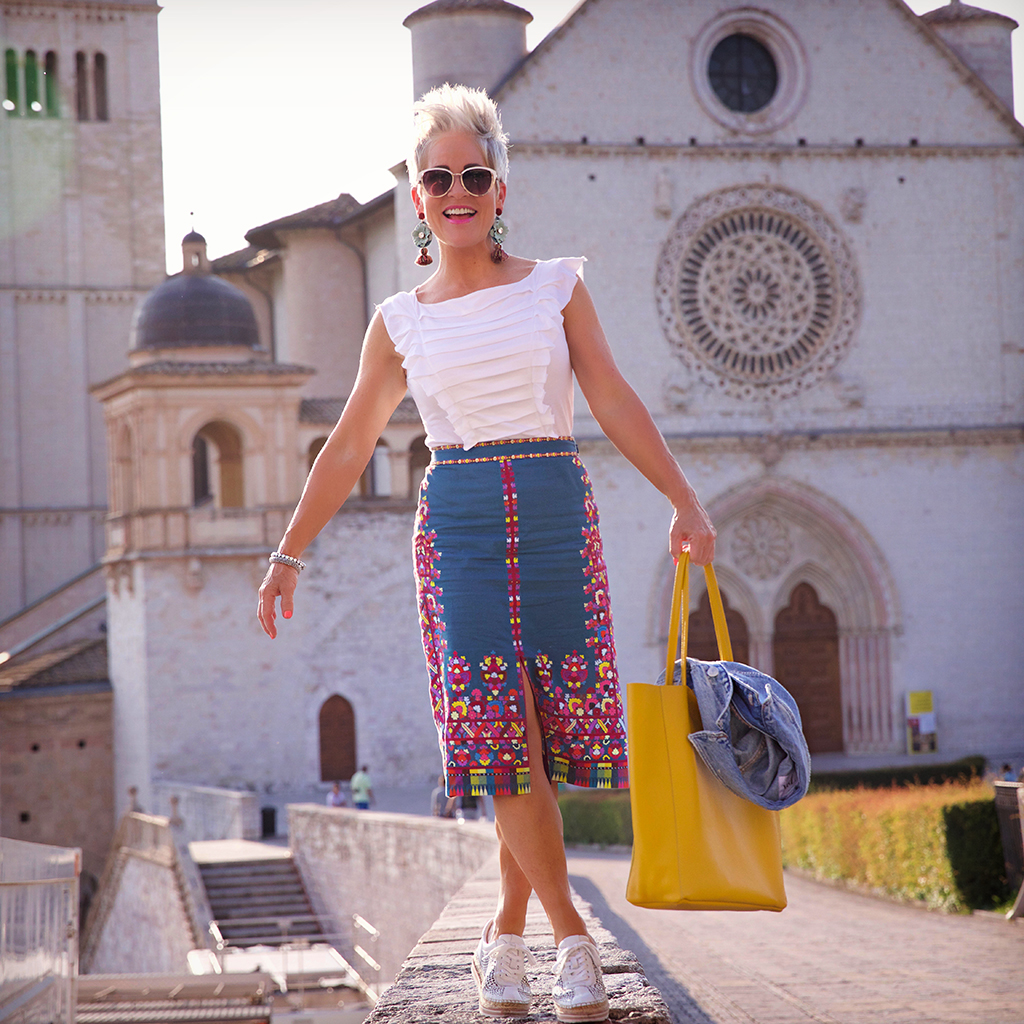 Home from Italy and my last day I spent in Assisi styled in a pencil skirt. This charming town could be my 2nd favorite in all of Italy. Such a beautiful little town! I had purchased this adorable pencil skirt before I went, and it was the only thing I packed that wasn't from Chicos. I'll be doing a big blog post on my whole trip later next week, with ALL my different looks!
The detail and the colors and embroidery on this skirt are so fun! It caught my eye immediately when I first saw it! It's made from a lightweight cotton, and so it's nothing really to pack and doesn't take up any room in a suitcase, like nothing. It was so fun to wear with my sneakers and tee. On Anthropologie's website it says it runs small, but I didn't find that to be the case. I wore my normal size.
I find that I pair so many of my summer things with a simple white tee or top like the one pictured, which is from my closet from a few years ago. But I've linked several others here for you to shop. A crisp white top will go with ANYTHING and is a good staple to have in your closet. It's also a good idea to refresh them every summer!
My sneakers will be on repeat all the way through the summer, I'm absolutely sure! I love the little bit of height they give me, plus they are really comfortable! You can also keep them super clean because they are leather! It's very easy to wipe off any smudges…..because who doesn't LOVE really white sneakers?!!
I've said before how much I love wearing dresses and skirts more and more as I get older. I loved being in Assisi Italy styled in a pencil skirt! This is one I would wear so many ways…all linked up below! By the way, my bright yellow tote, I picked up in Florence! It was perfect for packing my big camera in!!!
JUST HAVING FUN PERHAPS WITH GIRLFRIENDS~

WEAR IT TO THE OFFICE~

PERFECT FOR THE WEEKENDS~
With this look, you'll see I have it paired with the latest trend in sneakers……I thought they were fun, but haven't tried this trend yet. I love the soft pink of this pair, so feminine! Have you tried this trend? They look MORE than comfy! If you don't like it, just pair your favorite white sneakers with it!

HAPPY WEEKEND FRIENDS!
Shauna XO