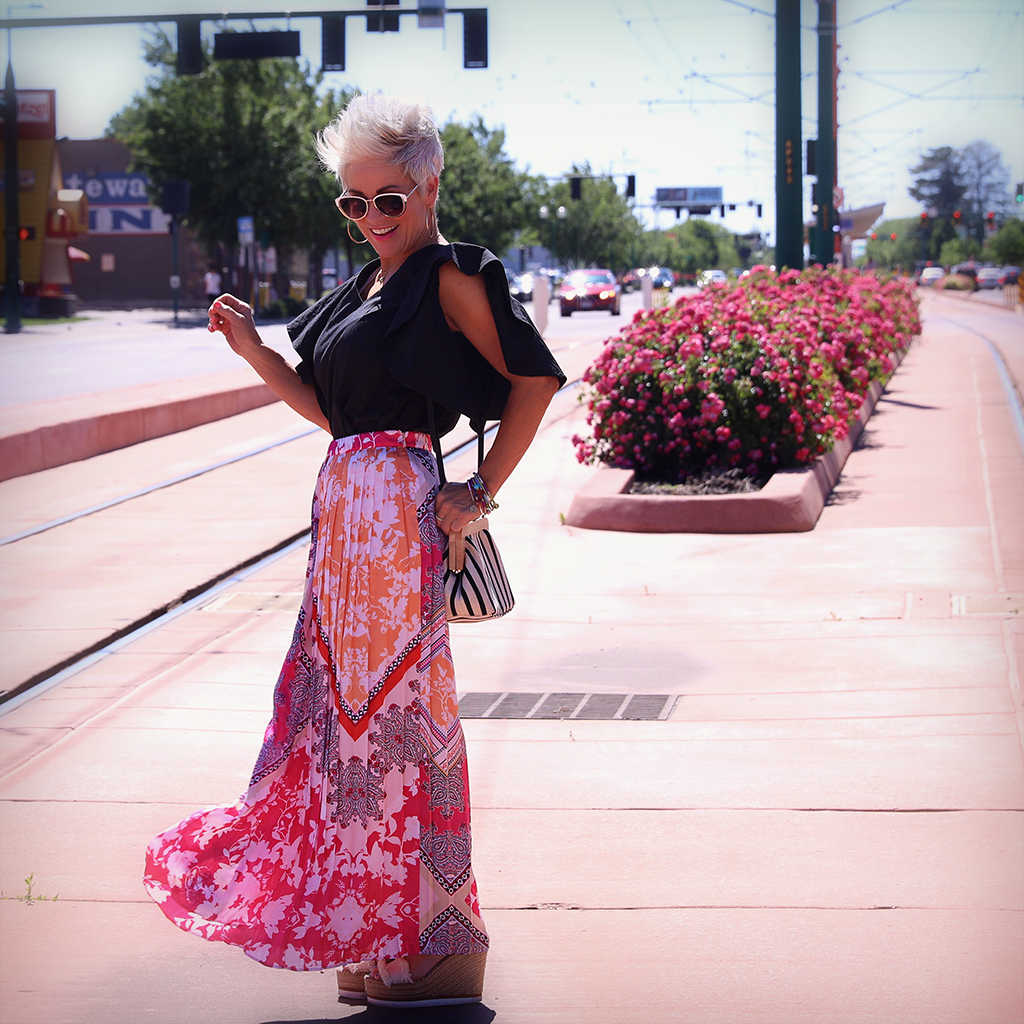 I've ALWAYS loved maxi skirts for summer….pretty much maxi skirts ANY time! This skirt was on my wish list for Italy. When I first saw it online, I immediately thought of pairing it with a basic tee and sneakers. This is my go-to outfit for warm weather. It's comfortable, easy, and girly! When it sold out and was unavailable I was so disappointed. But one of my traveling partners had it packed in her suitcase, but it didn't fit. So LUCKY ME, I inherited it! And….IT'S ON SALE now and at a killer price!
The colors of this one are right up my alley! The bright pinks and oranges are my favorite. The pleating is so beautiful and it lays really nice. I'm ALWAYS saying that CHICOS has the best fabrics, and this one doesn't disappoint! It's fully lined which I love in a maxi. I like a full length lining as opposed to just half, I just think it looks much better.
Here I chose to wear it with this structured sort of dramatic top that was already in my closet. Two similar ones linked above (just hover over the image and click). I wore it first (to church) with some black patent leather heels, but then later in the day I changed in to these CHLOE platforms that have been in my wardrobe for three years. They STILL are going strong and STILL a basic and make me so tall!
I've linked some super cute MAXIS for you here. They can be styled so many ways. Every single one would go with any kind of a denim or chambray top. Wear any of then with a tee, graphic being my favorite. If you're in to blazers, I would probably choose a very fitted style simply because these maxis are more flowy. Wear any of them with a white button-down shirt. I really do think a maxi skirt is extremely versatile. And most of these can be dressed up or down!
HERE ARE MY FAVORITES….HOW DO YOU FEEL ABOUT THE CAMO?

Skirts, dresses, and flowy pants are my first choice for my summer style. And maxi skirts and summer just seem to go together. What are your go-to wardrobe essentials for summer?
Now that I'm home from Italy, my blogs should get more regular here. I'll be posting on my trip this week. It seems so long ago….funny how that is. I've got a lot of travel planned for this summer, and am so excited to share all my adventures with you! Stay tuned!!!!!
Shauna XO