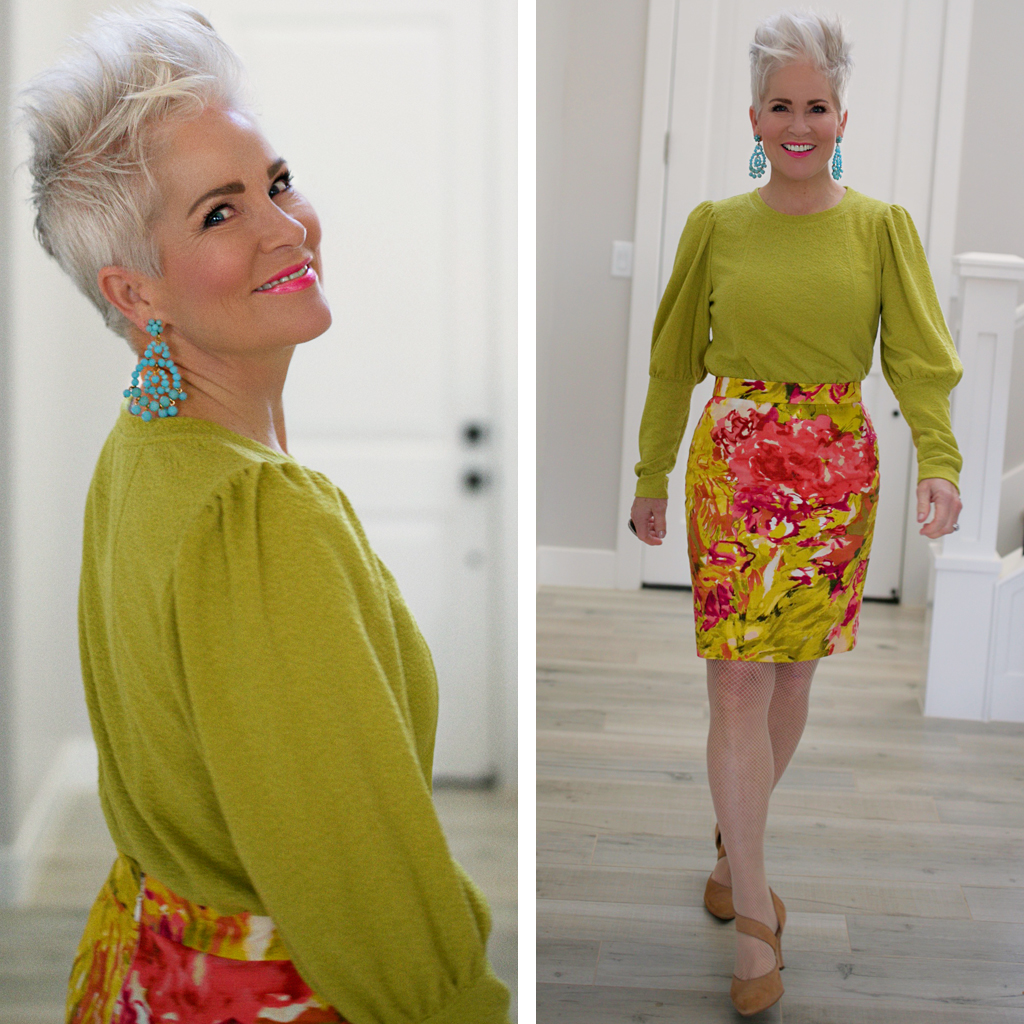 Spring is right around the corner and I'm talking today on HOW I TRANSITION TO SPRING FASHION. It can be a challenge as we are all getting tired of our cold weather clothes and want to pull out everything SPRING….. but the weather isn't quite there to meet us yet! I live in a really beautiful climate since being married, so it's not quite as hard for me as it used to be….. at least I'm not dealing with ANY snow!
But I wanted to throw out some ideas for you, to make this transition a bit easier. You can still look climate-appropriate, all while throwing in a bit of spring! I like to think of color but maybe just in bits. The outfit I have on above is definitely SPRING COLORS, but the top is a heavier knit and so adds the warmth I need. In a cold and snowy climate I would wear this with a faux fur jacket and knee high tan suede boots. And where I live…. sunny blue skies almost always, this outfit fits in much easier than it does a winter scene!
I also think of wearing ONE winter thing and ONE spring thing. Like for example some heavier pants, but with a silky top. You can then add a jacket of your choice. Also your shoes can change up a look in an instant! Booties, heels, sneakers, flats…. I choose them depending on the weather and what I'm doing.
Here I've given you examples of what I'm talking about.
This outfit is the perfect one to move in to spring with. The cropped style cord in a lighter color works great and the sweater with the lighter colors is adorable. I've paired it with a white bootie which definitely says spring, but also is a boot you can wear ALL YEAR LONG. This is a great example of still using textures (cords and the sweater) but yet they are lighter more spring-like colors.

Florals are always hot for spring! But the light florals can look too premature. Think of DARK florals this time of year. This skirt is just right, and almost 30% off! I put it with a classic black turtleneck sweater and what about these fabulous green boots??? They are a little bit of a splurge, but absolutely beautiful. You could substitute another black boot or bootie.

For a DENIM look, start thinking of a LIGHT WASH pair of jeans, like any of THESE! Transitioning in to the lighter washes will for sure speak spring. You can pair them with your heavier sweaters and darker colors. Stripes are always spring-like, and the light colored coat is beautiful for that transitioning time. The shoes could be substituted with whatever you need for your weather!

How I transition to spring fashion isn't always easy, but if you think of it in terms of texture, color, and just using one, maybe two things in your outfit instead of YOUR WHOLE LOOK…. you are sure to come up with a winning outfit!
Shauna XO