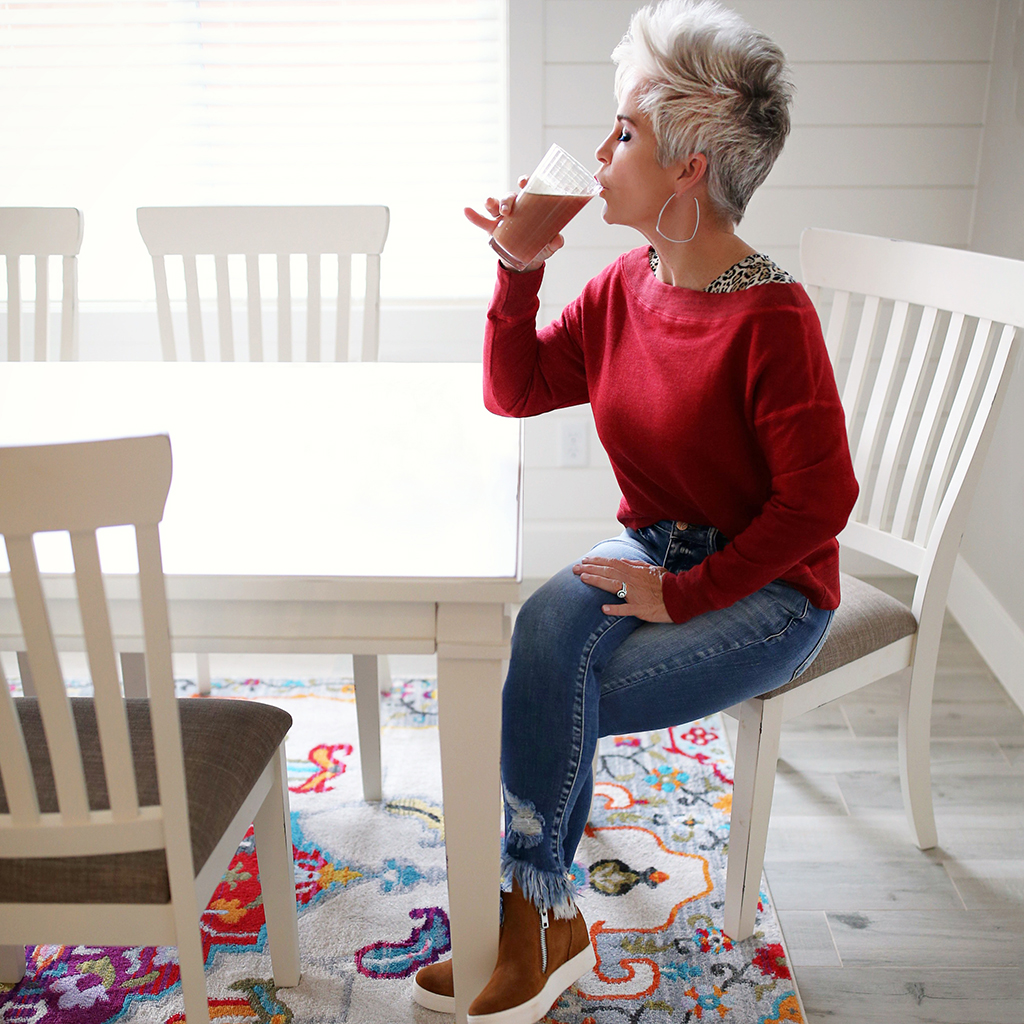 A lot of you have asked HOW I FEED MY BODY. So, today I will tell you what and how I eat. I first have to say that I am so far from perfect in this area. I would say that I'm 75% perfect…… always watching what I'm eating. But I'm human and like certain things, and have certain habits (good and bad), and as I've gotten older it unfortunately GETS HARDER to maintain my weight!
I like to think of nutrition as a LIFESTYLE. I've NEVER been on a diet. I don't like to get caught up in things that don't fit in to my norm. I LOVE dark chocolate and sweets, and so that will always be a part! I don't believe in taking something completely out of your diet if it's something you love. If you love it, find a way to keep it in your routine, only in moderation.
I've told this story before, but a couple of years ago I went to Canyon Ranch in Tucson with one of my good friends. I had a consultation with a dietician there. It was one of the best things I did. Although I know what works for me, and I know I need more protein and veggies, it's still always so interesting talking with the "experts".
I went over with her, my NORMAL eating patterns, including what I ate and how much and when. I told her that I ate too much sugar (dark chocolate almonds). I feet most guilty about this. I usually eat them EVERY day! And….. I've been known to travel with them, OR I'll hunt some down wherever I am! I've always told myself that they are DARK chocolate and ALMONDS, so what could be so bad about them??!
After I went over everything with this trained and educated nutritionist, she looked at me and said……. "YOU ARE FINE! A few dark chocolate almonds aren't going to hurt you! You are SO ACTIVE and good about everything else, that this is not going to kill you!" Do you know how AWESOME that sounded??? I was MORE than thrilled!
SO…. THIS IS HOW I FEED MY BODY
My "norm" has really changed since I've been married. My husband is THE BEST cook and loves to cook, and so I've eaten much more variety than what I've ever been used to. Before, I ate about 5-10 foods and that's it. I really needed the variety in my diet and so now I have that, and it's awesome. Variety IS VERY IMPORTANT!
I work out every day and usually don't get to the gym until mid morning. If I'm super hungry before I go, I'll eat some apple and banana chips OR one of these POWER BALLS (my husband makes these). They are made with peanut butter, chia seeds, cocoa powder, dried mangos, protein powder, chocolate chips, and honey. I'll eat these as a snack as well!
RECIPE FOR POWER BALLS~
1 1/3 c peanut butter ~ 1/2 c honey ~ 1 1/2 c oats ~ 1t vanilla ~ 2T cocoa powder ~ 1 scoop protein powder ~ 1/4 c shredded coconut ~ 1/8 c hemp seeds ~ 1/8 c chia seeds ~ dash of sea salt ~ 1/4 c mini chocolate chips ~ 1/2 dried mango chopped fine ~ 1/4 c toffee bits
Mix all together and form into balls. Refrigerate for a couple of hours and store in a ziplock bag in your refrigerator.
After I work out and get home I'll eat either a veggie omelet and fruit, or yogurt and fruit with walnuts, or an apple with peanut butter. I used to eat cereal every day with berries and walnuts. I ate a very healthy kind, but now not so much because I get omelets a LOT! This usually is around lunchtime! In between lunch and dinner I'll usually eat my chocolate almonds.
For dinner or late lunch (usually just one, not both) I'll have a normal dinner. He loves Mexican food, so I'll choose a salad with sweet pork. Sometimes it's a deli sandwich with LOTS of veggies. Usually no cheese, but I do have dressing. OR, we'll go to a salad bar and have that for dinner. He makes all kinds of things, so whatever it is, I will only eat one serving, and really watch my carb intake.
I don't drink any soda (an occasional Diet Coke) and drink only water. I watch my carbs EVERY day. I hardly eat any bread unless it's a sandwich. If we're going out and salmon is available, I'll order that with lots of veggies. I LOVE butter, so IF I'm having it, I'll eat the real stuff and not imitation. There are too many preservatives in that, so it's much better to eat the real kind. I feel the same about ice cream. If I'm having ice cream, I'd rather eat real ice cream.
I'm not really THAT STRICT just VERY MINDFUL about what I eat. I have a close friend that was on a health kick for awhile. She was so strict about what she would and wouldn't eat…. it was crazy. I thought to myself then, that there was NO WAY that I could ever eat like that LONG-TERM. It WASN'T A LIFESTYLE. If how you eat can't be part of your lifestyle…. IT WILL NEVER WORK! You have to figure out WHAT WORKS FOR YOU!
I could eat less sugar, less carbs, drink more water, eat more veggies, and eat more protein, but what I do know is working. This is how I feed my body, and you need to figure out how to feed yours. Until this doesn't work and I have to eat less, I'll keep doing what's working. It's a fact, that the older you get the more you have to move and the less you can eat. It will catch up to you. KNOW YOUR BODY and METABOLISM and you will be able to monitor your weight, even without a scale!
This is how I feed my body, but one more thing I want to mention. I see SO MANY women starving themselves, only drinking diet sodas, skipping meals, etc. Friends……… DON'T DO THIS! Your health is EVERYTHING. Take care of your bodies and have balance. It WILL catch up. You HAVE TO FUEL THIS MACHINE. If it isn't fueled properly it WILL GET SICK!
Shauna XO
I LOVED this little tidbit from HARMONS GROCERY on how to transition to HEALTHIER eating habits!