This post is sponsored by Hair Biology, but all opinions expressed are my own.
As we journey through life, our hair undergoes remarkable changes…. especially at midlife! This is a time when silver strands emerge, adding a touch of elegance and uniqueness (in my book). In celebration of this transition, HAIR BIOLOGY presents the SILVER AND GLOWING SHAMPOO and CONDITIONER. These products are designed to embrace the enhance your silver hair. They have become an essential part of my daily hair care routine!
I have found that silver hair at midlife can be a remarkable and BEAUTIFUL transformation! It sets me apart from the crowd, and has become my own unique signature. I have come to love my silver strands, as they represent wisdom, experience, and self-acceptance. They also remind me of my mama! Be embracing silver hair, we break free from the expectations of society! Mine has given me so much courage and confidence in defining my own sense of style! Hair Bilody's Silver and Glowing Shampoo and Conditioner are an invaluable asset in nourishing and enhancing my vibrant silver hair, giving it a healthy glow!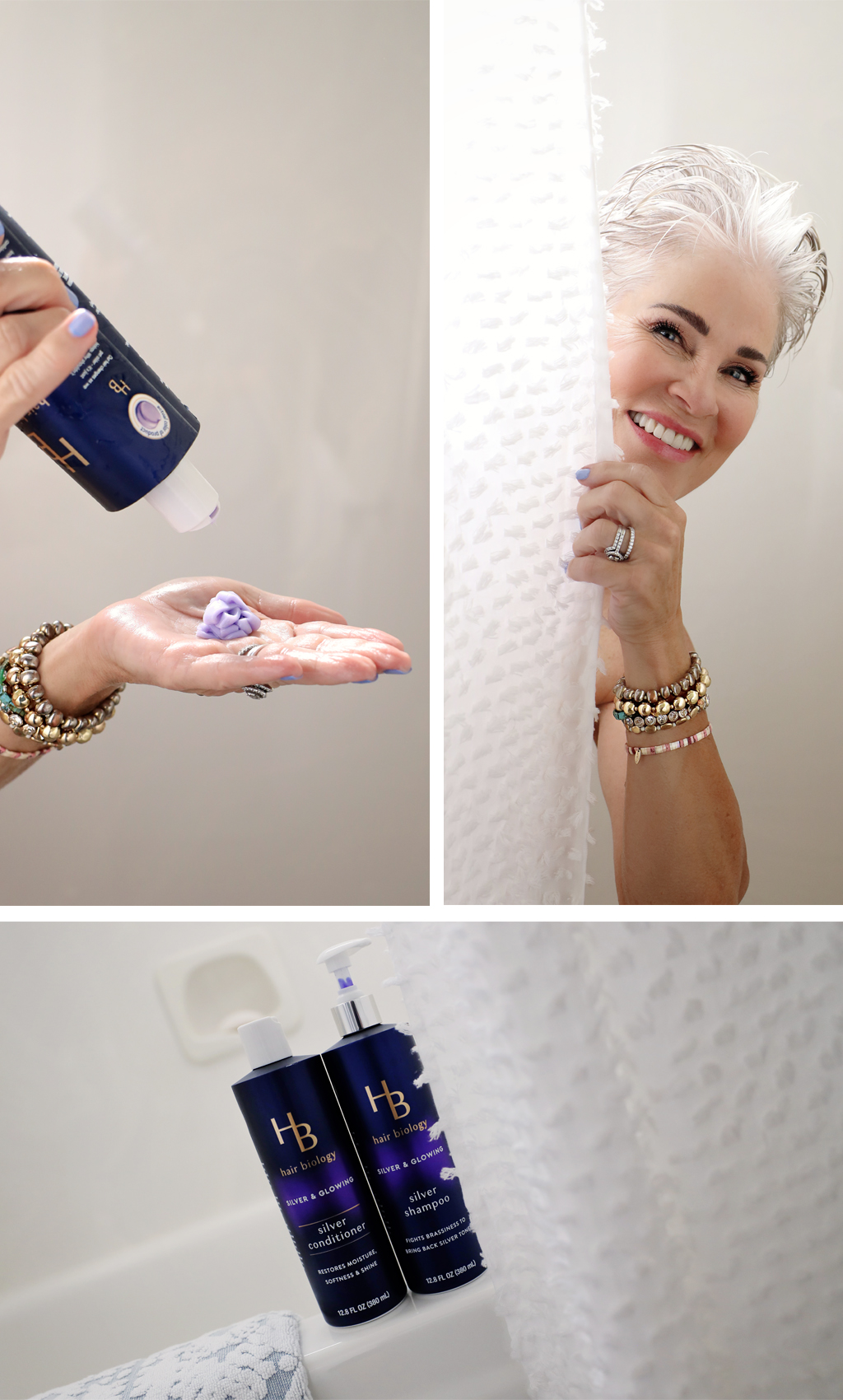 THE TRUST I HAVE WITH HAIR BIOLOGY
Through the years I have come to really trust Hair Biology! It's also formulated for mature hair as these products are enriched with nourishing ingredients that target the unique needs of silver strands. The shampoo is gentle and removes the impurities without stripping away natural oils. The purple pigments help neutralize and unwanted yellow tones. That is MY FAVORITE PART about this line! The conditioner works like magic by providing deep hydrations, and enhancing the shine, and leaves my hair super silky!
Since I've been using the SILVER and GLOWING SHAMPOO and CONDITIONER, I've noticed a huge improvement in the health and appearance of my hair. I get asked about it all the time! Even though I'm lucky to have thick hair, it's SO MUCH HEALTHIER using these products! My hair retains its natural moisture, and my hair isn't weighed down by heavy conditioner. It has plenty of volume and bounce. This unique blend of ingredients in the SILVER and GLOWING line have brought out the true radiance of my silver hair, and makes it an even MORE stunning feature of my personal style.
In a society that often associates youth with beauty, embracing silver hair at midlife is a powerful statement of self-acceptance and authenticity! With Hair Bilogy Silver and Glowing Shampoo and Conditioner, you can not only nourish, protect, and enhance your silver locks, but you can make them your most coveted signature! You can find this collection at your nearest Dollar General on the shelves or online. CLICK HERE to get yours today!
READ MORE BLOGS ON MY HAIR HERE