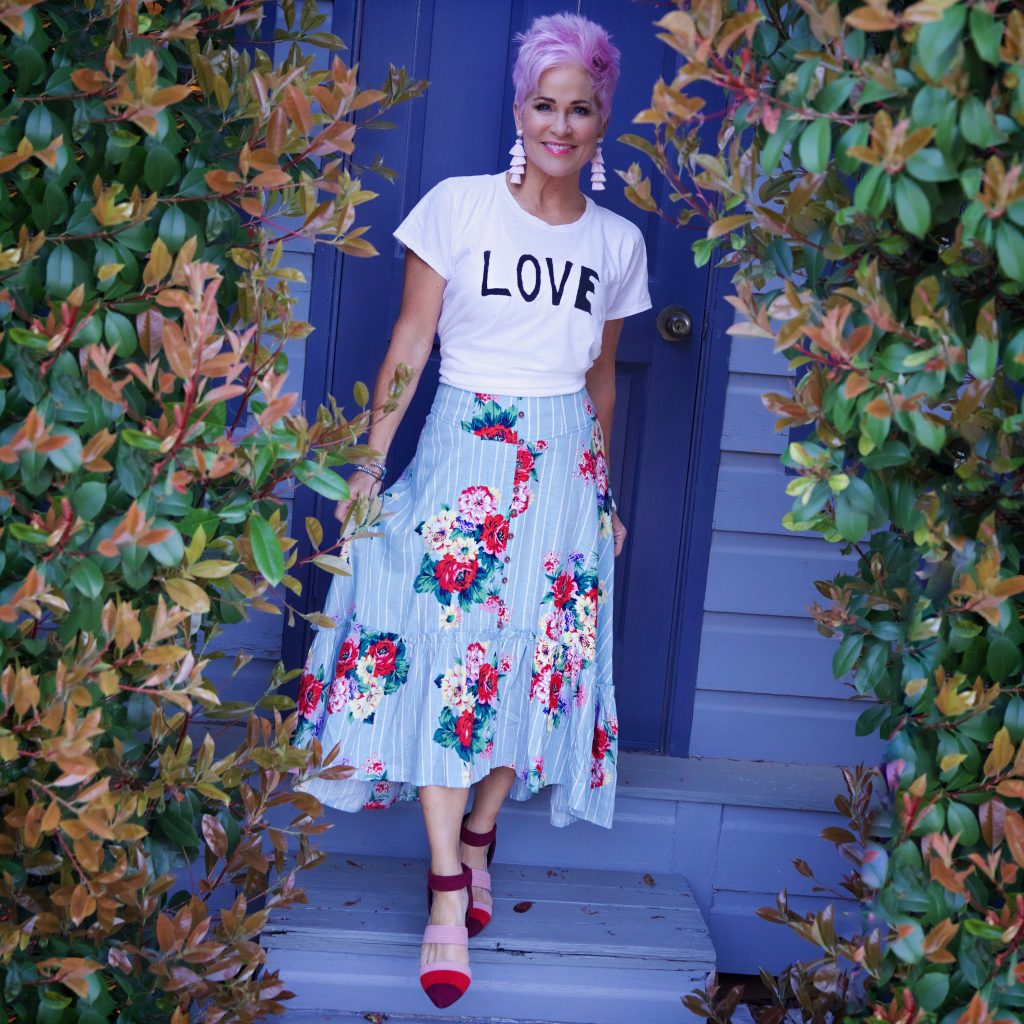 Good morning friends! If you know me at all, you know I've been a fan of FLORALS and GRAPHIC TEES forever! The two go together just like…..ice cream and hot fudge! I don't think there's anything cuter than this combination! I've always loved florals when it comes to tops, skirts, pants, scarves, or even shoes! They are so feminine and always bring lots of color to my style. And the graphic tee, I swear I wear them multiple times a week! I wear them dressed up as well as dressed down.

This skirt is so flattering! I'm excited to have it be part of my spring wardrobe. It will be so fun taking it in to the hot summer months. I love the idea of wearing it with leopard sneakers…you know those ones I've posted several times? Or wear it with flip-flops! It's the perfect most comfortable length too! To dress it up I would wear a pretty silky type top and a higher pair of heels. THIS top is so adorable with it, but I would make sure to wear heels! I wear a nude tee underneath with tops like this. You could wear it with a very fitted and tailored blazer to make it look more office worthy.
If you go back through my posts from the beginning of my blog, you'll see that I wear the graphic tee shirt over and over and over. I LOVE them! They honestly can be worn in so many ways. Wear them with your favorite pair of shorts, over a swimsuit, or with the dressiest pair of trousers you have, or even a LADY BOSS SUIT! They are fun and functional and most are very budget friendly!
So if you want to add some FUN to your spring wardrobe, you should try FLORALS and GRAPHIC TEES! Each can be broken down in to so many different looks. You'll see this skirt quite a bit I have a feeling! Below are some of my favorites!
MY FAVORITE FLORAL SKIRTS~

MY FAVORITE GRAPHIC TEES~

WISHING YOU ALL A HAPPY SUNDAY!
Shauna XO
P.S. I'm sure I'm going to get asked about my pink pixie. I went pink just temporarily for a job I did in LA last week. It was a blast and I can't wait to tell you about it in July! But this company that I did the job for, requested that I come with my PINK hair! So…..PINK it was! It will completely wash out in a few days! Really got me thinking again though….PINK hair for summer?