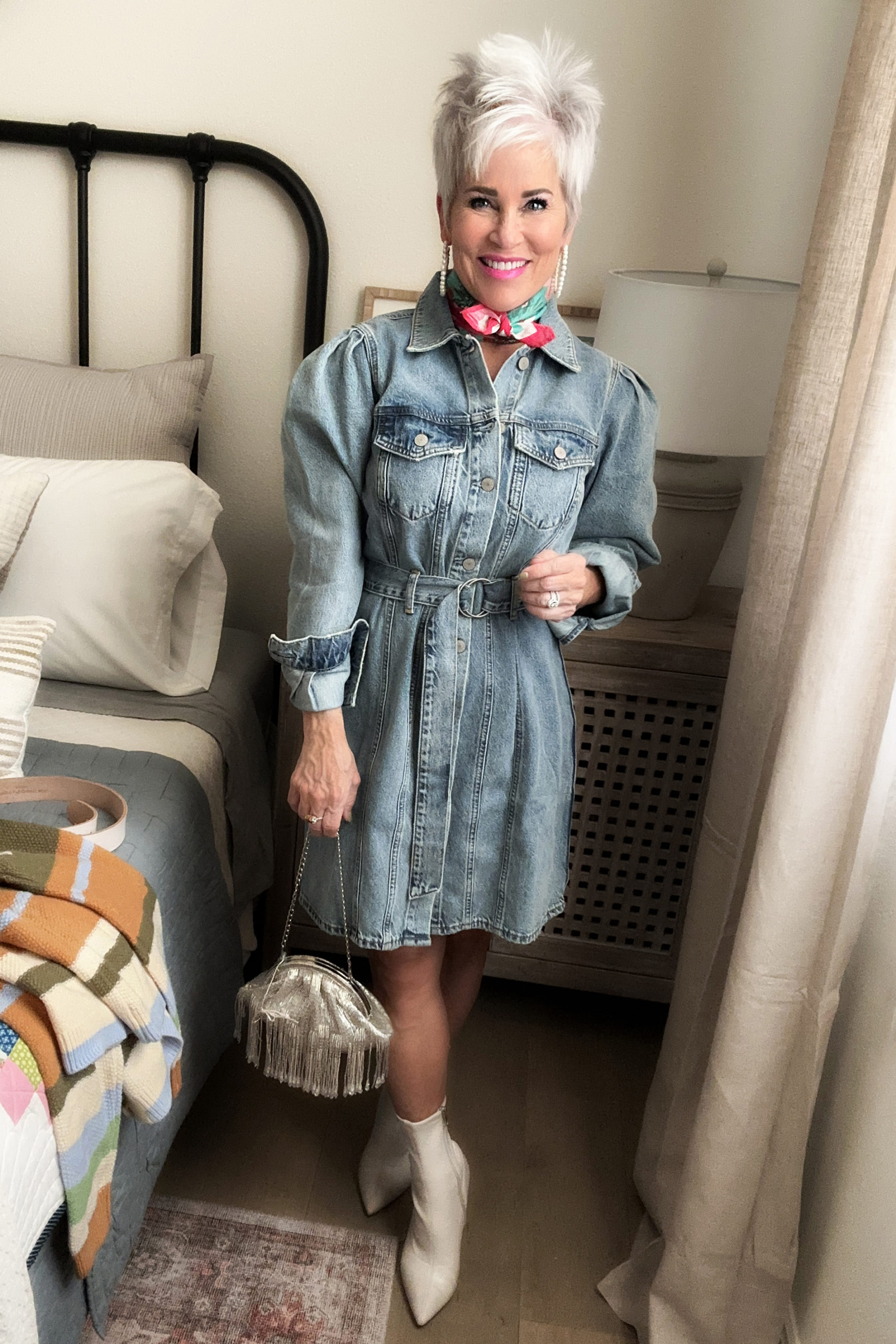 DENIM DRESSES A GAME CHANGER. There are loads of reasons to have at least one in your wardrobe. Why? Because they are easy to care for, good for any season, effortless style options and so versatile! And….. who doesn't LOVE a great denim dress? Other points to consider are denim is the epitome of comfort, durability guaranteed and it rocks!
I found THIS ONE a few weeks ago. I loved the length, the gathered sleeves and the wash. At midlife I personally think the length is key! I think going too short can look off. Remember I'm only 5'1.5″ and this hits my knee, so if you're taller you'll get an idea of where it would hit on you. It buttons up the front, so can be worn like a duster or kimono. VERSATILITY is nice to have in your clothing!
The STRIPED SWEATER I'm wearing in my REEL BELOW can be found HERE.
CLICK HERE TO SEE MY REEL FOR OTHER STYLE OPTIONS
I LOVE the wash on this one heading in to spring. Wearing a lighter wash this time of year, looks more spring-like, but it still will work all year long. Pretty much ANY denim is going to be easy to wear in a casual way with sneakers or heels of any kind! I loved pairing it here with my white booties for spring and the fringed metallic bag. I added the scarf for some color!
HOW I WOULD STYLE THREE WAYS
As ALWAYS I like to be able to know how to style it THREE WAYS! So….. this is where the fun starts! And this is what I came up with…



MORE DENIM DRESSES TO SHOP
I've scanned the internet for ALL THE BEST GAME CHANGING DENIM DRESSES to shop! Hopefully I've represented all different price-points. To me when I find the perfect denim, I don't mind spending a bit more because I know it will be one of those LONG-LASTING pieces I'll go to time and time again! Denim dresses are definitely a GAME CHANGER!