Africa, a journey of a lifetime….. and it WAS! When the opportunity came to me to travel to Africa, all of those dreams of a safari vacation started to become a reality. I couldn't believe that I was going to have the opportunity to see Africa, a place that I had only heard about and one that is on many people's bucket list.
I had the privilege of traveling with CroisiEurope, a family owned business which began in 1976. They are Europe's premiere leader in riverboat cruises and specialize in intimate sized groups, offering cruises on rivers, canals and seas. They have a fleet of 55 ships and travel throughout Europe, South Africa, Asia and Egypt. EVERYTHING was inclusive which was SO NICE and always makes a vacation super easy.
We had a total of ten in our group, which were all from France. It was lovely making new friends and found it very fun learning some new French words and phrases! CroisiEurope will always cater their vacations to fit your needs, so you'll be able to travel with people from your country or not. Whatever YOU want, you'll get!
I traveled with my gal pal SheShe. We have traveled extensively together and have LOVED all of our adventures. She had been to Africa before and so was helpful in coaching me on what to bring and how to prepare. Our journey began on February 2nd and ended on the 13th. Let me take you day by day through Africa…… namely Johannesburg, Botswana, Namibia and Zimbabwe.
DAY 1
Day one was a very long travel day. I was in the air for almost 21 hours. I felt very lucky to have traveled in business class, which gave me a little more legroom than normal. Make sure you have in your backpack your water, snacks, toothbrush and makeup wipes, travel blanket, headphones, and phone charger. I carried on my luggage which stored in the overhead bin, and my backpack stayed with me. Having the right things will make it so much more comfortable! Also…. DRESS IN LAYERS!
YOU CAN SEE HOW I PACKED HERE IN THIS REEL
We spent that first night at 54 On Bath in Johannesburg. What a gorgeous hotel this is. Everything was first class! My room was spacious and elegant and the bed was pure luxury, especially after 21+ hours in the air! The people greeting us at the front desk were SO HOSPITABLE and couldn't have treated us better!
A little history on Johannesburg…. it is the richest town in Africa with the tallest buildings but also the widest social discrepancies. You'll find though, that it has one of the best atmospheres you'll ever come across, and I sure did feel that with everyone I came across. It was discovered because of its gold, which has left the soil yellow because of the leftover gold mining.
DAY 2
Today we began on the grounds of 54 On Bath, doing a photoshoot for CHICOS in their fabulous swimsuits. THAT REEL IS HERE. Afterwards we met up with our group of 4 couples all from France, at the hotel. Not many spoke English, but with the help of a translator app we got by. Our travel mates were all really nice people!
We enjoyed a delicious lunch, and then traveled to the APARTHEID MUSEUM which opened up in 2001. This was incredibly moving! There were so many things I learned about this time in history. The discrimination was intense and required black people to have a pass to work or they'd be arrested. The museum is put together in such a way to REALLY feel the impact on the culture at this time. If you are ever in Johannesburg, you MUST SEE this museum!

DAY 3
We began our real journey today, and took a flight to Kasane, Botswana. Traveling from the airport to a private boat, we then went on to the most AMAZING CASCADE ISLAND LODGE which was BEAUTIFUL! Cascade Island Lodge is actually owned by CroisiEurope, and very swanky!
Greeted by a group of native people singing and chanting their beautiful music was so inviting! The lodge is located on a private island in Namibia that runs along the Zambezi River. There are eight spacious bungalows and was recently renovated. It left me BREATHLESS! I could have spent days even months there. Each room had its own patio with a private pool and views of the river. Just the bathroom alone was exquisite with floor to ceiling windows looking out to the river! We had the most delicious food here and plenty of it! Our internet was challenging the whole trip, but the staff was eager to make it as convenient for us as possible.
I SHOT THIS REEL HERE AT CASCADE ISLAND LODGE
DAY 4
(day3) My first safari was today! Traveling through the Chobe National Park, was absolutely thrilling and so exciting to spot the animals out in their habitat. My favorite were the graceful giraffes, and the elephants felt so much bigger than I had ever seen before! It was interesting learning how the male elephants separate themselves from their families and go live on their own. Whenever we saw an elephant by itself, it was always a male. The mamas always stay with rest of the herd. We were able to see a 3 day old baby that was incredibly sweet.
You can see MY REEL HERE.
Another interesting thing I learned was that there are a lot of older Africans who have missing limbs. This is because way back in the day they would swim in the river and get attacked by crocodiles. Needless to say, the people are much more educated now and won't ever swim in the waters.
DAY 5
This day was really fun…. of course all of our days were fun, but this one however was special. We were able to discover one of the traditional villages on Impalila Island, the far eastern tip of Namibia. There are 42 villages on the island and it's usually just one family per village. We first visited a market and were able to shop the beautiful handmade jewelry pieces. The most fun however, was when we walked up a dirt road and met another group of natives dancing and singing their hearts out for us! WHAT FUN! Even the little tiny girl Jasmine, about 2, was there dancing with her ladies! I learned that the more layers on the women's skirts, the more important they were. The island has just one school with about 400 students that goes through to the 10th grade.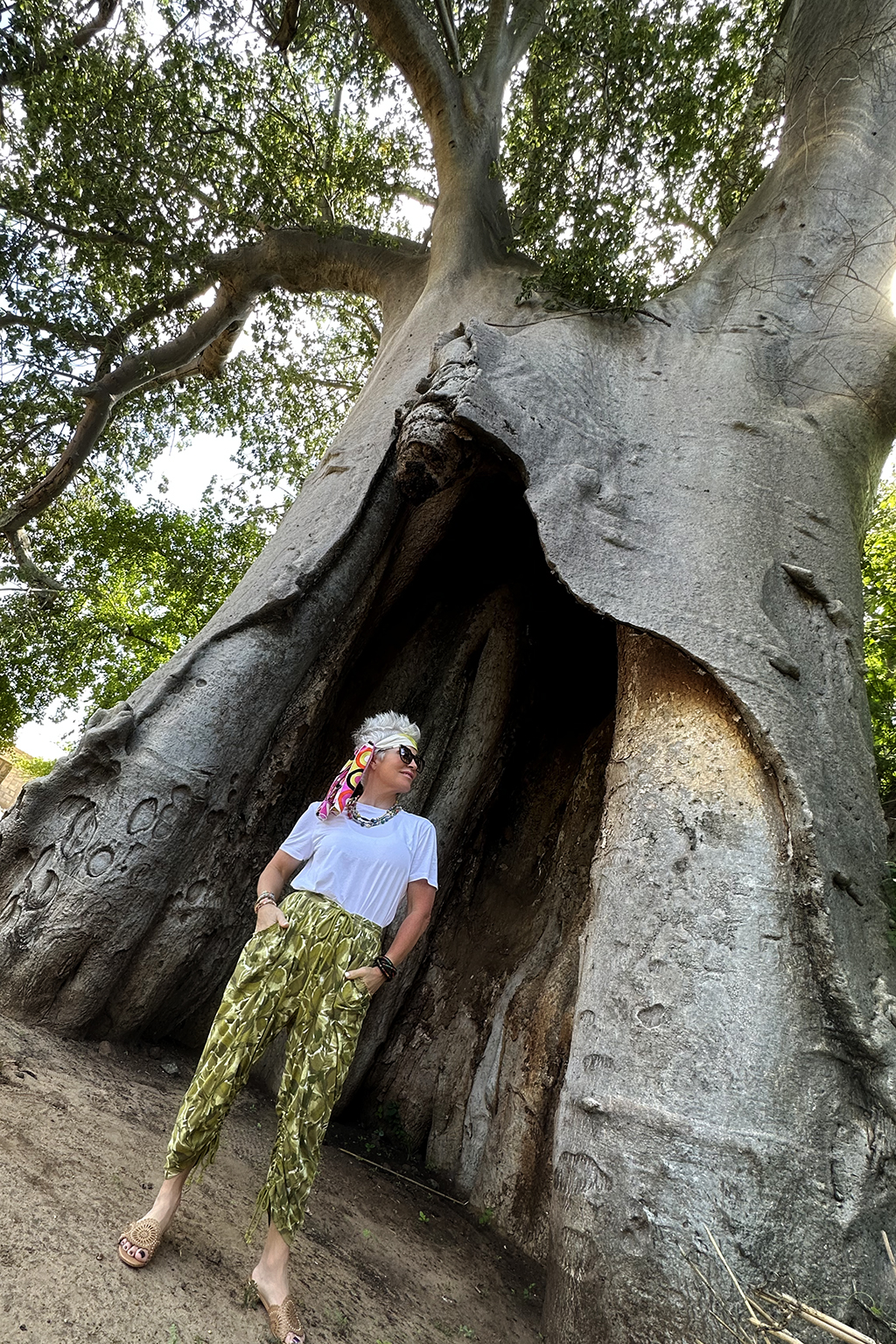 DAY 6
One last water safari this morning and then we made our way to the Kasane Airport. We flew on a private plane to Kariba. Apparently there were gorgeous views of Lake Kariba, however I didn't see them because I was on the opposite side of the plane and didn't want to move because I thought the plane would tip to one side….. no kidding! LOL! But credit to the pilot, the flight was smooth and comfortable!!!! We arrived safely to…..
board a small boat that took us to the BEAUTIFUL AFRICAN DREAM, our ship from CroisiEurope. I found myself saying, "WOW WOW" at every turn. The ship was just beautiful! It was spacious and the views everywhere were stunning. And let's talk about my cabin…. unlike any cabin I've ever had on a cruise ship. It was situated on the front corner of the ship, with two whole walls of floor to ceiling windows, and even my own patio! I unpacked and settled in to my cabin and then enjoyed yet another delicious meal! Oh….. and the bed was SO COZY!!!
DAY 7
At sunrise, we traveled on boat through the beautiful landscapes of Lake Kariba where there were drowned trees everywhere ascending up to the sky from the water. I was MESMERIZED!. It was a photographer's dream! The atmosphere was magical! We returned to our ship to have lunch. CroisiEurope made sure we had plenty of food. But with that, the food never felt heavy! It was light and reasonable portions which I really appreciated! There was always dessert…. I didn't miss out on many!
Today was pretty chill and relaxed. I like having a day here and there where there's not a lot going on. It made for a great day to create some content and do some catching up! I made THIS REEL that really shows off our ship, the AFRICAN DREAM!
We ended many of our days on a smaller boat to watch the sunset! This night while we were out, we did some fishing and I happened to be the FIRST ONE to get a catch, a catfish! Yes…. it was such fun and very exciting! I was hooked!!!
DAY 8
Safari day again today through the Matusadona National Park. This is home to numerous species of animals such as hippos, crocodiles, buffalo, elephants and thousands of birds such as the AFRICAN SEA EAGLE or FISH EAGLE….. so majestic! It's actually the national bird for Namibia, Malawi, Zambia and Zimbabwe.
The history of the park is closely linked to the lake. When the dam was constructed, the rising flood waters disrupted the wildlife. Over 6000 animals were relocated to the Matusadona National Park. Hunting is strictly prohibited in this park.
My favorite sighting this day were the ZEBRAS! I thought I liked the giraffes the best until I saw the zebras! They are so pretty!!!! Their stripes are unique to each one, sort of like our fingerprints. They can also run over 40 mph! I had no idea, I always thought zebras were slow. That's one thing I appreciated about each guide, was the amount of information they shared with us about Africa.
DAY 9
On our ninth day we discovered the ginormous Kariba Dam which was created in 1955 to form Lake Kariba. Today it provides Zimbabwe 70% of their power. We learned about the legends of the lake namely the river god NyamiNyami. I was actually gifted one of these, that hung from a cord as a necklace, by one of the guys that worked at the helicopter pad.
We then flew on a private plane to Victoria Falls, enjoyed a yummy lunch while cruising the Zambezi River, which is just upstream from the falls. That afternoon we toured the falls on foot along the prettiest paths and walkways to get some SPECTACULAR views. At times there was so much water spraying off the falls, it was like a rainstorm! INCREDIBLE and another must see! Victoria Falls is known as the WILDEST waterfall in the world and actually one of the Seven Natural Wonders Of The World! That night we stayed in another GORGEOUS LODGE, the Victoria Falls Safari Lodge.
DAY 10
If you've never been on a helicopter ride, you have got to go. It's the best way to really see the geography of the land. It was AWESOME soaring over Victoria Falls. The perspective is so much different than on ground. I got to sit in the front with the pilot. You can see what I saw HERE IN THIS REEL! The end of our trip was nearing, as we left from there to travel to the airport.
DAY 11
Traveling all through the night to get back home to Las Vegas was a little sad. My journey of a lifetime to Africa, went by way too fast! Getting to know Africa through this trip is so hard to put in to words. My mind was racing as I thought back through each of our days and experiences with CroisiEurope. It was educational, SO spectacular, incredibly photographic, touching and extremely thrilling to spend time in this GORGEOUS part of the world!
____________
I traveled throughout my trip with my MedjetHorizon membership. It works on top of my travel insurance as a higher level of protection. If I'd been hospitalized, they'd have gotten me moved to my hospital at home. If I encountered a safety threat ((traveling to new places can be scary, especially if you're solo), they'd have come to my aid with security response. It's unbelievable travel peace of mind. They have memberships for individuals and families, corporations and non-profits, students, expatriates and more, and it's incredibly affordable. I never travel without it these days!
NOW…. I have a SURPRISE FOR YOU! When you book your trip HERE with CroisiEurope, and use the code ChicAndSheShe you will get 25% OFF a new CroisiEurope land-and-cruise African safari reservation, for any 2023 or 2024 departure!!!! It has to be booked by the end of May 2023. OH MY GOODNESS….. what a generous offer my friends! I promise you that you will not be disappointed in this vacation. There are many ways to travel Africa, but this one is TOPS. The service, the group size, the accommodations….. EVERYTHING is first class! I would highly recommend it to ANYONE and hope that you can take advantage of their offer TO YOU! Africa…. truly a journey of a lifetime!!!!
CLICK THIS LINK TO BOOK USING CODE ChicAndSheShe

READ ABOUT MORE OF MY TRAVELS HERE