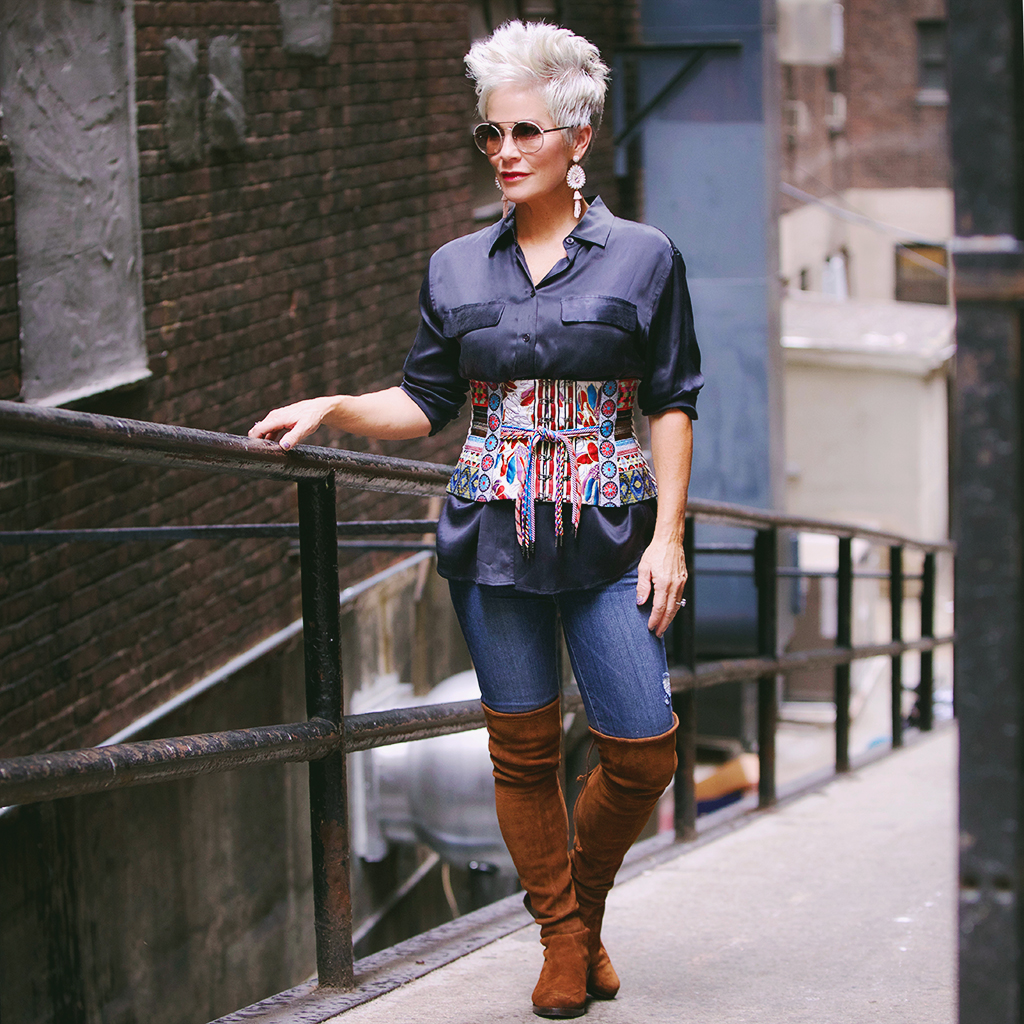 Would you or wouldn't you wear a corset? Too uncomfortable? Too fussy? Don't like? Well, I thought I felt all of those, until……I was coaxed by the girls working the dressing rooms at Anthropologie to just try one on. Honestly it did take some work, and LOTS of help getting it on. At first I tried it with a medium weight sweater….too much bulk for the minimal space I have between my hips and chest. I swapped that out and tried on a thin long sweater and I sort of fell in love with it!! They definitely have a way of accentuating your waist, which always is nice for ANY woman!
Here I wore it with a silky button-down shirt, which I loved because there wasn't any bulk at all underneath. I would have thought these would be really uncomfortable, but it actually wasn't! This one is very wide,  8″, which might feel more constricting. If you're just new to the trend as I am, maybe one less wide would be a better place to start! I don't know for sure, because after I tried this one, I was set on having one that was very dramatic!!! I guess if your going to wear a corset…..WEAR A CORSET, if you know what I mean!!! Below are some other options that aren't quite as wide. Hover over picture then click to see details!
And what about this corset vest? I LOVE this! This would be so cute with a long button-down underneath, a silky floral billowy top…I may just be blogging about this one soon! I think you could even wear this one over a denim shirt dress! Love that idea too!!! And it would be a fun way to change up the dress! And Look how CUTE this camo silky top is!!! This would be fantastic underneath the corset vest!!! Yep…it sure would! Put on some jeans and a pair of great boots and statement earrings, and it's all good!!!
So like I said earlier….don't underestimate the fun of a corset or corset-type look! And just a thought, if you don't have a long waist, they say you should wear something less wide. It's a good rule to follow, but not necessarily true all the time. You know like I always say…..IT JUST DEPENDS! The one I'm wearing here is very wide, but I liked it because the shirt underneath was thin and simple.
Corset  |  Boots  |  Similar Shirt
HAVE A GREAT WEEKEND FRIENDS!
Shauna…..XO