Today on the blog I'm talking about my CHICOS STYLE IN FEBRUARY. So many good things to share with you! I love the shirtdress, the striped tee, this tote (on MAJOR SALE) which is just perfect anytime of the year! It's always a HAPPY DAY over at Chicos! I can't wait to show you what's up over there for March!
The shirtdress has become one of my favorite pieces to wear! They are versatile in that you can wear them as a dress or a kimono. But what about every other option out there? Wear as a cover-up, wear them with shorts, with some ragged jeans or a sleeker skinny kind. They really are so fun to style!
I wore this with the greatest tee of all time! It's ON SALE too! CHIC LOVE PEACE! This has been such a fun little line at Chicos! Remember THIS??? This will go down as one of the cutest denim jackets I own. You can find it right here and it's ON SALE! I added some great Chicos black jeans! It made for a super CHIC outfit!

My SUNNIES can be found right here.
My next look was this more relaxed laid-back athleisure type of look. The long cardigan is so cozy and a great basic to have. When travel opens back up, this is a great one for the airplane….. like a cozy blanket! The leggings come with a pocket on the side, YAY! Add a basic stripe tee and a FABULOUS animal print tote and what a fun outfit! Wear sneakers or a heels, either works.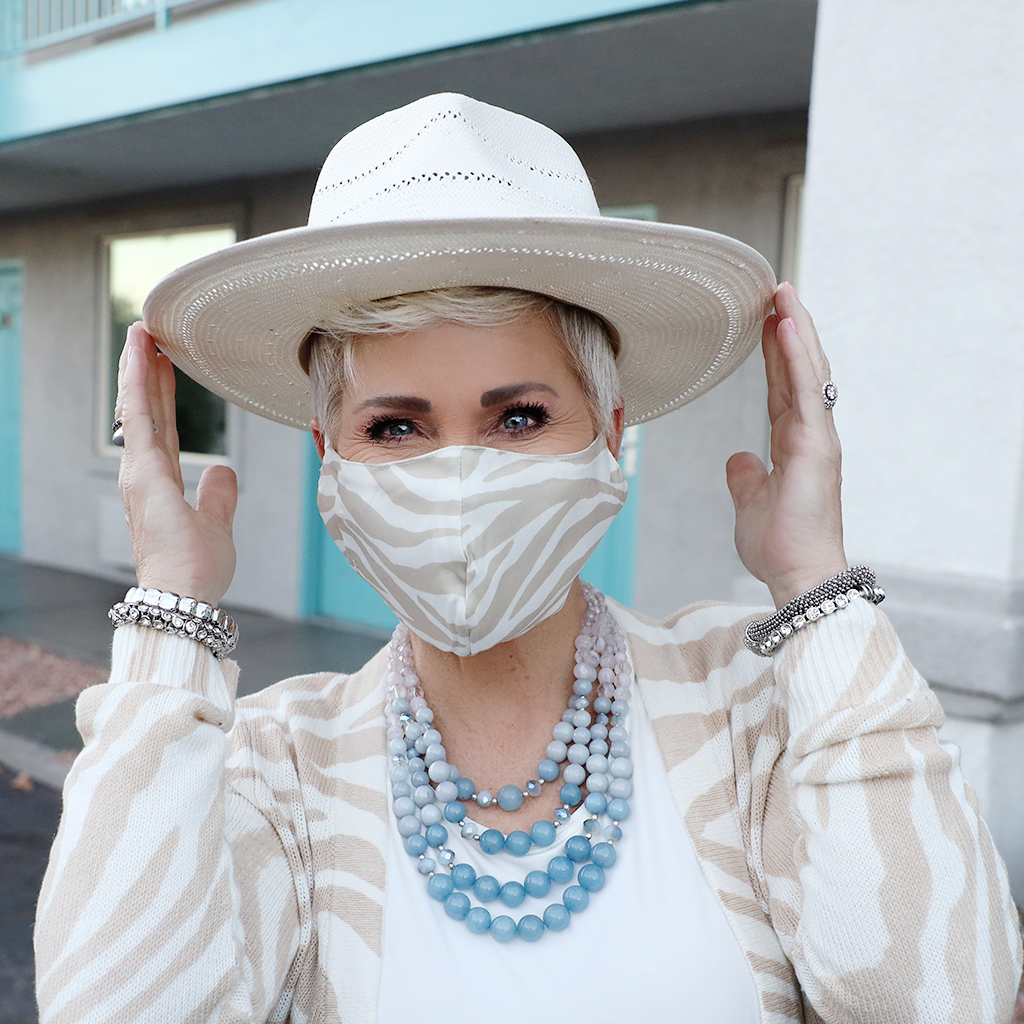 You can find all of CHICOS fabulous MASKS right here.
My third look I'm wearing Chicos pull-on style jean in a fun pinstripe. These are so comfortable and flattering! They really do take out all the bulk in the front! I have on one of Chicos great tees and this WONDERFUL lightweight cardigan. This would be SO CUTE over a swimsuit and denim cutoff shorts. LOVE THIS! Unfortunately it's sold out, but this sweater would be cute as well!
So here's to my Chicos Style in February….. and now just around the corner MARCH! The first day of spring will be here before you know it, and I can't wait to show you what's coming! It's sure to brighten your day!
Shauna XO