These passed two years have been absolutely the most incredible and rewarding years I've had in a long time. I hate to say EVER, because I once was a mother of three young boys, and I had some pretty incredible times then! Many people ask me how I got started with ChicOver50. I'll tell my story again for those who don't know.
I've always loved fashion and anything that goes with it! Even from the time I was a little girl! My mom made most of my clothes and that whole process brings back such wonderful memories! Throughout the years women have asked me all kinds of questions about fashion, hair, makeup, and fitness. I've loved helping them to see themselves as "stylish" and "beautiful"! A good friend of mine suggested that I start an Instagram account on fashion for women over 50. It took me many months to think that could even work or be beneficial to others. I'm not one that likes being in front of a crowd….no kidding, so it was a really brave step for me!!! I started thinking of catchy names, and ChicOver50 stuck. I was in! Little did I know….that this would happen! I'm SO LUCKY that I get to help women all throughout the whole world feel better about themselves. The correspondence through comments and emails have been so powerful and touching! I've learned that MOST women my age struggle with trying to find out what works for them. And MOST only need to see something that inspires them to try something new! I've always been pretty brave when it comes to fashion and trends, only because I LOVE it so much! So being the one that can lift someone else up, to feel more confident about their fashion ideas…….is SUCH A GIFT!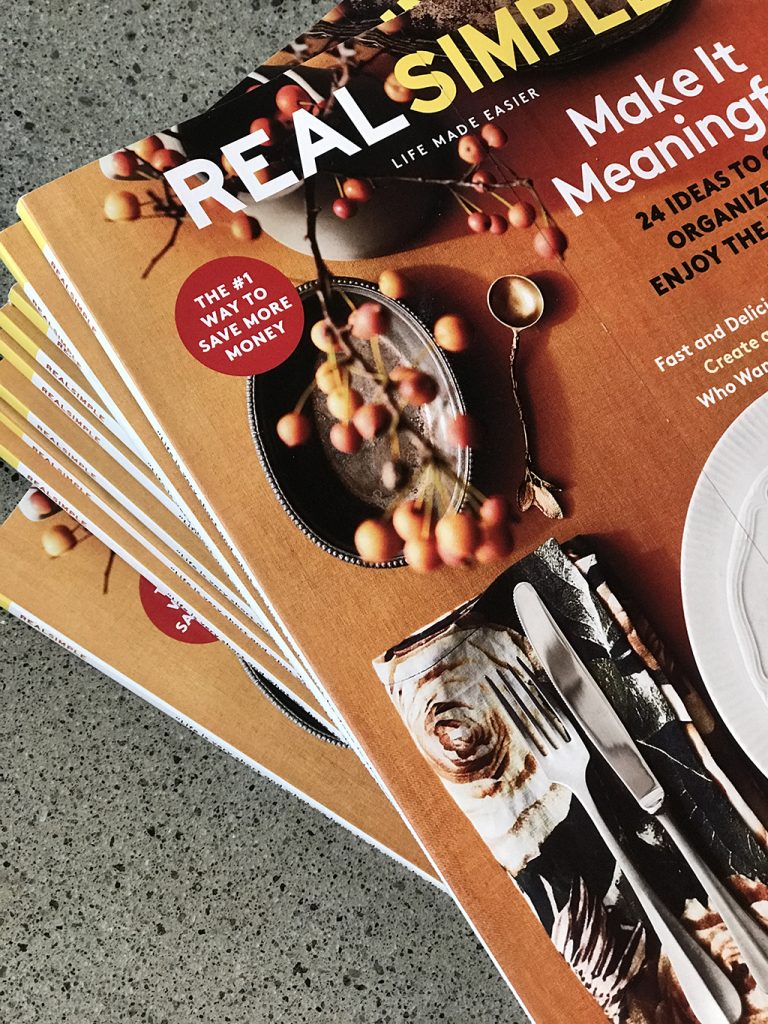 So now….here I am two years later, and I've had an INCREDIBLE week!!!!!! I was so honored to be featured in Real Simple Magazine, November issue, representing L'Oreal Skin! I went back to New York a couple of months ago, to shoot this ad. It was so much fun, and I couldn't have been treated better! It was such a fabulous experience, and this face cream is AMAZING!!! I'll be blogging about it later this next week. But let me just say, it feels very luxurious on my skin! And can I just say how much I LOVE Real Simple Magazine? I've read it for years! So to be in that particular one, was so cool for me! You can see I have many copies! My husband was so cute to run out late the night it was released, to buy every copy he could get his hands on!!! He's the best Instagram husband alive! If you haven't seen this….watch! It's hilarious!!!! He can TOTALLY relate!
So many amazing things have happened for me. One of the highlights has been to be a guest on Good Things Utah, my local TV talk show. I've been on three times now, talking about fashion for women over 50. Nicea and the whole crew have been SO kind to me. I love my visits there…..it's always a PARTY at GTU! Here's a link again to my segment on Tuesday….HOW TO STYLE YOUR CLOTHING AT LEAST THREE DIFFERENT WAYS!
And then Anthropologie! You know I love my Anthro, and this passed Thursday I was asked to host a Styling Event at their store at City Creek Center! It was SO MUCH FUN meeting some of my followers and  others too! I didn't take any pics because it was so busy, but this one of me and Sandy says it all! She walked in and I just knew she had to be a ChicOver50 fan….look at her! She has the #chicover50haircut and is the exact same height and I believe same age as me! She drove all the way down from Logan, Utah to visit! I have another life-long friend! The event was very casual, just visiting and shopping…..two things women do best! My Anthro girls were so accommodating and lovely! There were snacks and drinks set up in the dressing room area, along with a rack of MY FAVORITE THINGS! I saw so many beautiful friends! I loved every minute of it! I can't wait to do something like this again! It was a big success! Thank you Anthropologie Utah!!!! And thank you to all who came!!! EVERYONE received a great discount on ALL their goods, from clothing to home goods! That discount is still in effect at ALL ANTHRO stores and on-line, with FREE shipping on $150 or more! SCORE!!!
So I'm here to say THANK YOU! Thank you to all my followers who have supported and encouraged me through this journey! It definitely is now a full-time job, but I couldn't be doing anything MORE RIGHT for me! I LOVE everything about it! I'm grateful for every opportunity that comes my way, and for every single person that has crossed my path and inspired me…..and there are SO MANY!!!!! Probably the most memorable ever is Lyn from Icon Accidental that I met up with in New York. She was a dream come true to meet! Talk about an inspirational woman…..my FIERCE SISTER, as she called it! My afternoon with her was a moment to remember forever!!!
And to help me celebrate my second birthday…..is this beautiful cake from my local bakery Mrs. Backer's Pastry Shop. Rene, the owner, was my first guest at the Anthro Event. I had never met her before, but she left the bakery early that morning to come and meet me! How sweet is that??? This pastry shop was founded in 1941, and is now in the third generation of the same family! I had no idea! The bakers in this family can be tracked back 700 years! They are known for these beautiful flowered cakes, and with buttercream frosting!!! She made this one especially for me and matched my sweater to perfection!!! They still have the same store front and colors from the very beginning which gives it such a fun vintage feel! Their cakes are just as yummy as they are pretty! Rene was the sweetest lady…..I'm sure as sweet as her cakes! If you're ever here in Salt Lake…please stop by and see her! It's on South Temple and 434 East!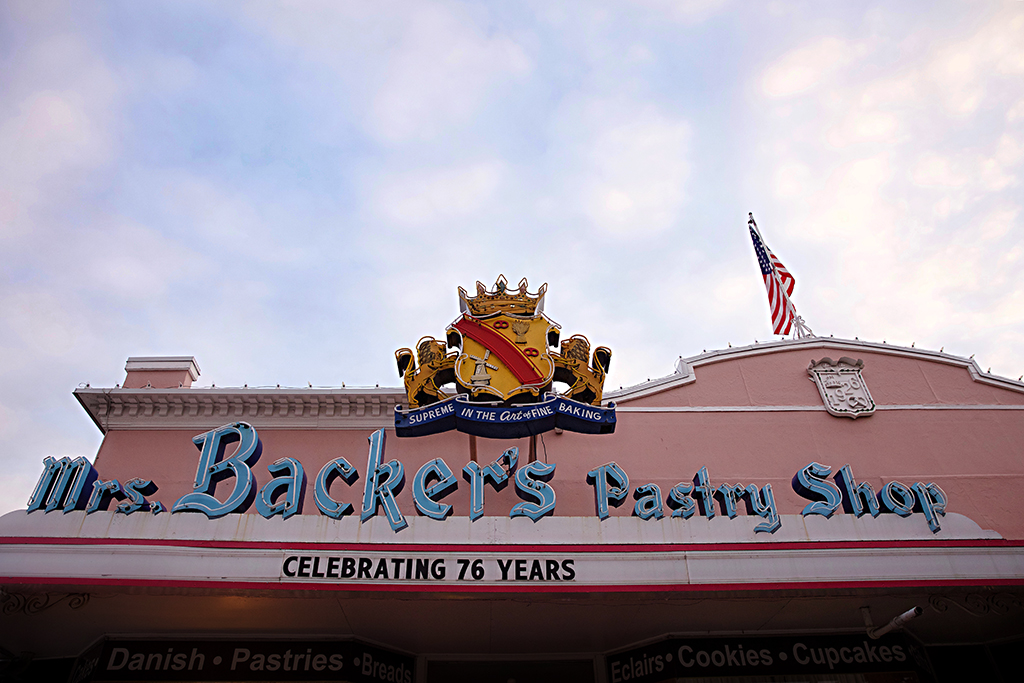 So…….HAPPY BIRTHDAY CHIC OVER 50! Can't wait to see what happens this next year! LOVE you all so much, and THANK YOU AGAIN friends!!!!
Shauna…XO