Are you a minimalist when it comes to dressing? Dressing in simple styles, blacks, whites and neutrals, would perhaps make it SO EASY to get ready each day! There isn't anything more CHIC and classic, but it's not my "go-to" look. When it comes to me, that's usually not my first thought when I'm putting together an outfit. I'm so drawn to color, and patterns, and so they usually win!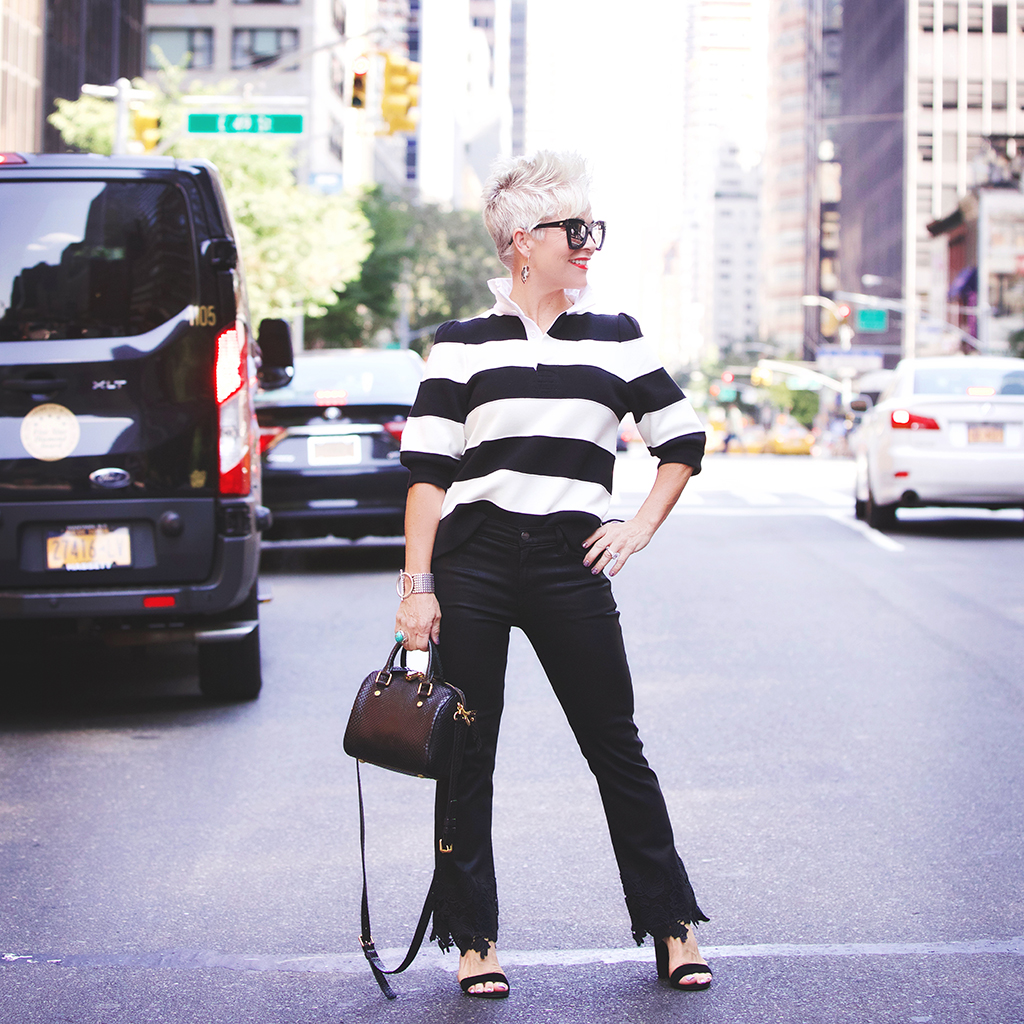 While I was in NYC, I had planned on getting together with these two ladies for a photo shoot in BLACKS and WHITES. Sheree from @theshesheshow, and Barbi from @southernblondechic. We all came up with our own looks, each one different and unique to us! I LOVE SheShe's white jacket! I've always wanted a great white jacket, but when I try them on, I never like the way they look on me. I've invested in a few blazers over the years, just to have them sit in my closet. I've not yet figured out just why I don't love them on me. They can give any outfit such a polished look! And look at Barbi's bright colored pom-pom hanging on her bag! So cute! A BW outfit can create  a backdrop for such fun colored accessories! Add a scarf, belt, shoes, jewelry, or hat! And my outfit is more on the sporty/girly side with the ruffled rugby and laced bottom coated jeans! I thought it was interesting how we ALL chose statement earrings!
Below I've posted and linked some of my favorite basics in BW. Great mix and match pieces….you could use this as a TRAVEL WARDROBE! Throw in a couple of colorful wonders and you could have some amazing outfits!!!!!!!
Skirt  |  Blazer  |  Striped Tee  |  Dress
Pants  |  Long Cardigan  |  White Sweater   |  Floral Shirt
Plaid Shirt  |  Black Denim  |  Printed Joggers
So….if you're the MINIMALIST when it comes to your wardrobe, I hope these links are helpful for you! And, if you're not…..well then perhaps you'll be inspired to think outside of your box!!!! HAPPY FRIDAY FRIENDS!
Shauna…XO
My Jeans  |  My Rugby Sold Out