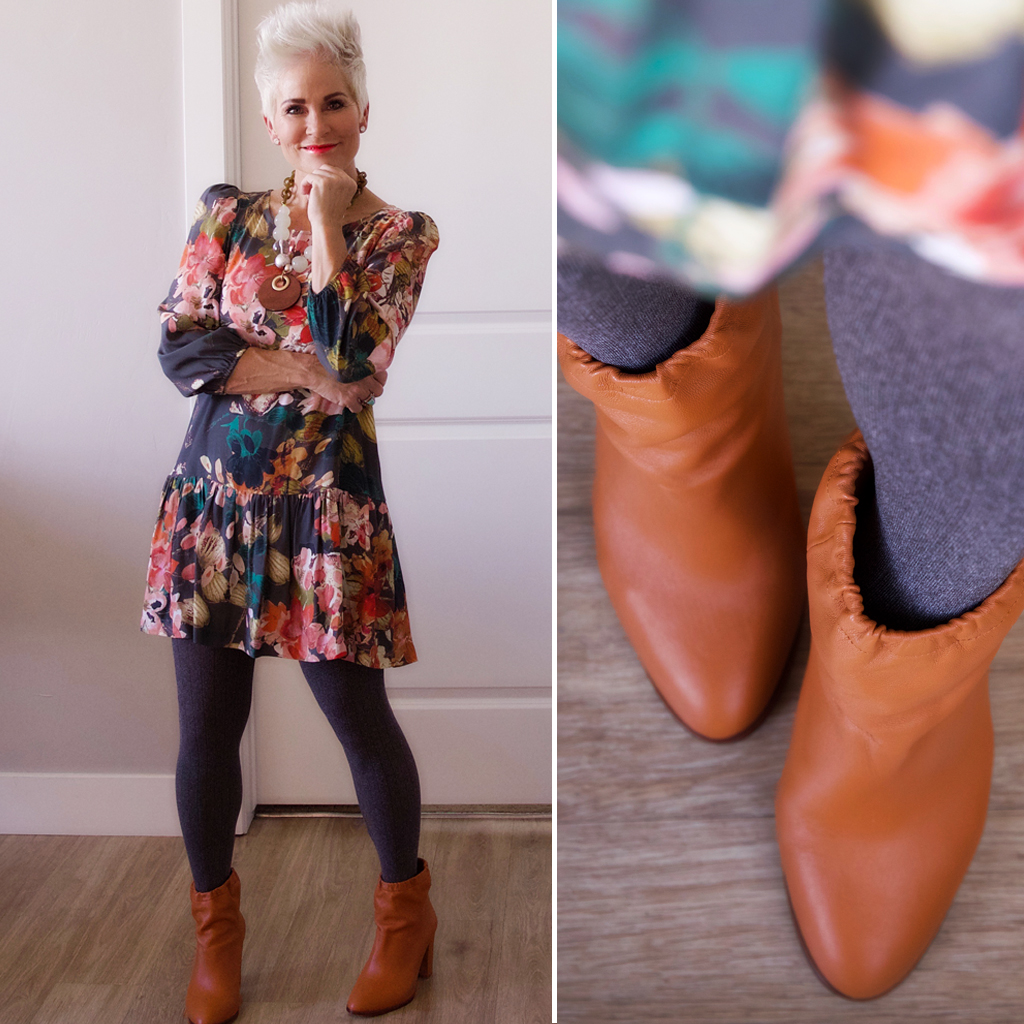 So how do you feel about booties over boots? When booties first showed up on the scene more than several years ago, I thought it was a fad. I was a little leery in how long this fad would last, not investing a lot in my bootie collection! But now? These are my go-to shoe in the cooler months. And even when it's warm, I LOVE them with jeans and a tee-shirt!
This brown color (some would call it orange) is my favorite brown shade for fall/winter! I love it paired with gray! The thing that caught my eye about these particular booties, was the ruching along the top. I don't care for the slouchy boots I've been seeing, but love these because they are more fitted around your leg! There are all kinds of options out there to choose from, so it absolutely can be overwhelming! WHITE, VELVET, FLORAL, LEOPARD, SLOUCHY, and any heel height! The choices are endless!
But back to why you should wear BOOTIES over BOOTS? First knee-high boots have a tendency to cut your leg off and make it appear shorter. And who wants to have shorter legs….I have to take ALL I can get! Boyfriend jeans…..please NEVER wear tall boots with this style. If you do choose to wear tall boots, wear a SKINNY jean. And when you're wearing white jeans, the FASHION GODS say that BOOTIES is the way to go! I get this one, because white is already hard to pull off, and then when you add a tall boot that may cut your leg off, then you can totally look off! But then as I always say, "It just depends!" And then what about the midi skirt? NEVER wear tall boots here. That looks totally frumpy!!!
I've got quite the selection for you to shop here. If it were me, and I was buying my first pair, I would look for a pair very much like the ones I'm wearing in this picture. They are neutral, good style with ANYTHING, and the heel height is just about where I like it! Two inches is perfect for me, these are a just a bit higher!
http://

P.S. A lot of you have asked about this dress/tunic I'm wearing here. Sadly but not sadly, it's a vintage Anthro. I'm a true believer that IF YOU BUY RIGHT, you can have pieces in your closet for years! I have things I'm wearing still from 10-15-20 years ago! These below are really good options to choose from to achieve my same look!!!
So if YOU'RE not in to booties much, you should try them! I'm hoping that Santa will bring me some velvet florals!!!! Have a GREAT day friends!
Shauna…XO