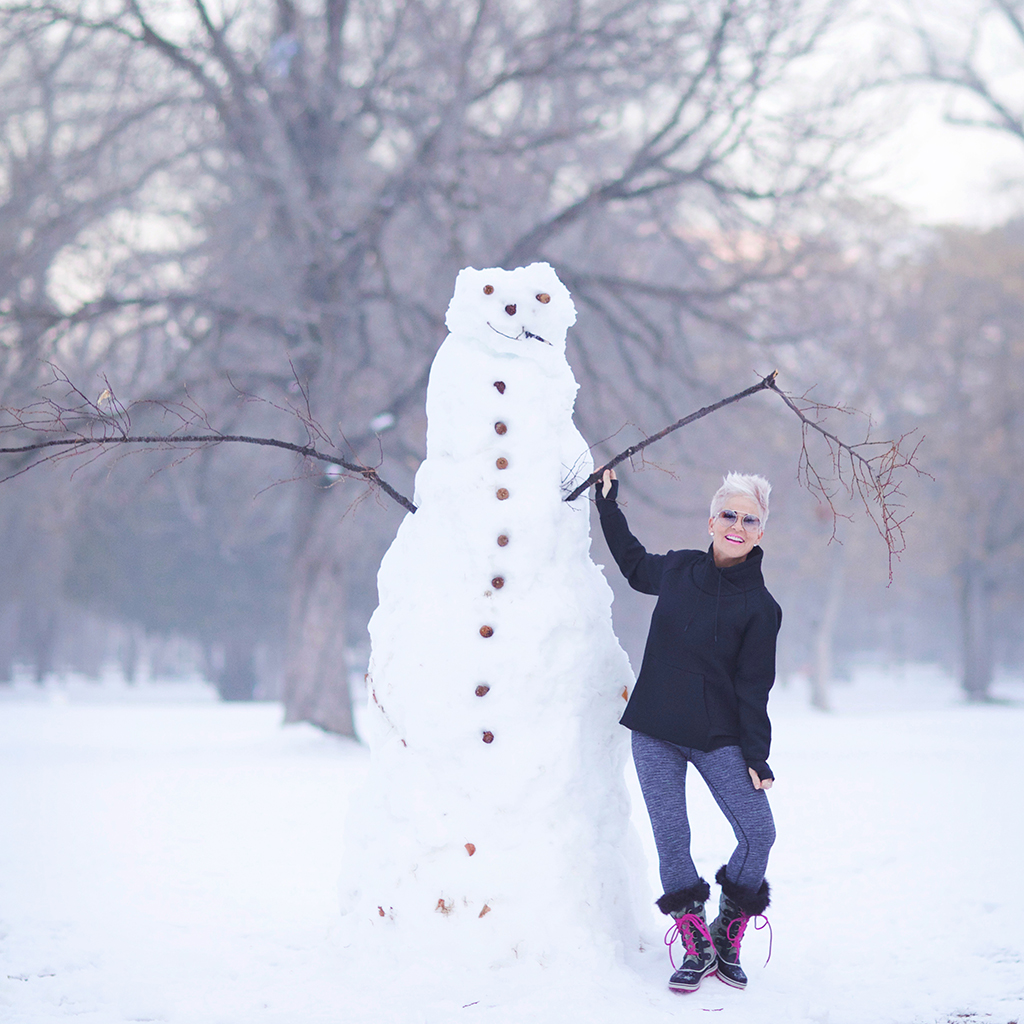 Ok…..so this Snowman is either HUGE or I'm just petite or BOTH! Can you believe this guy? He has to be one of the cutest Snowmen I've ever seen! All of his buttons, and his crazy branch arms are adorable! And what about his smile? He looks so sweet, right? All he needs is a hat! I just happened to bump in to him at the park, and felt extra small by his side! Ha! Which leads me to the topic of my blog……BEING PETITIE!
What does it mean to be a PETITE? I always thought that it was someone who was very short and very thin, you know an XXXS! And I also thought that wearing petite sizes wouldn't make that much of a difference. And can you believe that it took me THAT long, at almost 58 years old, to realize this??? Yes, that's a little late in life, as a petite woman, to discover that wearing petite sizes CAN make a HUGE difference!!! I'm 5'1.5″. All cropped pants are normal length for me, and most dresses that are too short for some, are perfect for me, and normal jeans…..I have to either roll and cuff and roll again, or get loads of length taken off the bottom. And when you do that, oftentimes you lose so many details and lines, and then the silhouette can be lost as well. So there definitely are pros and cons to being a petite!
If you shop at certain stores that offer petite sizes, then you should know how their particular sizing works for you. If not, then look at the sizing charts very carefully. Use your HONEST measurements and you should be able to get the proper size. If you have an extra short torso, or legs…even if you're not necessarily considered short, then this sizing could work really well for you. Extra long sleeves could be another indicator that you might need to think about buying petite. I'm definitely a petite, but not extremely thin. I'm pretty muscular for someone my height. I remember trying on a sweater in both a normal and petite sizes a few years ago. I COULD NOT believe the difference! But I'm often not patient enough to order the P size and then having to wait for it to arrive. TRUST ME….be patient and wait for the correct size! I can't tell you how many times I've been impatient, and then ending up not liking the way something looks on me! I hate it when I do that!! Remember petite is about proportion as much as it's about size!!!
I've linked for you here, some of my favorite PETITE shops. I wear them when they are available to me. And when they aren't…..I have a very good Tailor!!!
Anthropologie | Nordstrom | J.Crew | Madewell | Athleta | Nieman Marcus
I'm wearing my ATHLETA sweatshirt and leggings, with my SOREL boots today. These Sorel boots sure do get a beating here in the winter, and are so comfortable, warm, AND cute! Very necessary for me! P.S. My lipstick here is called PINK NOUVEAU!
Shauna…XO