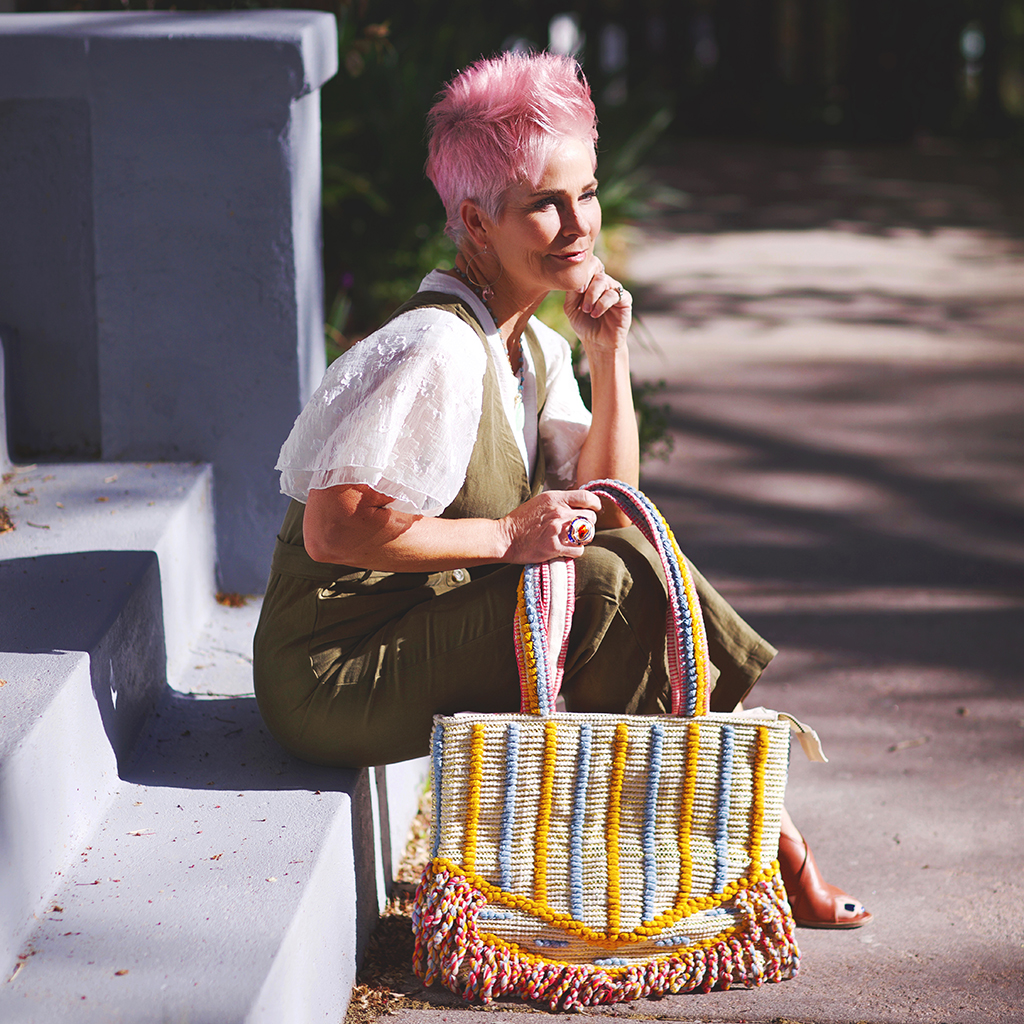 If you've been following me long enough, you know I'm a big fan of LillaP. I visited them in New York the beginning of the year. They have such beautiful offices, and it's always a pleasure to visit! I was able to see some of their fabulous clothing that will be coming in the future! Wait until you see the 2018 "holiday" collection! WOW!!! But while I was there….these bags caught my eye! Must have been the COLOR and PATTERN! They add such a POP to your spring and summer STYLES, and are so fun!!! This tote comes in three different color options. I loved the colors of the one I'm showing here. It has a zipper across the top with small pockets inside for all the necessities! Wouldn't it be just right for the beach?? And for travel too, the perfect size for your laptop!
There is also this clutch which I think is adorable!! The size is PERFECT…I think clutch style bags can often be too small. It has an inside zipper for small items. You can easily wear this casually OR dressed up!!! Such a GREAT LOOKING clutch!
And what better outfit to wear with my tote! This kaki jumpsuit from Anthropologie. I'm such a lover of jumpsuits! This one is a size Petite and has the perfect amount of room inside! And the color is definitely a neutral in my book! I love it with almost any color! I wore it the other day with a black tee underneath and some statement jewelry! Add your sneakers or platform sandals for a laidback look, or pair it with some fancy sandals for a dressed up look. I loved it with this top from a couple of years ago, with the pretty fluttery statement sleeves! A beautiful white blazer over the top would look so classy!
http://

The jewelry I'm wearing here is from grayc glass. I've been a fan of Courtney's work for a while now. She hand makes each piece and it's all so unique and creative! I LOVE it! You can see a little of her here. She is a master at her craft….just a girl doing what she loves and wanting to SHARE it with others! Love her!!!
 Wishing you all a GREAT DAY!
Shauna…XO